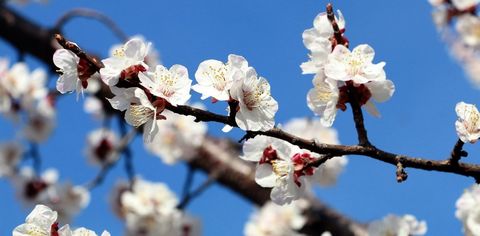 Ladakh is back with its Apricot Blossom Festival to enchant tourists with the beautiful, fragrant flowers, and it's going to be a sight to behold! Know the details here. By Anushka Goel
Spring is a time when the air is filled with a sweet fragrance of new flowers and leaves and when barren trees begin to sprout with new life. This is also the time several fruiting trees start to blossom, including apricot trees. To celebrate the same, Ladakh is back with its Apricot Blossom Festival, which will be held in April 2022. The festival, which will be held in both Leh and Kargil, will be on from April 13 till April 22, revealed the union territory's Department of Tourism in a social media post earlier this week.
Ladakh Apricot Blossom Festival: What you need to know
Just like the mesmerising cherry blossoms in Japan, apricot blossoms paint a beautiful picture, especially against the hilly backdrop of the region, and fill the air with a sweet fragrance that's unmatched. So, the festival, also called Chuli Mentok 2022, will be a visual delight for travellers.
Held across two places – Kargil and Leh – visitors will be able to enjoy the beautiful blossoms along with cultural programmes, the sale of apricot-based products, and more. Enjoy a beautiful day out with your family as you sample some great produce, skincare essentials and more, all made locally using apricot and its kernels.
However, given the current COVID-19 situation, it is important to note that to enter Ladakh, one must possess a negative COVID-19 certificate of a test conducted not more than 72 hours prior to entering the union territory.
Know more about the COVID-19 guidelines here.
Hero and Featured Image: Photo by Ekaterina Novitskaya/Unsplash
Related: Musicathon, A Two-Day Music Festival, Is Set To Be Back In Bir On April 15-16
Written By