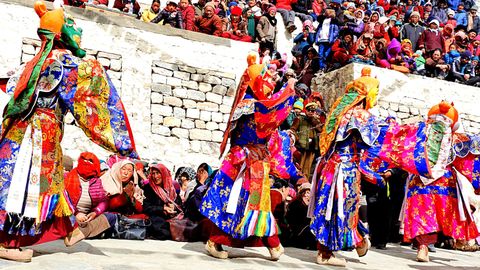 If you are in Ladakh or visiting anytime soon, here's something to add to your itinerary. The union territory is currently hosting its annual Ladakh Festival, and the event is on from September 21 to 24.
This four-day cultural extravaganza celebrates the diversity of the place and the beauty of its people. It brings together travellers from around the world to indulge in the local art, craft, food, folk traditions and the region's rich heritage.
What to expect at Ladakh Festival 2023?
— Ladakh Tourism (@utladakhtourism) September 20, 2023
The event features a host of activities such as polo matches, photo exhibitions and musical concerts. Over the next few days, you can explore the handicraft and food stalls set up at Eco Park side lane, witness the mesmerising Sand Mandala Exhibition, experience how sculptures are created, or enjoy the Ladakh Aero Expo 2023.
Additionally, events such as exhibition on mammals and birds by the WCBL (Ladakh Bird Club), screening of films and documentaries on the region, traditional archery, a flute session and a Chams (mask dance) performance promises to not only entertain, but educate you as well.
Ladakh is known for its stunning landscapes and immense tourism potential. It is home to breathtaking valleys (such as Nubra), monasteries and stupas (such as Thiksey Monastery and Diskit Gumpa), and the world's highest mountain pass (Umling La) among other attractions. It offers an unparalleled travel experience, especially for adventure enthusiasts owing to its tough terrains and a typical high-altitude climate. Ladakh Festival 2023 aims to highlight all these aspects, making it a one-stop destination for travellers to experience all that the place has to offer.
Event details:
When: September 21 to 24, 2023
Where: Leh, Ladakh (various spots including Leh Palace, Polo Grounds, Eco Park and Shanti Stupa)
Time: 11:00 am to 8:30 pm
Hero and featured image credit: Sumita Roy Dutta, CC BY-SA 4.0, via Wikimedia Commons
Related: By Air, By Road, By Train: A Complete Travel Guide To Leh, Ladakh
Written By