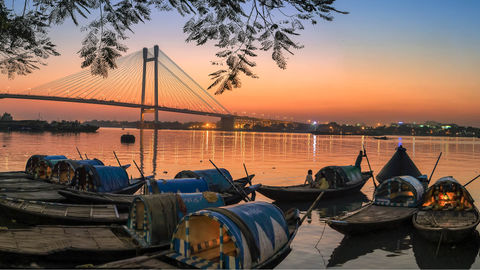 Kolkata rolls out phase one of India's first underwater Metro called the East-West Metro. Let's see what all
it has

in store for commuters.

By Tanvi Jain

The 16.6-kilometre-long underground metro that will run through the city of Kolkata—with a part of it under River Hooghly, will connect Salt Lake and Howrah. The first phase of the metro line connecting Salt Lake Sector V and the Yuva Bharati Krirangan was flagged off by Railway Minister Piyush Goyal on February 13, with commercial services commencing from February 14. The Metro is expected to be fully functional by 2021.

Out of the 16.6 kilometres, 10.8 kilometres of the rail tunnel will run underground, while 5.8 kilometres will be at an elevation.

The metro will stretch from Phoolbagan station to Howrah Maidan and will have six stations including Phoobagan, Sealdah, Esplanade, Mahakaran, Howrah, and Howrah Maidan.

The tunnel's 520-metre long section that will run under Hooghly river, will cross Mahakaran and Howrah stations. The new Metro will have the capacity to carry around a million people every day—nearly one-fifth of the city's entire population.

It will also successfully cut down the travel time from Salt Lake to Howrah by almost half, as currently, it takes more than an hour. Moreover, crossing the river which generally takes 15 minutes by ferry and 30 minutes by road, will also be reduced to just a minute.

The construction of the underwater metro line started in 2017. The project which was hailed by the Kolkata Metro Rail Corporation (KMRC), was estimated to cost around INR 8,900 crore. The metro train will run at a speed of 80 kilometres per hour.

KMRC has also released an inside view of the East West Metro on its official twitter handle.

This is the second Metro line in Kolkata after the North-South service that started in 1984 and was also the country's oldest metro.

Related: Iconic Food Joints That Serve The Real Deal In Kolkata!
Written By