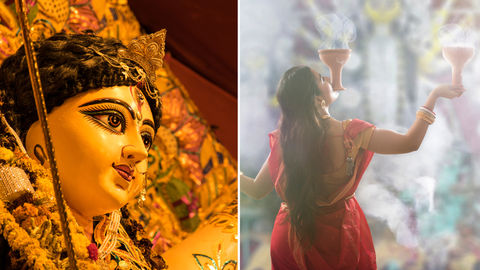 Kolkata's Durga Puja celebration always takes the top seat when it comes to infusing artistic innovations and adding magnanimity to the celebrations. The same has now been nominated for the UNESCO's list. By Kumar Shree
Kolkata's Durga Puja has been declared as India's official nomination for UNESCO's 2020 list, which features institutions that require protection and preservation from around the world. The nomination has been finalised by the nodal agency for this purpose — Sangeet Natak Akademi, which is an autonomous body under the Union ministry of culture.
Durga Puja is a 10-day celebratory worship of goddess Durga, who appears in her divine incarnation as 'Mahishasuramardini' — a goddess created by other gods for killing the demon, Mahishasura. "The worship of the goddess begins with the inaugural day of Mahalaya when the clay images have life invoked in them through the painting of the eyes, and ends on the tenth day of Bijoya Dashami when the images are immersed in the river. Durga Puja is the best instance of the public performance of religion and art in the city. It witnesses a celebration of craftsmanship, cross-cultural transactions and cross-community revelry," reports the Sangeet Natak Akademi's website.
At present, India already has 13 cultural traditions listed under the UNESCO list. "Sowa-Rigpa" — commonly known as the Tibetan system of medicine, made it to the list in 2019, while Kumbh Mela was added in 2017 and Yoga in 2016. Professor Tapati Guha who led a five-member research team in preparing the nomination dossier for the Akademi said, "Kolkata's Durga Puja has developed a special artistic profile, which no other festival has with modern artists and designers coming together to produce new urban art. This gives it a unique dimension."
Related: We Are in Love With These Pictures! Here's Why You Should Visit Kolkata During…
Written By