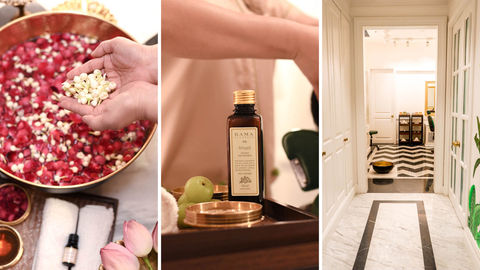 With its all-natural ingredients, Kama Ayurveda in Gurugram offers a shortcut to wellness, with it's wide range of Ayurvedic herbs, oils, and creams. By Bayar Jain A corner of Gurugram's busy Ambience Mall seems to be an odd spot for a spa. Yet, Kama Ayurveda's pale walls and wide range of Ayurvedic herbs, oils, and creams beckon—skillfully hiding the wellness haven tucked within. Beyond this shop-like demeanour is a tranquil space, one where I will be spending the next couple of hours. As I enter the Kama Experiences section of the spa, the retail chaos instantly subsides, and I feel calm and composed from within.
My first stop for relaxation is at the doctor's cabin for a quick consultation where she figures out the most suitable treatment for me. 'Combination' skin like mine requires an hour-long Ujjwala facial, she advises.
Then, a therapist escorts me to a peach-walled room where a foot-soak awaits, serving as a precursor to the wellness wonder that lies ahead. The warmth of her hands and of the rose-infused water seems to make my worries dissipate. Next, she leads me to a room with a solitary therapy bed. I lie down, looking up at the foliage inspired painted ceiling, eventually closing my eyes to the soothing Carnatic tunes playing in the background. She begins the therapy by encouraging me to inhale Tea Tree oil fumes, which help me unwind. A wipe of any residual makeup follows, paving way for the ritual to begin on a clean slate. Next, a cleanser and a toner are massaged on my skin one after another— each, I'm told, is made of all-natural ingredients. This is followed by deep cleansing.
The rigorous cleanse is followed by a comforting hot towel compress, a segue into the next round of herbal scrub. A coconut oil massage is next, followed by a rice-based face pack. While the face pack hardens, she massages my neck, shoulders, and upper back. With her gentle kneading, I feel all the stress wilting away. She glides her fingers through my hair, as though pulling out any residual pains. A quick pat wipe of the scrub is all I need to feel completely renewed and refreshed. The wellness journey, however, is yet to reach its zenith. She covers my face with a cold compress, while also gently massaging my cheeks and forehead. By now, pain is no longer a word in my dictionary. The voyage ends with a soothing cup of green tea, and a renewed me. Thanks to the hour-long pampering, the chaos of the bustling mall no longer bothers me. kamaayurveda.com
Related: The Spa At King's Lodge Bandhavgarh Blends Nature's Bounty With Ayurveda
Written By