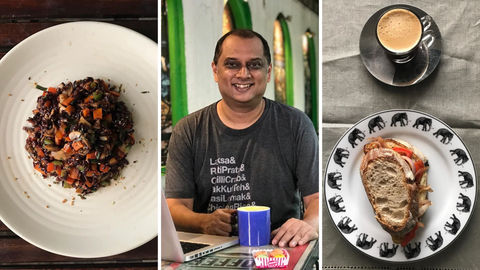 If you're a food aficionado and cannot get enough of it on your plate and the internet, you're probably living under a rock if you haven't come across Kalyan Karmakar's Finely Chopped. His blog is a heaving journal of his tryst with food on a daily basis, both cooked at home and eaten out. Here's how he's carved a full-bodied career as a food and travel blogger, living in Bandra, a suburb in Mumbai. By Charu Chowdhary
1.You say your life is an open recipe book. What are the ingredients
one needs to be a successful food and travel blogger?
Let me answer this question the way one would while taking part in school debates back in the day. By quoting the dictionary! The Cambridge dictionary defines a blog as 'a regular record of your thoughts, or experiences that you put on the internet to read.'
The crux of the issue lies in the words 'regular', 'your thoughts' and 'experiences'. To be a successful blogger, in any field, you have to be consistent, be willing to share stories from your life and have your own distinct voice. The key is to have a human and personal touch. Everything else follows.
2. Tell us about yourself. How old are you and how did Finely Chopped come about?
I am 45 years old. I live in Mumbai. I moved here at the start of my career after completing my studies in Kolkata, the city where I grew up. I studied sociology and then went on to do an MBA.
Close to 10 years into my market research career, I went through a bit of mid-career crisis and sought a creative outlet that would satisfy me. Blogs were just coming into being then. That is when (October 2007 to be precise), my wife suggested that I write a blog and share whatever I had to say about food there. She helped me start the blog and named it too, and says that she got a bit of a respite from my constant food monologues at home after that.
Twelve years later, she says that she has forgotten the taste of hot food ever since I started blogging. Photos come first after all!
3. Does 'feeding' your Instagram regularly stem more from excitement or compulsion?
Excitement. Everything that I do in my life stems from excitement. If you ask any of the 'power holders' in my life over the years (in school and college, at work, at home) then they will tell you that there is nothing that anyone can make me do out of compulsion. I guess I am too Bengali for that! Food excites me. Stories around them excite me. Discussions around them do so even more. Which is why you find me on Instagram.
4. How did your book The Travelling Belly come about?
I love writing. I have possibly inherited a bit of my mother's genes there. At 72, she is a more driven blogger than I am and would encourage me to write when I was a kid.
I spoke to senior writers such as Rashmi Uday Singh about writing a book and she had gallantly and most generously connected me with leading editors. I then met Poulomi Chatterjee from Hachette at Ritu Dalmia's book launch at Rushina Munshaw Ghildayal's cooking studio in Mumbai. Rushina introduced me to Poulomi; we discussed a few ideas, silence followed for a few months and just when I gave up on it, an email came in with the contract.
That is when I decided to move out of my corporate job, go to our neighbourhood cafe and began typing out the manuscript. The book came out a couple of years later.
5. How long does it take to sustain oneself comfortably as a blogger?
What have been your major struggles?
It is hard to put a figure to this as everyone's journey and struggles are different. The primary struggle is that of battling uncertainty and a lack of clarity, and a resultant lack of confidence. Finding one's purpose and then working towards it, as I learnt through my practise of the philosophy of Nicherin Buddhism gave me direction. The unstinting support that I got at home and from mentors in the industry – Simon Majumdar, Marryam Reshii, Kunal Vijayakar, Vikram Doctor, Vir Sanghvi, and Saurish Bhattacharya over the years to name a few along with Rashmi Uday Singh formed the bedrock of what I did. As the years go by, I think I am getting more self-reliant in what I do and possibly beginning to have a bit more faith in myself.
6. Does being a full-time blogger entail as much stress as having a
corporate job?
I would say more. Here you are the only person doing everything. You have no one to fall back on. What you are doing is for your own self and out of your own choice. I would probably say more 'excitement' than stress. But yes, being a blogger is a very lonely path but one worth traversing for sure.
7. Food anecdotes of being a Bengali in Mumbai?
The desperate search for rolls and then realising that the closest to a Kolkata egg roll would be a Tibbs egg frankie but not before I went to Chikita in Colaba and wondered why on earth, did they give me a sub instead of a chicken roll. Going to Pal's Fish Corner in Bandra only to find a Sardarji doling out fish Amritsari tikka and not a Pal moshai waiting with ilish patoori and rui kaalia. Getting excited on seeing an 'East India Association' board outside a house at Khar and thinking that they would know where the closest Durga Puja would be. Only to learn that East Indians are the original settlers of Mumbai, better known for their bottled masala and not the barowari pujos of Kolkata in the east of India.
8. Restaurants and cafes every foodie must visit in India?
I would urge you to go to the local favourites, which have been operating over the years and where you can get a pulse of the city. There's Putiram, Allen, Swadhin Bharat Hindu Hotel, Aminia, Paramount, Badhshah, Azad Hind Dhaba, Eau Chew, Mitra Cabin, Anadir Cabin, Maharani, Bhojohori Manna in Kolkata; and, Kyani, Pancham Puriwala, Prakash, Military Café, Apoorva, Yazdani Bakery, Lucky, Candies, Ideal Corner, Pradeep Gomantak, Aaswad, Ling's Pavilion, National Restaurant, Deluxe Restaurant, Guru Kripa in Mumbai.
Related: Mariellen Ward: The 59-Year-Old Travel Blogger On Being Relevant In The Age of Millennials
Written By