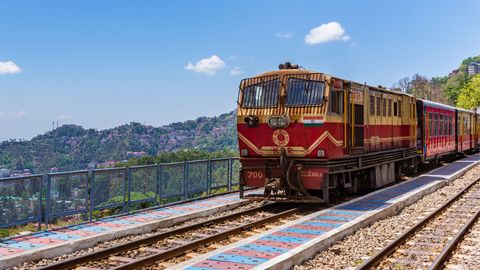 With a revised rail route promising fewer stops and a quicker commute, the iconic Kalka-Shimla Toy Train is set to redefine the passenger experience.
A UNESCO World Heritage Site, the Kalka-Shimla Toy Train gracefully whistles through more than 100 tunnels and crosses over 800 bridges, framing the region's scenic hills and colonial history. While the original rail route between Shimla and Kalka included 18 stations, the revised schedule streamlined the journey by excluding 10 stations, resulting in a significant reduction in travel time. The omitted stations include Kanoh, Kathleeghat, Shogi, Taradevi, Kathlighat, Kumarhatti, Sanwara, Koti, Gumman, and Taksal.
The 92-km-long British-era railway track suffered grave damage during the torrential rainfall in July and August, necessitating repair work at 300 sites. In September, operations resumed with six toy trains and one Rail Motor Car (RMC).
Kalka-Shimla Toy Train's time-honoured charm finds a new route The decision to reduce stations between the two destinations was determined by factors like passenger rush, distance between the two main stops, ticket sales, and the total length of the railway line. With just 8 stoppages now, the Kalka-Shimla Toy Train promises enhanced efficiency with a side of verdant views. While the original journey took 5.17 hours, the revised route takes a travel time of 4.51 hours.
As per the revised schedule, currently under trial, passenger trains depart from Kalka at 3.45 am and reach Shimla by 8.55 am, bypassing Kanoh, Kathlighat, Shogi and Tara Devi. On the way back, the same train leaves Shimla at 10.55 am and arrives in Kalka by 4.35 pm, avoiding the stations of Kathlighat, Kumarhatti, Sanwara, Koti, Gumman, and Taksal. This route adjustment is expected to greatly benefit locals relying on inter-state transportation.
"We have rationalised the timetable to reduce the total travel time between Kalka and Shimla. The excluded stations from the first train are covered by the second train, and vice versa. The replacement of a single coach Rail Motor Car with a full 7-coach train enhances passenger convenience. This adjustment allows ample block margin for track maintenance. The decision to exclude certain stops is a trial, and we remain open to feedback and suggestions," Mandeep Singh Bhatia, Divisional Railway Manager (DRM) Ambala, told The Indian Express.
(Main and Feature Image Credit: Amit kg/Shutterstock)
Related: Enjoy Mesmerising Views Of The Himalayas On These Iconic Train Journeys
Written By