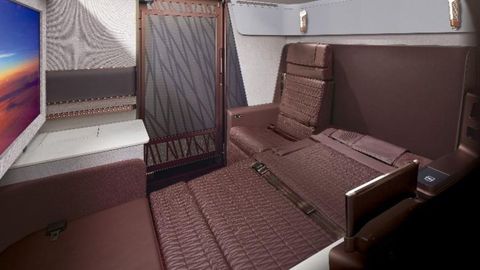 Japan Airlines (JAL) is sparing no effort to elevate the comfort of its flights, and its latest first-class cabins are a testament to this commitment.
On October 2, the airline unveiled details of its new Airbus A350-1000 aircraft and cabin interiors, marking a significant upgrade for international travel after nearly two decades. These new aircraft promise exceptional comfort and luxury across all four cabin classes: First, Business, Premium Economy and Economy. The first two classes, in particular, offer an ultra-luxurious experience, with an emphasis on enhanced privacy. Japan Airlines plans to introduce the new aircraft on the Tokyo (Haneda) to New York (JFK) route by the end of the year, according to a statement issued by the airline.
What to expect onboard the new Japan Airlines First and Business Class cabins The cabin designs aim to create a serene atmosphere with a touch of Japanese aesthetics. New seats in these aircraft prioritise relaxation and increased legroom, while in-flight meal and entertainment services are set to elevate the passenger experience. Japan Airlines is also making strides in environmental responsibility by introducing non-petroleum-derived plastics for cutlery and tableware to reduce its environmental impact and address social issues. In terms of entertainment, passengers can look forward to in-flight Wi-Fi service, 4K monitors, and Bluetooth connectivity to enhance their overall journey.
The new seating arrangement in First Class will feature only six suites instead of eight. These suites will offer individual doors, a first for Japan Airlines, providing added privacy to passengers. The first-class cabins also boast the world's first headphone-free stereo system with built-in speakers, a reclining headrest, as well as wardrobe and storage space for personal items within each suite. Travellers will have a choice between three seating modes: sofa, single bed, and double bed, ensuring a relaxing journey.
In Business Class, the new Japan Airlines aircraft will feature 54 seats with extra legroom, overhead compartments above the windows for a more spacious feel, private enclosed seats with doors, seats that convert into beds, improved cushioning, reclining headrests, wardrobe and storage spaces, as well as the same innovative stereo setup found in the First Class suites.
Even Premium Economy and Economy passengers will enjoy enhanced luxury, with wider LED screens, and superior comfort.
Find out more here.
Hero and Featured Images credit: Japan Airlines
Related: Japan Airlines Is World's Best For 2023, Vistara & Air India Also Make It To The Top 10
Written By