Union Ministry of Culture has extended the closure of Jallianwala Bagh till June 15 amid halt in renovation due to the COVID-19 outbreak. By Tanvi Jain
View this post on Instagram
Temporarily closed since February 15, as an attempt to curb the increasing cases of coronavirus, Jallianwala Bagh will now remain shut till June 15. Earlier, the historical garden was supposed to reopen on April 13, but delayed renovation due to the pandemic has led to the postponement of the reopening.
The Union Ministry of Culture recently confirmed in an official statement that the Jallianwala Bagh memorial will remain shut till June 15, 2020, adding that the ongoing renovation work of the violence site which was supposed to be completed by March has also been affected due to the pandemic.
View this post on Instagram
Remembering the martyrs of Jallianwala Bagh massacre on the 101st anniversary of the horrific incident on April 13, Prime Minister Narendra Modi tweeted, "I bow to those martyrs who were killed mercilessly in Jallianwala Bagh on this day. We will never forget their courage and sacrifice. Their valour will inspire Indians for the years to come."
It was on this day in 1919, that Brigadier Gen Reginald Dyer had ordered the British Indian Troops to open fire at people gathered at the site in to celebrate Baisakhi. The massacre had claimed around 400 lives and had injured at least a thousand. Moreover, Defence Minister Rajnath Singh also paid tribute on the social media website, saying, "Remembering the martyrs of Jallianwala Bagh, Amritsar who were massacred on this day in 1919. I salute their courage and sacrifice. Their sacrifices will never be forgotten."
Punjab Chief Minister Captain Amarinder Singh further added, "I join the nation in paying my tributes to the innocent martyrs of the #JallianwalaBagh massacre. It's been 101 years but the memory of this unfortunate incident still haunts us. I bow in the honour of their martyrdom."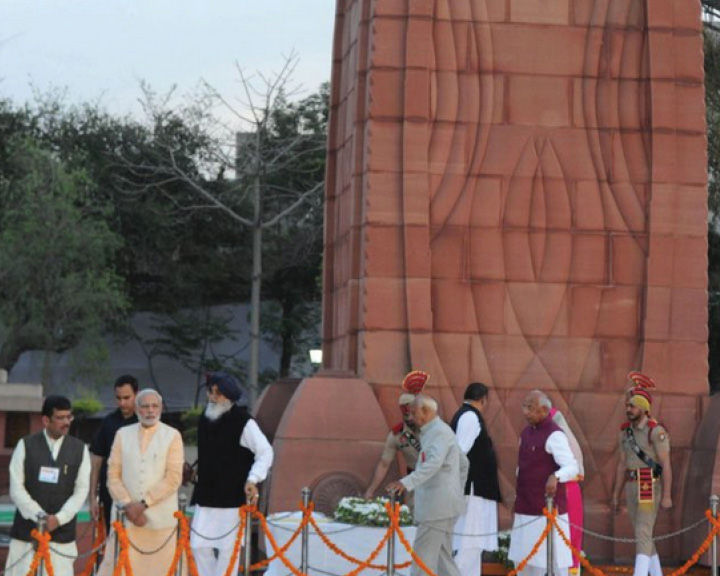 The Prime Minister in an address to the nation on April 14, extended the ongoing lockdown till May 3, allowing only essential businesses such as groceries and pharmacies to remain open, along with limited city transport only for emergency staff and those in possession of the travel pass.
Related: India Will Now Be Colour Coded Based On COVID-19 Cases And Here's What You Need To Know