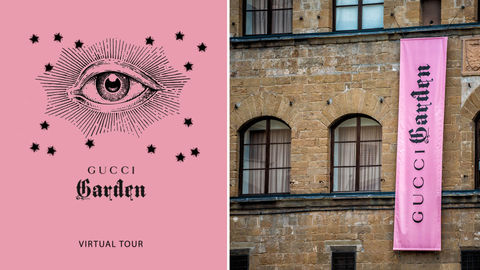 Calling all fashionistas! Now you can explore the Gucci Garden's classic clothing and handbag exhibits from home, thanks to an online virtual tour. Wondering how? Read on to know all about it. By Bayar Jain Fashion lovers, this one's for you. The iconic Gucci Garden, a museum dedicated to the Italian brand's classic handbags and clothing, is taking a virtual turn. Located in Florence's Piazza della Signoria, the museum houses rooms, objects and exhibitions curated by Alessandro Michele, the Italian fashion house's creative director. The online avatar of the museum recreates the same atmosphere for viewers.
Dubbed as the 'contemporary magical box', visitors can explore all the rooms, staircases, and hallways with a click. To elevate the experience, ambient sounds have also been added. Picture footsteps muffling on the ground floor, birds chirping and branches rustling on the second. Accompanying these sounds are panel texts that elucidate the history, iconic fashions, and detailed pieces of information on each of the items. Dedicated shoppers can even collect souvenirs and postcards along their journey, such as exclusive Gucci products that can be viewed and purchased by email or phone.
View this post on Instagram
On the ground floor of the museum, both in-store and virtual, visitors can explore the boutique and bookstore. Here, exclusive Gucci products are available for sale such as clothes and accessories. The epitome of exclusivity lies in the Gucci Décor collection, which is available for sale here as well. In the physical space, however, the Gucci Osteria, an intimate restaurant by Michelin-starred chef Massimo Bottura finds a home.
Next, an ascend from the staircases takes visitors to the Galleria. Lined by floral wallpapers, the two subsequent floors of the museum are filled with history, objects, anecdotes and geographies of the iconic brand.
To embark on this virtual journey, click here.
Related: Chef Massimo Bottura Brings Gucci Osteria's Magic To The US
Written By