For 26-year old Italian traveller Giovanni Allegrini, his maiden trip to India has been a whirlwind of a journey, to say the least. Just a day after the digital nomad arrived in the country, India had gone into lockdown. From being stranded as a foreigner in a new land to being taken in by a local family, we caught up with Allegrini on his lockdown experience and why he is in love with India, despite being stranded here. By Amitha Ameen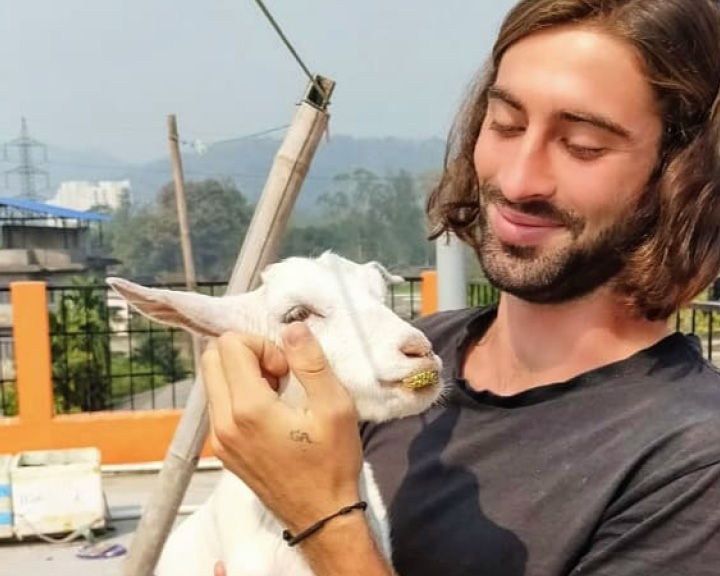 1. Where were you when the lockdown was announced?
I was in Guwahati, Assam. I had just reached there the day before the lockdown was announced in March.
2. What brought you to India?
I came to India because to experience its history, cultural heritage, and natural diversity that has always fascinated me; moreover, India was the first country before my trip to South Africa, travelling on land only.
3. How did you get stranded and how is the lockdown treating you?
I got stranded when I reached Guwahati. A retired man called Deepak (who I found through Couchsurfing) picked me up and welcomed me into his home despite Indians being afraid of foreigners ever since the pandemic broke out; although I had arrived in India way before COVID-19 began to spread in the country.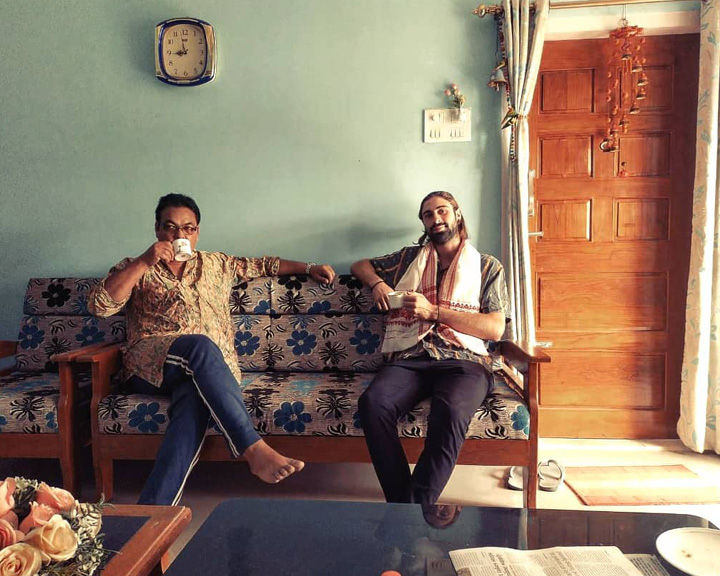 4. How has the experience of staying with the locals been so far?
I loved it! I had stayed in Deepak's home for three months. It all began as a stranded guest and eventually I became a part of the family. I lived in a beautiful neighbourhood, surrounded by nature and genuine people. We worked in the veggie garden together, looked after the goats too, and I've learned so much about Assam, its traditions, and food. I found another family on the other side of the planet! I have immense love for Assam and the North East.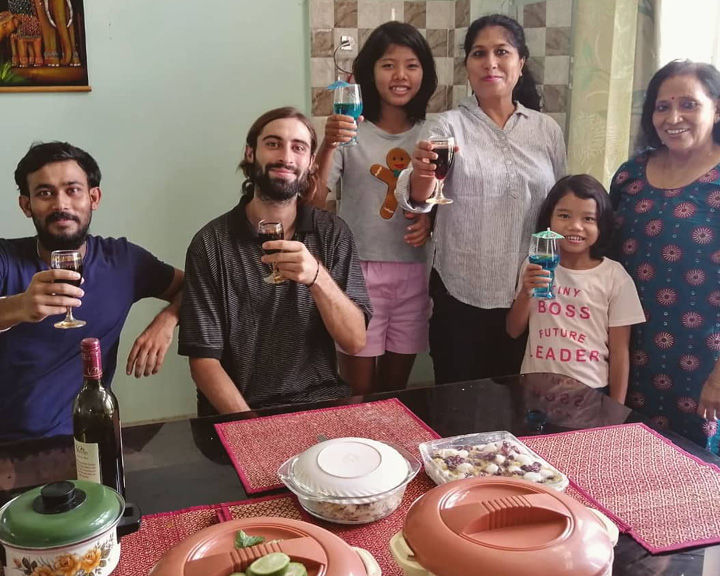 5. What does a typical day in lockdown look like for you now?
I recently moved to Ranchi,
Jharkhand
to spend some time with my partner. My routine here has changed a lot, but I can't complain about it. Back when I was in Assam, this is how a usual day looked like for me – I would usually wake up quite early in the morning, do some exercise, walk the goats down to the fields where they would graze, pick up papayas, mangoes or whatever else grew in the garden. Later I would have breakfast with the family, do some online work, indulge in delicious lunch and unwind while spending time with Deepak's family. In the evenings, I would watch the sunset from the rooftop, sip on hot chai and wrap the day with dinner, and head to bed.
6. What are your plans when free travel comes back into the picture?
My initial plan was to travel to all of North East and slowly move towards
Punjab
while trying to visit every state in between including Ladakh and Himachal too. Followed by a visa run to Nepal and eventually cross over to Pakistan and start my journey towards South Africa. Of course, plans have changed a lot and I don't really know what's going to happen next. I'm not planning to go back home to
Italy
and I'll try to find a quiet and safe country where I can stay for the next few months, waiting for a better time to move around again. Can't wait to wander again!
7. What are the other places in India that you wish to visit?
To be honest, every single state of India. I'll be coming back to India multiple times because I love it.
8. We read somewhere that you worked in New Zealand. Which part of the country did you live in?
I do not work in
New Zealand
now. I did a working holiday visa for one year there, and of course, I had to work to save up money and prepare for the trip. I don't live there anymore and won't go back, even though I really like it. I spent six months before leaving Nelson, South Island. It is a tiny town, very green and the people are so warm and welcoming! It is surrounded by mountains and a beautiful ocean. Some of the special things about it are the
Abel Tasman National Park,
and Golden Bay and the Nelson Lake.
9. What has this experience taught you?
This experience taught me how to appreciate life to the fullest, also I did learn how great it is to share your daily routine with Indian people. I learned how to be patient and mentally strong, and how to enjoy the luck I have received so far in my life. It taught me to not take freedom for granted. It taught me that we're all humans in the same way, despite different skin colour, nationality or religion. We need to come together as human beings and face issues hand-in-hand.
10. What things will you keep in mind when you travel in the future?
I'll keep in mind that travelling will be drastically different. We'll all need to look after each other and take care of our personal hygiene and health much more than before because personal behaviour can actually damage physically weaker people. I'll keep in mind that we should never take freedom for granted, neither any other privilege we have in our lives. We're all lucky for various reasons. I'll keep in mind that kindness and confidence are amongst the most efficient weapons. And of course, I'll keep in mind to visit India over and over again!
Related: This Couple Is Stranded In Thailand And Is Now Fostering 10 Doggos!