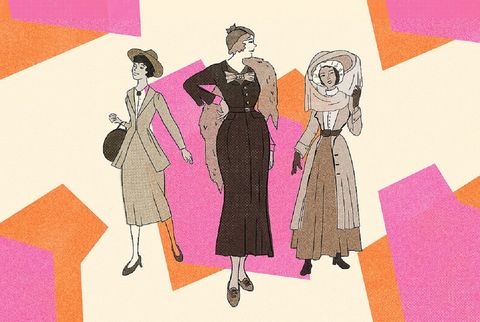 When design duo Mark Badgley and James Mischka sought inspiration for their current campaign, they landed on travel. They imagined a private jet and a striking female model boarding with a revolving wardrobe in tow, comprising everything from a sculptured suit emblazoned with tropical flowers to a sequin cobalt "lounging" ensemble and — for a dramatic exit — a silky jumpsuit in burnt orange capped with a mega-floppy sun hat. By
"Fashion and travel are almost one and the same," says Badgley. "The concept here was a celebration of travel and that our woman was ready for a taste of freedom," says Mischka. "Travel has widened our horizons as designers. We're inspired by places we have gone to, like Capri and Mexico, and by places, we want to go, like Sardinia, Montenegro, and Greece."
Likewise, designer Michael Kors has included ultra-luxe travel wear and imagery into many of his campaigns. This season he riffed on Diana Vreeland's belief that "the eye has to travel." Kors says, "We might not be able to experience new destinations, but we have to find other ways to change our eyes and imagine different possibilities." His current campaign is set in New York, where we see the city through the eyes of supermodel Bella Hadid.
Resort Wear, a Key Fashion Player
So important is travel to the fashion industry that there's a season devoted to it. Each year, between presentations of the fall-winter and spring-summer fashion collections, a category dubbed "resort," "cruise," or "holiday" arrives, referring to clothing from bikinis to ski jackets. It enables consumers to purchase clothes for climates different from their own. During the dead of a Minnesota winter, a woman can buy a diaphanous beach cover-up for her trip to Tulum. A Floridian can purchase a chunky knit sweater for après ski in Aspen. The category is offered by mostly higher-end brands such as Chanel, Oscar de la Renta, Ralph Lauren, Saint Laurent, and Michael Kors. While traditionally targeted to women, brands such as Louis Vuitton, Salvatore Ferragamo, and Moschino have transported men into the resort act, as well. Says Fern Mallis, founder of New York Fashion Week, "The resort season is usually my favourite season for clothes. It represents a time that's relaxed and happy and not necessarily about clothes for business or (charity) benefits."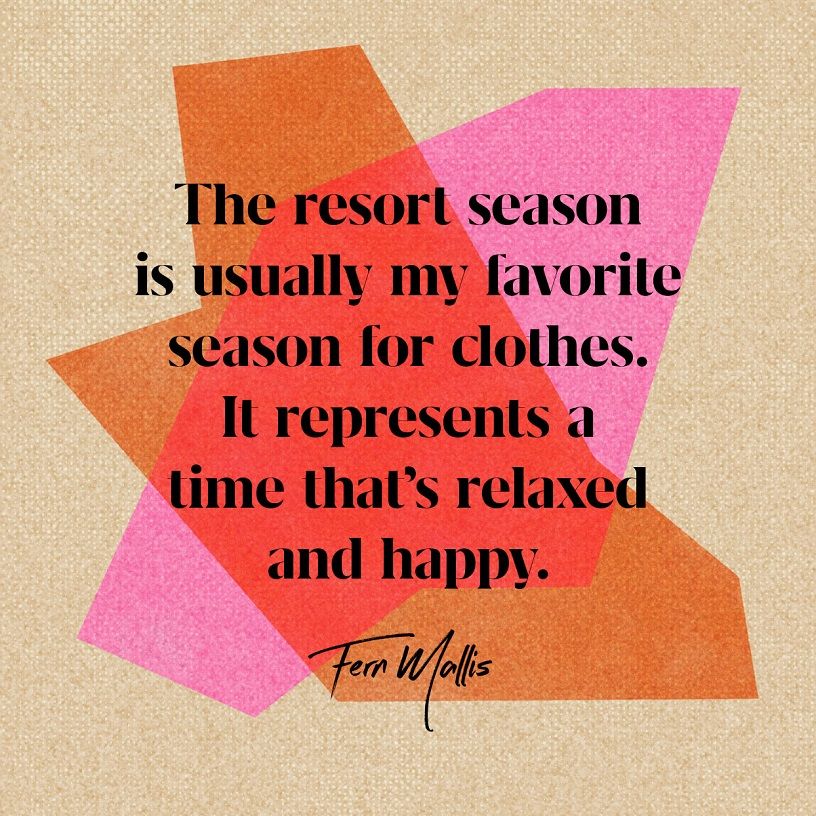 From Utilitarian to Glamorous — and Back Again
"Historically, travel was difficult, and so you tended to wear clothes that were more practical," says Dr Valerie Steele, the director and chief curator of The Museum at the Fashion Institute of Technology. "Even when you had huge advances like the railroad, which was so much faster than stagecoaches, it was filthy. There was all this smoke pouring back on you, and people wore all kinds of dusters and veils so as not to get it on their regular clothes. Then, with automobiles, people would dress up so they wouldn't get dirty or splattered with bugs as they were going a whopping 20 miles an hour." Back then, the original "car coat" was a Yeti-like fur number for cold weather, and driving outfits included goggles and visors.
In the 1930s and '40s, "Travel began to become cleaner and more luxurious and people started to dress up for the prestige of that," says Steele. "They were in comfortable seats, they ate off china with silver, so naturally people wore nice suits or dresses."
Jetsetters Bring on the Style Quotient
By the mid-20th century, being well-travelled and well-heeled was par for the course, says Steele. "Jetsetters were travelling to Paris or some other exotic location like Bombay, or maybe on the Orient Express, on the Queen Mary, Pan Am or British Air. It was absolutely glamorous, and people dressed for that with a huge amount of luggage. There was no weight limit." By the 1970s, air travel had become more affordable and accessible. Says Steele, "People thought, 'We might not be so rich, but we're off on this fabulous adventure.' It was glamorous young people dancing in the aisles of the plane all night, smoking and drinking and flirting. And they were dressed up for being young."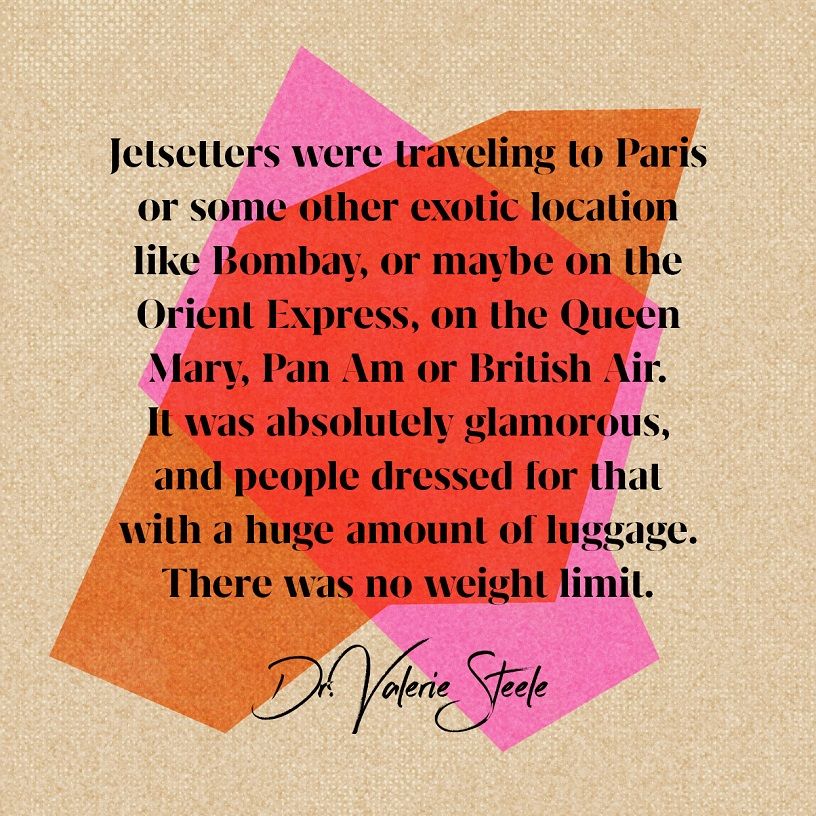 Today, says Steele, we've reverted to utilitarian clothes for the journey itself. "The destination is the luxury now. You want to be comfortable, and travel is more complicated, there are more constraints."
Steele herself shops at her destination for her destination. "I can't be the only one who shops when I get there. Whether you're going to Mustique or Sun Valley, skiing, swimming, or hiking — they have everything."
Go in Style
Yes, rules for proper dress at airports have been reduced to the most basic: No shirt, no shoes, no service. Can we do better? "Oh my God yes," says celebrity stylist Micaela Erlanger, who counts luminaries such as Lupita Nyong'o, Meryl Streep, Michelle Dockery, and Common among her A-List clients, and is author of "How to Accessorize: A Perfect Finish to Every Outfit," (Clarkson Potter). "I think travel is an extension of your lifestyle and I believe in having a polished, put-together look that's still comfortable."
For Erlanger, "spandex and flip flops at the airport" are a big don't. She has her own travel "uniform" — comfortable jeans, a men's button-down shirt, and Chanel flats, accessorised with a Dior tote and an Away bag.
There's plenty out there that melds function and form, she says. "This year saw such a focus on elevated loungewear. And the Zoom life influenced what it means to be comfortable and still fashionable. There's a natural correlation between travel and fashion."
Indispensables
Erlanger packs for her clients occasionally, and she says despite wanting them to look good (paparazzi and all), "you'll never see one of them in high heels at the airport. You still have to be practical." She arms them with "a great airport bag that's chic but functional, oversized sunglasses, and a shawl that doubles as a shield." Her newest addition to the accessories mix? "A chic passport case to put vaccine information in, you're going to want to have that in hand."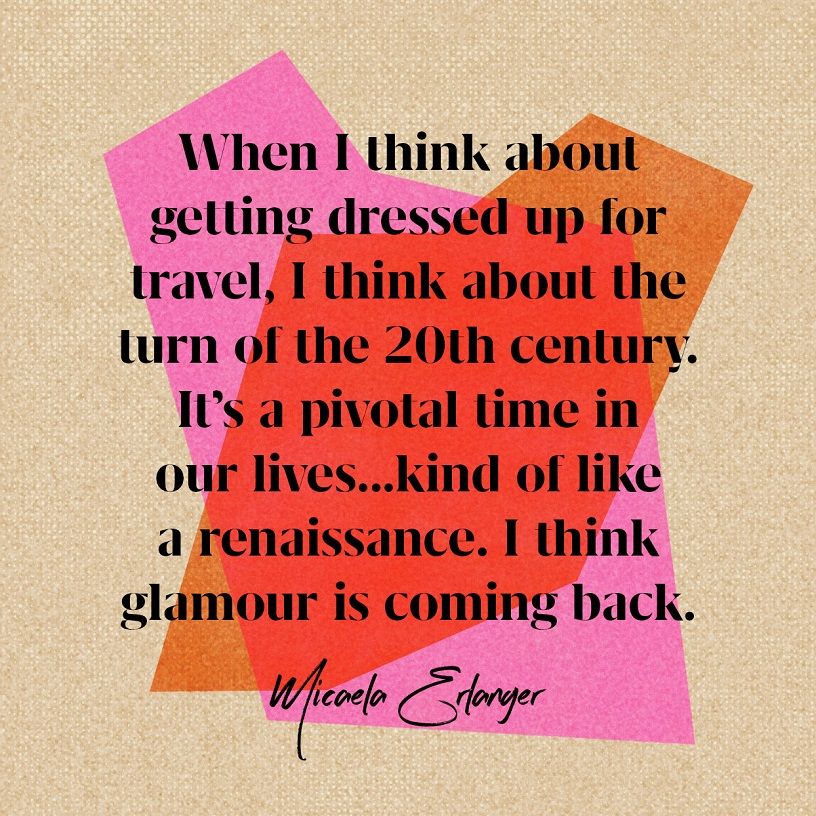 A Return to Glamour… Maybe
In the end, Erlanger sees a future in putting on the Ritz for travel. "When I think about getting dressed up for travel, I think about the turn of the (20th) century. It's a pivotal time in our lives… kind of like a renaissance. I think glamour is coming back."
Related: A Look Back At How Travel Style Has Evolved Over The Decades
Written By