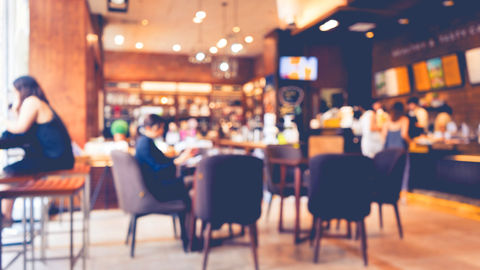 What good is your Instagram feed if it doesn't show off some of the coolest and prettiest cafes in Delhi? Well, just to add that hint of happy vibe to your feed, here's the list of 5 Insta-worthy cafes in Delhi that you must explore. By Kumar Shree
1. Diggin
Diggin, and for that matter, both the branches of it are not just mere cafes. They are cute little paradises, who should charge just for letting people take a look at the place, let alone the food. The decor, the greenery, the lighting, the white bird cages, and the swing with fairy lights around it — everything seems straight out of a romance novel. To top it all Diggin serves the best food ever. Imagine the kind of photographs you can take here!
Where: Anand Lok Shopping Centre, Opposite Gargi College, Anand Lok, New Delhi & 11, Santushti Shopping Complex, Race Course Road, Chanakyapuri
2. Rose Cafe
What would you call a genius interior colour scheme? Let us answer that for you. When you play with just the right combination of baby pink and turquoise on the base of solid white walls, that's called pure genius! And, that's exactly what you will see in Rose Cafe. The setting is so beautiful, it just stays with you even after you leave. You put an image of Rose Cafe on your Instagram feed, and even after adding a hundred more images, this one will pop-out every time you scroll through your feed. You don't spell dreamy as D-R-E-A-M-Y, you spell it as R-O-S-E-C-A-F-E!
Where: Westend Marg, Saiyad Ul Ajaib Extension, Sainik Farm, New Delhi
3. Mother India
They say, the time machine has not been invented yet. They also say that time travel is not possible. You know what — wait until you visit this place. All you need to do is just walk inside the door of Mother India restaurant and boom. Within seconds you have reached back to the colonial era of the 80s. The interior is classy, vintage and rustic. This one Instagram post will add all the regal and royalty to your Instagram feed that it'll ever need.
Where: H-11, Ground Floor, Outer Circle, Connaught Place, New Delhi
4. Music & Mountain Hillside Cafe
Despite being located at one of the central locations in Delhi, Music & Mountain Hillside Cafe seems like it's not in the city at all. This is the perfect place for folks who've been feeling the blues of homesickness. It takes you out of the daily urban fight and gives you those tiny moments of solace that rejuvenates you with a new sense of happy energy and enthusiasm for life. The wooden interiors and the tree log tables make for a perfect Instagram image that you would love to post on your feed.
Where: M-23, M Block Market, Greater Kailash 1, New Delhi
5. Dum Maaro Dum
This place looks like it used to be a location for some paint war riot in the past. Everything about this place is colourful and love-inspiring. It has Bollywood-inspired wall prints, doors in almost every colour possible, and a stationary food truck, which also doubles as the bar. You click a picture of this place and put it on your Instagram feed, and then you can keep counting the likes!
Where: 2510, Hudson Lane, GTB Nagar, New Delhi
So now that you've got the list, go ahead, click and post them all.
Related: Top 4 Cafes In Dehradun You Need To Try Out On Your Next Visit
Written By