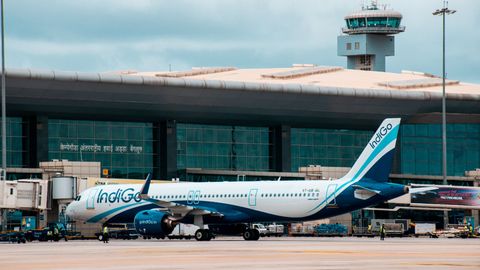 One of India's leading low-cost airlines, IndiGo has announced that it will no longer sell canned beverages on its flights.
For years, IndiGo has been known to serve delicious treats on its flights, and these often come in reusable packaging. Taking another step in the direction of sustainability, the airline made a new update which aims to combat the trash it generates by reducing the number of cans they dispose, according to a statement by the airline.
How will you be served a beverage onboard IndiGo flights now? At the moment, travellers have the option to purchase a snack on-board, which will come with a complimentary glass of juice or coke, an airline spokesperson said on September 19. "Previously, our menu included cashews (INR 200) and a coke (INR 100), with the total being charged at INR 300. Our updated menu now offers any munchy paired and a glass of juice or coke at INR 200 (the beverage is complimentary). Our buy-on-board service is entirely optional for customers to exercise their choice," reads the statement, according to Mint.
The new update is part of the airline's commitment to provide an efficient, sustainable and affordable snack experience, the spokesperson added. He mentioned, "This initiative aligns with our commitment to Go Green, as it has saved thousands of cans from being thrown away."
I discovered in mid-air on an Indigo flight that you can't buy a soft drink. The airline has made it obligatory to also buy a snack, regardless of whether you want it or not. This is coercion and I urge minister @JM_Scindia to restore the principles le of choice to fliers.…

— Swapan Dasgupta (@swapan55) September 18, 2023
This news comes after former Rajya Sabha MP Swapan Dasgupta posted on X (formerly Twitter) about IndiGo. He wrote, "I discovered in mid-air on an Indigo flight that you can't buy a soft drink. The airline has made it obligatory to also buy a snack, regardless of whether you want it or not. This is coercion and I urge minister @JM_Scindia to restore the principles le of choice to fliers. Squeezing fliers through all sorts of extras must stop (sic)."
Hero and featured image credit: Shantanu Agrawal/Unsplash
Related: Want An International Getaway From India Without A Layover? Check Out These Direct Flights
Written By