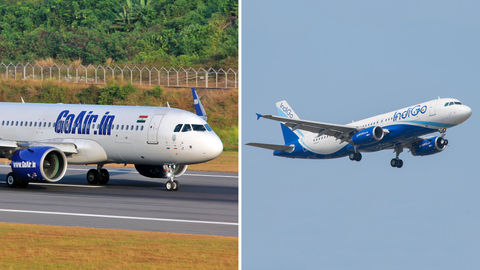 IndiGo and GoAir join the Vande Bharat Mission phase 4, thereby, lending support to Air India, which has been a part of the mission since May 6. By Tanvi Jain
View this post on Instagram
IndiGo and GoAir to operate 457 and 41 flights, respectively, from July 3 to July 15, as a part of the fourth phase of the ongoing Vande Bharat Mission aimed at bringing back stranded Indians from abroad.
"Pvt Airlines will have significant participation in Phase-4 of VBM. Among others, @IndiGo6E will operate 238 flights from Qatar & 219 flights from Kuwait; while @goairlinesindia will operate 41 flights from Kuwait. The number of pvt carriers, flights & destinations likely to increase," Ministry of Civil Aviation said in a tweet. "Private Airlines have volunteered for significant participation in this phase with 498 flights to be operated by them. These numbers may go up further," it had earlier said.
View this post on Instagram
"VBM continues to facilitate the return of stranded & distressed Indians. More than 450K people have returned on VBM & chartered flights since 6 May. @MEAIndia, AI Express, @airindiain, our missions, @flyspicejet @IndiGo6E @airvistara & @goairlinesindia ensure smooth operations," Civil Aviation Minister Hardeep Singh Puri added.
The Government has been airlifting stranded Indians from foreign lands since May 6, when the mission first started with Air India and has since then successfully flown 4,50,000 Indians home.
In the fourth phase, the airline will reportedly operate at least 114 flights to 17 nations including the US, the UK, Canada, Sri Lanka, Kenya, Kyrgyzstan, Philippines, Bangladesh, Saudi Arabia, South Africa, Thailand, Australia, Russia, Japan, Myanmar, Vietnam and Ukraine.
View this post on Instagram
"VBM enters Phase 4 on 3rd July 2020. In this phase, @AirIndiain will operate 114 flights (between 3-15 July) including 31 flights to the US, 19 to the UK, 9 to Canada & 8 to Australia. AI Express will operate 300 flights in July (136 upto 14 July & 164 between 15 July & 31 July)," the Ministry had said last month.
The airline had recently tweeted a statement saying, "It will operate 36 flights between India and the USA from July 11 to July 19, under the Vande Bharat Mission, for which tickets can be booked on the website from July 6." Its chartered flights are scheduled to be operated from July 3 to July 15.
Related: Here's All You Need To Know About Repatriation Flights Operating Under The Vande Bharat Mission
Written By