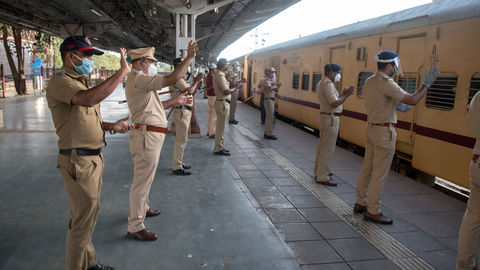 Editor's note: The global COVID-19 crisis has left each one of us deeply affected and we want to help. Burda Media India has organised a fundraising campaign to #FightBackWithTesting and donating RT-PCR test kits to the worst-affected areas in India, which will be secured from our testing partner Mylab Discovery Solutions. You can help these kits reach many more by donating for the cause or by adopting a kit. Click here to join the fight.
Indian Railways restart 15 special passenger trains along with the Shramik specials on selected routes but cancel old bookings for regular trains till June 30. By Tanvi Jain The Indian Railways has restarted at least 15 pairs of special passenger trains on 30 routes, for the first time since the suspension of rail services post complete lockdown, in the light of COVID-19 pandemic.
The trains will run from New Delhi to Dibrugarh, Agartala, Howrah, Patna, Bilaspur, Ranchi, Bhubaneswar, Secunderabad, Bengaluru, Chennai, Thiruvananthapuram, Madgaon, Mumbai Central, Ahmedabad and Jammu Tawi. "Passenger services on Indian Railways shall be partially restored w.e.f. from May 12, 2020, in a graded manner. Fifteen pairs of special trains will operate to 15 cities. Only online E-Ticketing will be done through IRCTC website. See attached list. https://pib.gov.in/PressReleseDetail.aspx?PRID=1622963," Ministry of Railways had recently tweeted.
However, the passengers will have to reach the station 90 minutes before the scheduled departure time of the train, carry their own food and blankets, go through thermal screening, and are also advised to download the Aarogya Setu App. Moreover, no concession will be allowed on bookings and the tickets will be available on premium fares, as the trains will be fully air-conditioned. Furthermore, the Railways has also said that it will issue a limited number of waitlisted tickets for special train journeys starting May 22. "Indian Railways will start issuing limited no. of waitlisted tickets for the special trains commencing journey from May 22, 2020, onward i.e. booking for which shall commence from May 15, 2020. RAC tickets will not be issued," Ministry of Railways tweeted.
At present, apart from the mentioned passenger trains, the Government has also started Shramik Special trains for migrant workers. Reports further suggest that more special trains might run in the future, but, as of now, no regular trains will be allowed to run till June 30, and passengers whose old bookings have been cancelled will get a full refund.
View this post on Instagram
All the train services except the goods trains were earlier suspended by the Indian Railways amid nationwide lockdown, to curb the rising cases of Coronavirus. The Shramik Special Trains were made operational from May 1, to take migrant workers stuck in cities, back to their home states. "Since May 1, 2020, Indian Railways has carried 10 Lacs of Shramiks in 800 trains to their home state," the Railway Ministry confirmed in another tweet. Later, on May 12, the Railways had hinted at soon restarting few selected trains.
Related: #SomeGoodNews: Travelling Within India To Resume Soon. Here's What We Know!
Written By