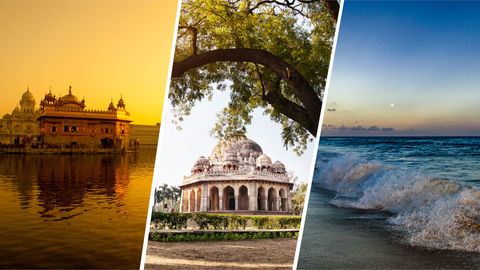 New year, new month, and new travel plans. All the travel plans you need to satiate the wanderer in you this January is right here! These are the best places you can visit in January in India to see them in their full glory. By Shubhanjana Das
1. Rann of Kutch, Gujarat:
Ditch the snow for the sand here in Rann of Kutch – where barren white deserts resemble the moon's surface. But, why should you visit Kutch especially during January? Well, when else will you get to experience the grand International Kite Festival and the Rann Utsav held at the beginning of each year? You will be amazed to see how a desert can look like a riot of colours during the Rann Utsav and the sky be adorned by kites from all across the globe during the International Kite Festival. There are also wildlife sanctuaries, forts, and buildings of historical value here at Rann of Kutch.
2. Puri, Bhubaneswar:
Looking for an offbeat destination in the Eastern part of India? Puri in Bhubaneswar is a place that is yet to be explored to its fullest extent by tourists. If you are a wildlife lover/bird watcher, Puri during January will be an absolute haven for you, just like it is for the many migratory birds that grace the Chilika Lake. Besides, it also houses the world-famous Jagannath temple along with beaches and architectural attractions, presenting a fine mishmash of activities for the different kinds of tourists with varied interests.
3. New Delhi:
Any time is a good time to visit the place that so proudly shelters the country's glorious past, its flourishing present, and the coming future as well. Delhi is a dream for every city-lover who also nurtures an interest in history and architecture. In fact, there won't ever be a dearth of things to do or see in New Delhi, no matter when you visit or what your interests are. However, you must plan a trip to New Delhi during January for this is when the Republic Day Parade is held. Besides, the Indian Art Fair is also scheduled during January.
4. Daman and Diu:
Daman and Diu may have been excluded from your travel itineraries all this while but not during January, for, this is when the longest beach festival in Asia, the Festa de Diu is held. Not that we needed any more reason to venture into the explored beaches of Daman and Diu, the vibrant festival adds just the right icing to this already gorg cake! What to expect at Festa de Diu? Zip lining over the Arabian Sea, hot air balloons, bungee jumping, fashion shows, music, carnival, spas, and a lot more. BRB, getting our beach clothes ready.
5. Punjab:
If the grazing green fields of sarson ke saag and sights straight out of DDLJ aren't exciting enough for you, the festival of Lohri will make you want to book your tickets to Punjab right away! During Lohri, the people of Punjab (as well as the rest of North India) come together to show their unity and celebrate the coming of the harvest season, which is commemorated by dancing around the bonfire with the dhol beats in the background accompanied by endless amounts of sumptuous food.
Related: India's Top 10 Most Instagrammed Destinations Might Make You Re-Plan Your Next Trip
Written By