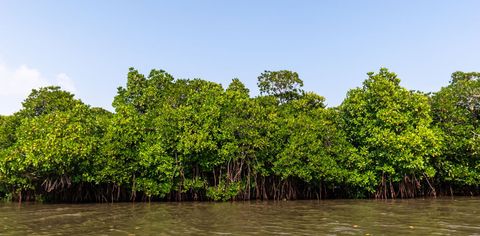 India has got five new Ramsar sites. This has taken the total number of such sites or wetlands in the country to 54. Environment Minister Bhupendra Yadav took to his twitter account to share the news with his fellow Indians. He tweeted five more Indian wetlands have received Ramsar recognition as wetlands of international importance. By Karan Kaushik
Here's everything you need to know about India's latest Ramsar sites
The emphasis PM Shri @narendramodi ji has put on environmental protection and conservation has led to a marked improvement in how India treats its wetlands.

Delighted to inform that 5 more Indian wetlands have got Ramsar recognition as wetlands of international importance. pic.twitter.com/VZDQfiIZN8

— Bhupender Yadav (@byadavbjp) July 26, 2022
These sites include Tamil Nadu's Karikili Bird Sanctuary, Pallikaranai Marsh Reserve Forest, and Pichavaram Mangrove; Madhya Pradesh's Sakhya Sagar, and Mizoram's Pala Wetland.
Thanks to India's geographical breadth and tropical diversity, the country has the maximum number of such sites in South Asia. The Ramsar wetlands in India sprawl over 11,000 sq km. This is 10 percent of India's total wetland area which spreads across 18 states.
As far as global statistics are concerned, the United Kingdom and Mexico have the maximum number of such sites with 175 and 142 sites respectively. In terms of the largest area, Bolivia has 1,48,000 sq km under the Convention protection.
What is a Ramsar site?
Under the Ramsar Convention signed in the Iranian city of Ramsar in 1971, a Ramsar site is a wetland that is designated as a site of international importance. The Ramsar Convention is also known as The Convention on Wetlands.
For a wetland to be a Ramsar site, it needs to fulfil at least one of the nine criteria defined by the Ramsar Convention. These criteria include supporting vulnerable, endangered, or critically endangered species or threatened ecological communities. If a wetland supports 20,000 or more waterbirds or if it is a crucial source of food for fish, it is also designated as a Ramsar site.
Feature and hero image courtesy: Shutterstock
Related: These 10 Wetlands In India Must Be On Every Birdwatcher's List
Frequently Asked Questions (FAQs)
Question: How many Ramsar Sites are there in India?
Answer: India is home to as many as 54 Ramsar sites.
Question: Which is first Ramsar in India?
Answer: Odisha's Chilika Lake and Rajasthan's Keoladeo National Park were the first Ramsar sites in India.
Question: Which is the largest Ramsar site in India?
Answer: Sundarban Wetland is the largest Ramsar Site in India. It is also the largest mangrove forest in the world.
Written By