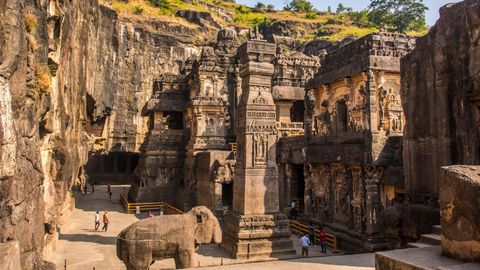 The renowned UNESCO World Heritage Site of Ellora Caves in Maharashtra is all set to become India's first monument to have a hydraulic lift. Here's what we know. By Karan Kaushik
Ellora Caves in Aurangabad will now have a hydraulic lift
Not far from Aurangabad, the incredible Ellora Caves continue to be one of India's most-flocked historic monuments. A UNESCO World Heritage Site, Ellora Caves house 34 monasteries and temples, which were carved between A.D. 600 to 1000 in basalt cliffs. The Buddhist, Hindu, and Jain structures here are reflective of the religious tolerance that ancient India was known for.
Ellora Caves are set to feature a hydraulic lift for the convenience of visitors. The heritage site will be the first monument in India to offer this facility. According to a report published in Times Travel, an official from the Archaeological Survey of India (ASI) has told news agency PTI that the hydraulic lift is aimed at making Ellora Caves a more tourist-friendly destination.
The report added that the Archaeological Survey of India has been working on various projects to offer a much better experience to tourists. Some of these projects are in the process of getting sanctioned by authorities, while some are currently in the works.
View this post on Instagram
One of the largest rock-cut temple complexes in the world, Ellora Caves have always been a huge tourist magnet. The Kailasa Temple or Cave number 16 is the largest and most spectacular of all the 34 caves here. The monolithic rock excavation is dedicated to Lord Shiva and stands shaped like a chariot.
The hydraulic lift will be set up at the Kailasa Temple so that tourists can reach its first floor easily. Till now, a staircase and a ramp were being used by visitors to explore the double-storied structure. These will also remain operational even after the temple gets the hydraulic lift. The lift will be accessible for tourists who use a wheelchair, thanks to the 9 square feet area.
Feature and hero image courtesy: CRS PHOTO / Shutterstock.com
Related: 6 Fascinating Road Trips From Mumbai For History Lovers
Written By