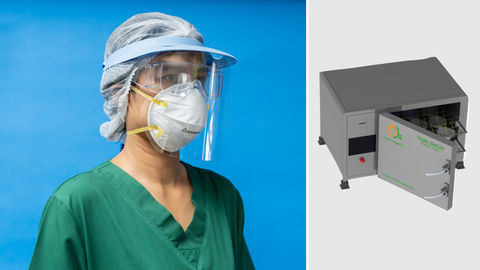 An IIT Delhi startup, Chakr Innovation, has created a machine that can disinfect N95 masks and make them reusable. By Kumar Shree
Safety and preventive gears like masks, gloves, and PPE suits play a vital role in the fight against Coronavirus. However, the used and discarded units are causing an unnecessary burden on the environment. To tackle this issue, Chakr Innovation, an IIT Delhi-incubated startup has developed a machine named Chakr DeCov. This machine is essentially a decontamination device that uses ozone gas to clean and disinfect used N95 masks. Ozone gas has high penetrability and is also a strong oxidising agent. These two properties of the gas make it ideal for cleaning N95 masks. The gas penetrates through the pores of the mask, and its oxidising properties diffuses through the protein coating of the virus. This process damages the RNA of the virus and destroys its very structure. You get a clean mask that can be used for up to 10 times. The best part — this process does not bring any changes to the mask's filtration efficiency. It takes a total of 90 minutes to complete this process.
Minister of State for Health and Family Welfare, Shri Ashwini Kumar Choubey launched the device on Friday, July 10. As reported by India Today, "This decontamination device has been launched at a time when the country needs it most to strengthen the fight against COVID-19 pandemic as unsafe re-use of N95 masks may put the lives of the healthcare professionals at risk," he said. Talking about the technological innovation by Chakr Innovation, Prof V Ramgopal Rao, Director, IIT Delhi said, "IIT Delhi is committed to addressing the COVID-19 problem through its technological prowess."
This innovation is expected to help in tackling the biomedical waste generation that has gone significantly high during this period.
Related: AirAsia Collaborates With House Of Masaba To Export Masks In Southeast Asia
Written By