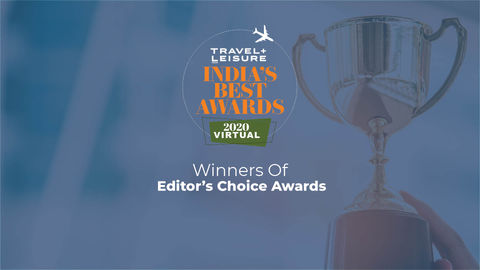 The final day of India's Best Awards 2020 celebrations are reserved for leaders across select categories, all of whom have been handpicked by Travel + Leisure India & South Asia's editor-in-chief, Aindrila Mitra. This category is especially significant because these winners are truly industry thought-leaders and deserve a special mention for their efforts and above-par excellence—serving as an apt way to round up our week-long celebrations.
View this post on Instagram
Best City (International)
San Francisco, United States of America
View this post on Instagram
Few cities are as instantly recognisable as San Francisco. The City by the Bay is known for its attractions such as the Golden Gate Bridge, Alcatraz Island, and Fisherman's Wharf. One look at its hills, coastlines, and architecture will tell you why it's one of the most beautiful cities in the world. San Francisco's open-mindedness and optimism means it welcomes diverse outlooks, which makes it a leader in innovation and cultural change. San Francisco lets you view the world through different lenses and embrace the differences.
Best Heritage Destination (International)
View this post on Instagram
For those looking to experience something unique and authentic on a holiday, Austria is an excellent choice. Yes, it is best known for alpine hiking and skiing, and Vienna's historic architecture, but there's much more to a holiday in Austria. The country is the centre of a grand, multi-ethnic empire with varied cultural influences, and its imperial history and sights are a major reason to visit. Tradition and modernity coexist in perfect harmony in Austria, and a long tradition of hospitality makes sure your holiday is a memorable one.
Best Emerging Destination (International)
View this post on Instagram
Sitting in the heart of Central Asia, Uzbekistan showcases its proud heritage in its architectural monuments, magnificent palaces, and fortresses of yesteryear. Historic cities such as Samarkand, Bukhara, Shakhrisabz, and Khiva sit on the UNESCO Cultural Heritage List and offer remarkable insights into ancient civilisations. Depending on the time of your visit, you can explore mountain gorges in Surkhandarya, see the ruins of ancient cities near Termez, go skiing in the foothills of the Tien Shan, or climb the highest point of Big Chimgan. With so many diverse offerings, Uzbekistan is one of the strongest emerging destinations in the world right now.
Best Wedding & Honeymoon Destination in India
View this post on Instagram
Rajasthan is where your happily-ever-after begins with utmost grandeur. Royalty and romance mingle to create the perfect recipe for your big fat Indian wedding. You can hold grand celebrations in a heritage hotel, enjoy bespoke culinary experiences, and get treated like kings and queens. With offerings like a sunset boat ride on Udaipur's Lake Pichola, dune bashing in Jaisalmer, hiking up Lock Rock for unadulterated views in Mount Abu, and exploring the glorious past of the imposing Mehrangarh Fort in Jodhpur, there's no dearth of memorable experiences for honeymooning couples either.
Best Business Hotel in India
View this post on Instagram
THE Park Kolkata offers urban luxury at the best downtown location. Along with 149 lavishly furnished rooms, the hotel features a pub, a cocktail bar, an international nightclub, and an alfresco bar and dining option. State-of-the-art banquet halls spread over 1,394 square metres combine cutting-edge technology and chic design. While its event spaces offer a combined capacity of over 1,000 guests, the hotel's all-encompassing programme S.H.I.E.L.D brings the best of luxury, design, hygiene, safety, and service excellence under one roof.
Best Boutique Hotel in India
View this post on Instagram
For the SUJÁN family, preserving, protecting, and restoring Indian wilderness as well as cultural heritage are of paramount importance. With just 10 tented Family and Royal suites that reflect the responsible ethos, SUJÁN JAWAI sits amongst billion-year-old granite rock formations in Jawai Bandh (located in the Pali district of Rajasthan), where leopards roam free and coexist peacefully with the local communities. The boutique camp celebrates the great outdoors with panache. You can also wander with the Rabari tribesmen and indulge in various conservation and community projects.
Best Safety & Hygiene Protocols
View this post on Instagram
The Oberoi Dharma—a philosophy embraced by every hotel under the group—prioritises the safety, comfort, and wellbeing of its guests, more so in light of the pandemic. In keeping with the World Health Organization and Ministry of Tourism guidelines, and in partnership with Bureau Veritas, the hotel has implemented rigorous sanitation and disinfection of touch-points, electrostatic sprayers, temperature readings, and more to make every stay seamless. Professional agencies and doctors are also on standby for sanitisation of all areas, in case anyone tests positive on the premises.
Best International Airline
View this post on Instagram
Emirates is one of the world's largest international airlines with a global footprint across six continents. The airline operates one of the most modern and efficient aircraft fleets, comprising Airbus A380 and Boeing 777, connecting passengers, and facilitating global trade through its modern hub, Dubai. Ever since its inception, the airline has been recognised by more than 500 international awards for operational excellence, innovative services, and industry-leading products. These accolades have come for a reason. Globetrotting on this airline has always fulfilled checklists of the most discerning travellers.
Best Luxury Resort (International)
Wild Coast Tented Lodge Yala, Sri Lanka
View this post on Instagram
Situated on the edge of Yala National Park in Sri Lanka, Wild Coast Tented Lodge is a fine example of Resplendent Ceylon's vision of providing the best in luxury and comfort while creating meaningful journeys. Twenty-eight teak and canvas 'Cocoon Suites' are arranged in the shape of a leopard's paw, some of which offer private plunge pools, whilst some have adjoining 'Urchin' tents for families. Moreover, the five-star resort is known for its waste management methods, energy use, and other eco-friendly initiatives.
Best Wellness Retreat (International)
Chiva-Som International Health Resort, Hua Hin, Thailand
View this post on Instagram
Asia's pioneering destination wellness resort, Chiva-Som Thailand is ideal for pursuing wellness goals. For the past 25 years, the resort's 'wellness with heart' philosophy and high standard of service has been celebrated by guests and industry experts alike. Bringing together Western diagnostic skills and Eastern philosophies, the beachfront resort's mission has been to revitalise the mind, body, and spirit. Its 12 Retreat Stays and a selection of over 200 treatments, therapies, and activities encourage healthy habits and lifestyle transformations.
Related: #IBA2020 : #TnlSalutes These Winners For Their Heroic, Exemplary & Innovative Work During COVID-19
Written By