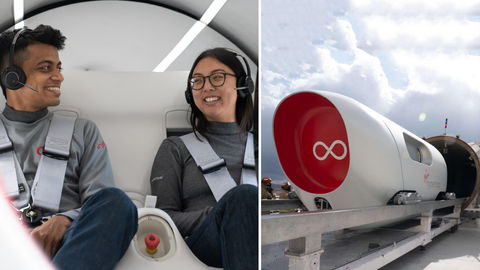 Pune-based engineer Tanay Manjrekar becomes first Indian to test-ride Virgin Hyperloop; eyes tremendous opportunity for the country. By Tanvi Jain
"I'm really proud to represent India." Meet Tanay, an engineer at Virgin Hyperloop and one of the first hyperloop passengers. ???????? pic.twitter.com/l1xZkpEEZO

— Virgin Hyperloop (@virginhyperloop) November 17, 2020
Just a few days after Virgin Hyperloop successfully tested its first human ride in Las Vegas with its Customer Experience Director Sara Luchian and Chief Technology Officer Josh Giegel onboard, Pune-based engineer Tanay Manjrekar who is also Virgin Hyperloop's Power Electronics Specialist, became the first Indian to test-ride the machine.
"The journey was exhilarating, to say the least. It is in fact a very smooth ride. The pod accelerates at a comfortable rate and once we reach the desired speed, the pod slows down safely. It is fairly quiet inside the pod and it feels like you are riding a really fast luxury sports car. It was a very comfortable journey and that has been the goal for us. To make it as comfortable and easy for people to use it," Manjrekar who had joined Virgin Hyperloop in 2016, told The Hindu.
We did it once – and we did it again. Meet Anne and Tanay, the second set of hyperloop passengers. Who wants to ride next? pic.twitter.com/09ogJcLJ4n

— Virgin Hyperloop (@virginhyperloop) November 12, 2020
"I am ecstatic and absolutely thrilled to ride in the hyperloop. It is so fulfilling to see the years of hard work, dedication and persistence come to fruition after being part of the team that built it. Working on hyperloop – let alone being one of the first to ride it – is truly a dream come true. It is my hope that India sees the tremendous opportunity here and continues to progress on the Mumbai-Pune hyperloop project," he was further quoted as saying by Mumbai Mirror.
As per various media reports, currently, the government of Maharashtra has deemed it a public infrastructure project, and has selected Virgin Hyperloop-DP World Consortium as the original project proponent for the Mumbai-Pune hyperloop project; but later plans to work with India's central authorities as well.
#Hyperloop pod carries two humans through a tube at over 160 kmph for the first time ever @virginhyperloop @richardbransonhttps://t.co/uTI3y5m6cN

By @pabsgill pic.twitter.com/simv4WQ1zy

— Business Insider India???????? (@BiIndia) November 9, 2020
"The opportunity for India to lead the world in this new form of transportation is unprecedented. The project would be the largest private infrastructure investment in Maharashtra, creating 1.8 million direct and indirect jobs and USD 36 billion in socio-economic benefits," Virgin Hyperloop's Director for the Middle East and India, Harj Dhaliwal, was further quoted as saying by the media.
Virgin Hyperloop had earlier announced a partnership with Bangalore International Airport Limited as well, and had also signed a contract with the Punjab government.
Related: Hyperloop Travel Takes First Step Towards Becoming A Reality By Completing Maiden Passenger Journey
Written By