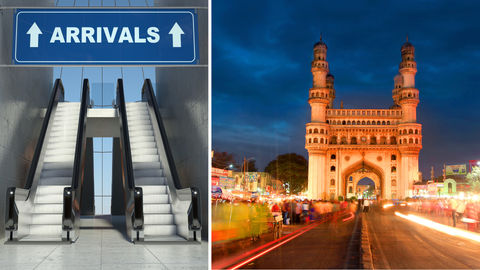 Editor's note: The global COVID-19 crisis has left each one of us deeply affected and we want to help. Burda Media India has organised a fundraising campaign to #FightBackWithTesting and donating RT-PCR test kits to the worst-affected areas in India, which will be secured from our testing partner Mylab Discovery Solutions. You can help these kits reach many more by donating for the cause or by adopting a kit. Click here to join the fight.
The latest move by Hyderabad International Airport will introduce a first-of-its-kind

contactless

entry to ensure minimum contact of passengers with each other and personnel. By
Manya Saini
Experts around the world have cautioned that we will be living with the Coronavirus until a vaccine is discovered; we must practice acute precaution. Once the nationwide lockdown ends, different guidelines are being given out by the airports across the country. Rajiv Gandhi International Airport (RGIA) is all set to introduce contactless terminal entry for travellers.
View this post on Instagram
The initiative will kick in once flights resume operations while adhering to the social distancing guidelines. Currently, travellers hand over their tickets or check-in receipts and a government photo ID to the security staff, for verification, before entering the terminal. Now at RGIA, the passenger must display their ticket and ID to a high-definition camera installed at each entry gate at the domestic departure terminal.
Reducing the contact of the Central Industrial Security Force (CISF) personnel, they will be placed on a specially designed monitor at a safe distance away from the travellers. The passengers will be allowed inside after the documents have been duly verified automatically.
Further, adding to the new safety initiatives, the airport has positioned thermal cameras to record body temperature of travellers entering the terminal in a non-intrusive way. If a passenger is found to have a fever or above normal temperature, airport health officers will be alerted, and entry will be denied.
View this post on Instagram
All counters at the airport are in the process of being fitted with acrylic shields to ensure there is no direct contact between the passengers and check-in staff. It has worked to shift operations towards self-service, as people will themselves now collect their boarding passes and baggage tags.
The GMR-group operated RGIA's safety announcements and new initiatives come in the wake of its participation in the Central Government's Vande Bharat Mission, an offshore evacuation drive of Indian citizens stranded abroad. On Monday, 118 Indian nationals landed in Hyderabad from the USA.
Related: Hong Kong Airport Tests New Cleaning Technology Amid COVID-19
Written By