When it comes to year-end vacationing in India, no one does it better than Hyatt Hotels. With a bouquet of properties at hand, interlaced with top-notch hospitality and discounts aplenty, here's why a getaway at any of their hotels is the ideal way to usher in the New Year.
Hyatt's Special Offer

If you're a World of Hyatt member, your year-end holiday plans with the global hospitality chain will not only be memorable, but will be a rewarding one too! Members can save up to 30 per cent on room stays, along with complimentary breakfast every morning. Plus, this offer is valid across all Hyatt properties in India until January 31, 2021; so your celebrations can extend well into the New Year as well!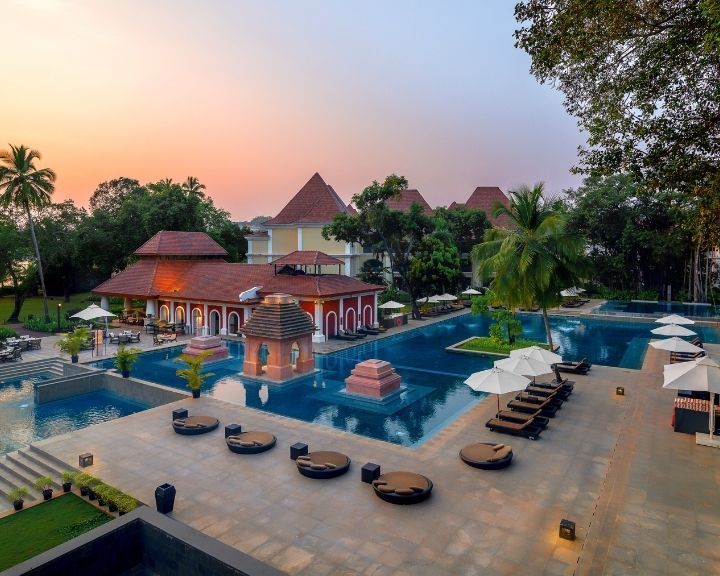 A December holiday overlooking the stunning waters of Goa's Bambolim Bay is a great way to bid adieu to a rather stormy year. Especially when it comes paired with 28 acres of tropical gardens and lush lawns rolling till the edge of the bay! At Grand Hyatt Goa, you get that and a lot more! Think 313 rooms cloaked in luxury; carefully curated culinary offerings across six dining options; a spa spread over two floors; and multiple recreational activities like wall-climbing, aqua-zorbing, zoccer, archery, zip-line, flying fox, wild-web rope course, and more. Need we say more?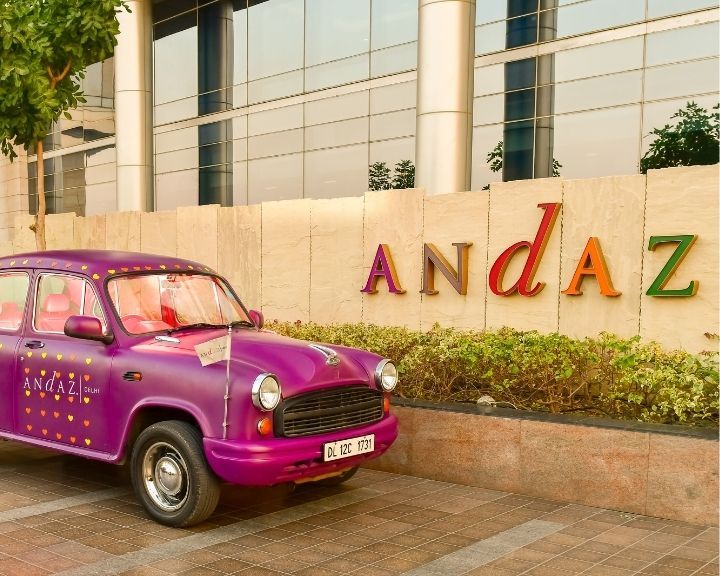 Andaz Delhi is designed to stand out. Embodying the spirit of the national capital with 401 unique artworks dotted across each of their rooms, this luxury lifestyle hotel is sure to give you new reasons to fall in love with the city. From their cool indoor decor aesthetic to their many outdoor lawns, terraces, and well-stocked library, the hotel makes for a great staycation place to celebrate the year-end. Not to forget, their farm-to-table epicurean offerings are worth your time!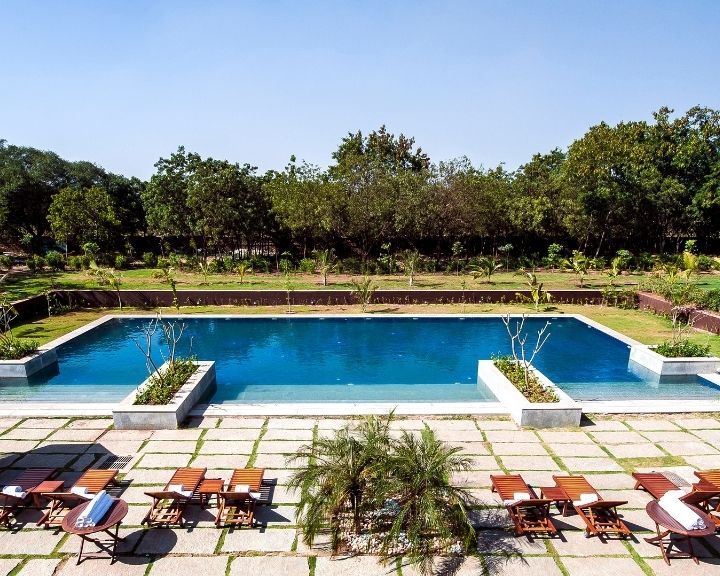 Resonating with the picturesque beauty of the temple town, Hyatt Place Hampi shines bright amid ancient ruins. Drawing inspiration from 14th-century relics that dot the town's landscape, this upscale property features 115 smartly designed rooms, seven of which come paired with an outdoor plunge pool. When here, you can gorge on thoughtfully sourced and regionally inspired food at their restaurant; or embark on a tour to the boulder-strewn side of Hampi. End your day with a dip in the resort's outdoor pool, or melt away your stresses at the spa.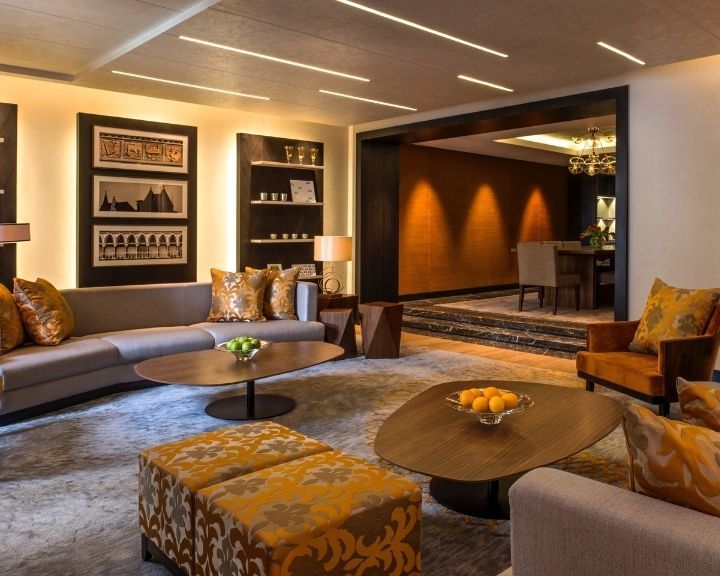 Spread over 12 acres of greenery, Grand Hyatt Mumbai Hotel & Residences is perfect for a memorable year-end staycation in the 'Maximum City'. Located in the city's bustling Bandra Kurla Complex, this towering hotel allows you to experience extraordinary moments all underlined by imprints of high-end luxury. With 547 rooms and suites on offer, you can be assured of a comfortabe and safe holiday. When paired with their multiple signature dining options, extensive leisure facilities, international shopping plaza, and a host of rejuvenating recreational offerings, you've got a one-stop-destination like no other.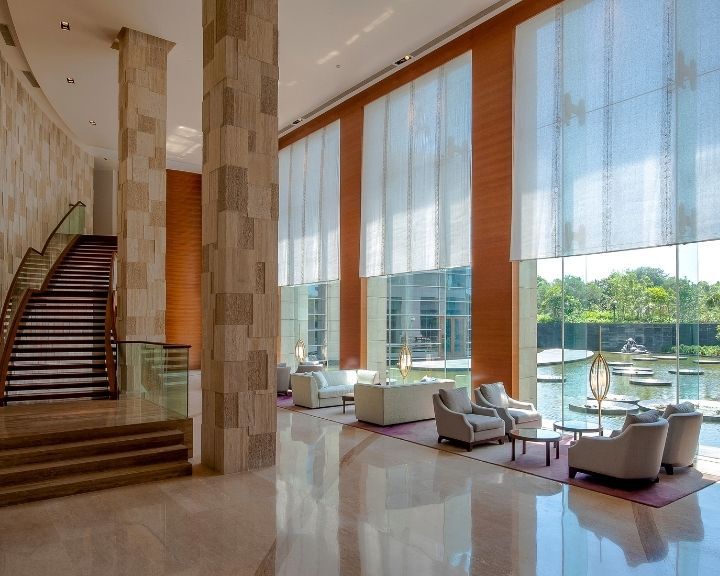 Overlooking the city's Guindy National Park, the pet-friendly Park Hyatt Chennai offers the perfect blend of thoughtful amenities and unparalleled elegance. Designed by George Wong, this silent retreat in an otherwise bustling metro has a serene lily pond sitting right at its heart, and 200 indulgent guest rooms covering the space. Adding to this peaceful demeanour is the Antahpura Spa, an in-house rejuvenating sanctum that blissfully floats above a canopy of green foliage—serving as an apt way to say goodbye to a rather tumultuous year.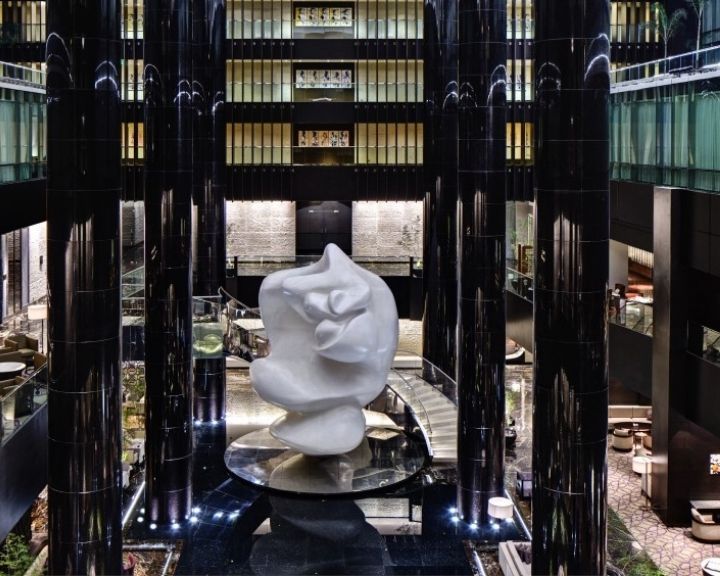 Perched on the city's upmarket Banjara Hills, Park Hyatt Hyderabad is an effigy of opulence and luxury. When here, expect to indulge in an array of intimate experiences that'll make your year-end stay an illustrious one. Whether you wish to revel at the panoramic outdoor pool here or enjoy a lavish meal at one the interactive restaurants of this property, you're sure to be greeted with unparalleled service at every turn.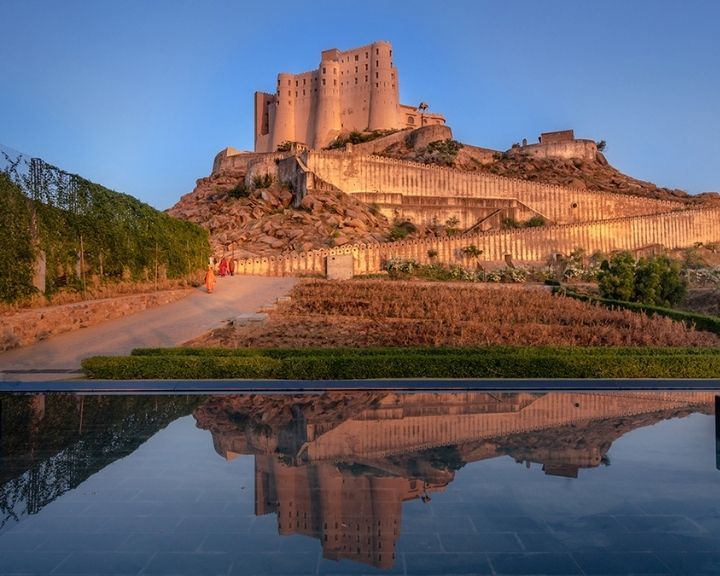 Celebrating all things traditional comes naturally to the folks of this warrior fort-turned-hotel, but they do so with Rajasthan's signature regal touch. Serving as a unique example of Jaipur Gharana architecture intermingled with Mughal and British influences, this 1,00,000-square feet hotel is designed to pamper you with its many offerings. Picture colourful havelis embraced by Bishangarh village's simplicity; large bay windows overlooking the Aravalli hills; and restaurants paying homage to traditional cooking methods like handis and kulhads.