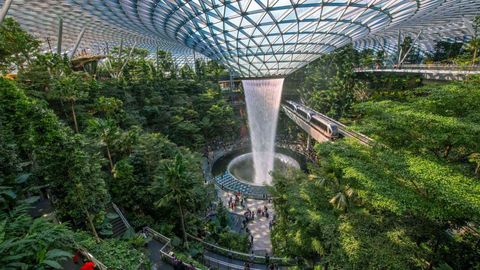 The cavernous arrivals and departures halls of Hong Kong International Airport were once among the busiest in Asia, handling nearly 72 million passengers in 2019. Today, it's only a slight exaggeration to say there's nobody there at all. Though Hong Kong has lifted its mandatory hotel quarantine rules, China's strict zero-COVID policy has kept all but a handful of international travellers from flying in: recent figures show the airport on pace for just 1.5 million passengers in 2022. Hong Kong, the world's most visited city in 2017, according to Euromonitor International, has slid to number 49. By John Arlidge
The picture is very different at Singapore Changi Airport. After the government of Singapore decided in April to allow fully vaccinated passengers to enter without tests or quarantine, traffic soared to more than 50 percent of pre-COVID-19 levels within two months. The airport received approximately 10 million arrivals through June, with many passengers arriving from Los Angeles, New York City, and San Francisco, as well as London and Paris.
Here's how Singapore became the aviation hub Now Changi is ramping up services to become Asia's new aviation leader. "This could be our time," says Ke-Wei Peh, vice president of market development at Changi Airport Group. "We're optimistic, and we're expanding." Many facilities were closed at the height of the pandemic; Terminal 2 has reopened and Terminal 4 is slated to soon. Work has resumed on a new fifth terminal, and a third runway is due to reopen once nearly 25 miles of new taxiways are completed in coming years.
Meanwhile, Singapore Airlines, which avoided bankruptcy during the dark days of 2020 by raising USD 16 billion of fresh liquidity, has added new routes, including nonstops to Seattle and Vancouver. The world's longest flights, between Singapore and the New York City area, were grounded during the pandemic but resumed in January 2021 to JFK and March 2022 to Newark.
Singapore Airlines now has three trips between Asia and New York every day, including one aboard a double-decker Airbus A380 that offers six private suites, each with a plush bed, private bathroom, Wi-Fi, and the choice of Dom Pérignon, Krug, or Taittinger. All but one of the carrier's 12 A380s are back in the air, and the company expects to serve more than 70 percent of its pre-pandemic destinations by the fall. At Changi, Singapore Airlines gave its business- and first-class lounges a USD 36 million makeover, with splashes of blue, orange, and silver disrupting the usual symphony of beige. And, for the first time, there are free sleep pods for business passengers, as well as hotel-esque quiet rooms with beds for first-class fliers. Those amenities should appeal to transit passengers continuing on to destinations in Cambodia, Indonesia, the Maldives, and Thailand — many of which will be served by new Boeing 737-8 planes freshly outfitted with lie-flat seats in business class.
As long as China remains committed to its zero-COVID policy, aviation industry analysts argue Singapore has a golden opportunity as a hub for all of Southeast Asia. "Most airlines in the region are structurally damaged by COVID," says Shukor Yusof, founder of the consultancy Endau Analytics. "Post-pandemic, Singapore Airlines will be the airline of choice for many."
When China does finally open, Singapore Airlines will be there: before 2020, the company and its sister airlines, including Scoot, had more flights to more mainland cities than any other aviation group.
This story first appeared on www.travelandleisure.com
Main and Feature Image Credit: Courtesy of Singapore Changi Group
Related: How To Get Upgraded To First Class For Free
Written By