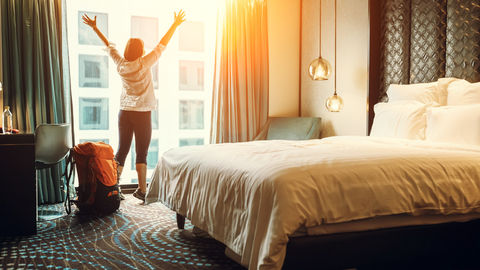 As the hospitality industry prepares itself to reopen in post-lockdown India, we take a look at what they are up to and how much have they changed since the pre-COVID-19 era. By Tanvi Jain
View this post on Instagram
As part of a phased re-opening, ITC Grand Bharat and ITC Rajputana have prepared to welcome guests with the assurance of stringent health, safety, and hygiene measures. Both the hotels have reopened their doors with the group's 'WeAssure' initiative, under which all the guests will be provided with an accreditation from the National Accreditation Board for Hospitals & Healthcare Providers (NABH). Moreover, in partnership with DNV GL Business Assurance — a certification body — both the hotels will also ensure stringent clinical levels of hygiene and safety. As part of the 'WeAssure' initiative, ITC Hotels has also introduced the 'The Safe Car Promise' under which all vehicles undergo stringent daily deep-cleaning protocols with accredited surface antimicrobials, hand sanitiser and face masks are offered to guests at the time of pick-up, chauffeurs undergo regular temperature checks and wear prescribed PPE at all times, etc. Meanwhile, ITC Hotels in Bengaluru comprising of ITC Gardenia, ITC Windsor and WelcomHotel Bengaluru have already opened their gates on June 8, with enhanced safety and hygiene protocols under the group's 'WeAssure' initiative. The Oberoi, Mumbai; Trident Nariman Point, Mumbai and Trident Bandra Kurla, Mumbai which reopened on July 8, have partnered with Bureau Veritas to validate and review their safety measures. Its fleet of hotel owned and operated cars are thoroughly sanitised before and after each trip. The team regularly sanitises their hands, and wears disposable gloves and face masks at all times. Both the staff members as well as the guests are required to have their body temperatures checked before entering the property. Moreover, in order to facilitate contactless check-in an e-mail with a link to register online and submit photo identity proofs is sent to guests prior to arrival. Government-mandated self-declaration forms are available through a QR code / URL displayed at the Front Desk which the guests can easily access on their personal devices. Similarly, for a contactless check-out process, invoices along with a digital payment link are sent to guests via email. Furthermore, there is a QR code that needs to scan for every information and service, for example, local maps, places of interest, information about the city, selection of music, in-room dining menu, hotel and city information, experiences at the hotel, Wi-Fi in the car, Oberoi Group Magazine. Guests can also ask for an iPad menu. The iPads are sanitised after every guest usage. Orders at the restaurants can simply be given over a call, all dishes are pre-portioned as per the number of diners on the table.
View this post on Instagram
IHCL has developed enhanced safety protocols in accordance with the norms laid down by the World Health Organisation (WHO), Food Safety and Standards Authority of India (FSSAI) and the Government of India. It has also partnered with leading organisations and experts in the domain of safety and hygiene to share best practices and to source high-grade protective equipment and disinfectants for use at its hotels. Associates at IHCL are extensively trained on safety, hygiene and physical distancing. Technology is used for seamless, yet personalised check-ins, check-outs and dining experiences. It is also promoting digital payments and non-invasive thermal screening. IHCL associates have easy and quick access to sanitisation stations and protective equipment. Regular health checks and counselling support is also provided to ensure their physical and mental well-being. While Taj City Centre Gurugram has formally opened post lockdown as per Government guidelines, Taj Palace and Taj Vivanta, New Delhi are operational for essential services only.
View this post on Instagram
Conrad Bengaluru has also announced its reopening but with limited access to the rooms, restaurants, spa and small meeting spaces, to maintain hygiene and social distancing. Guests will now experience contactless express digital check-in and check-out, contactless dining with digital menus, set meal menu or a la carte orders, and wellness facilities at the Conrad Spa. "These protocols have been renewed to include the guidance received from the CDC, WHO and Hilton Worldwide," said Srijan Vadhera, General Manager, Conrad Bengaluru.
View this post on Instagram
Hyatt Centric MG Road Bangalore has recently announced its special staycation offer, which includes accommodation for two adults, daily breakfast, a daily meal of one's choice –– lunch or dinner, a complimentary second room for families travelling with children younger than 12 years, 20 per cent off on in-hotel dining, 50 per cent off on an upgrade to a Club Room or Suite, 20 per cent off on transport and 20 per cent off on laundry. Guests can enjoy their all-time favourite meals ranging from salads made from fresh produce, homely combos, etc. right at their doorsteps. They can also opt-in for 'The Work Pad' equipped with access to high-speed internet, unlimited tea/coffee with daily refreshments, lunch subscription plans, and more.
View this post on Instagram
Grand Hyatt Kochi Bolgatty has also announced a similar staycation offer which includes — daily breakfast, one meal per day of the guests' choice (either lunch or dinner), a complimentary guestroom and meals for two children (12 years of age or under), 20 per cent off on dining, 50 per cent off on an upgrade to a Club Room or Suite, one-hour Kayaking and free access to Kids Play zone (subject to government guidelines). The offer which was made available on June 10 is valid until December 31. The food and beverage offerings also reopened for dine-in on June 9.
View this post on Instagram
The Ritz-Carlton, Bangalore has been taking stringent measures as mandated by the Government of India and the WHO, including enhanced safety and hygiene standards, social distancing, etc., to welcome back its guests in a safe environment. The hotel has also introduced a 'We Care' programme, under which it has covered a bunch of measures including, mandatory temperature checks at key guest checkpoints, provision of sanitisers at all areas, medical-grade masks, gloves for all team members also ensuring that they regularly wash hands and use sanitisers multiple times a day. Moreover, all the key areas in the hotel are also being sanitised multiple times a day. The seating arrangements at meeting areas have been redone in compliance with the social distancing norms. However, restaurants, bars, swimming pool, spa, salon and city tours, will be made available from the date advised by the authorities. The hotel's 99 Pop-Up Restaurants have also reopened for dine-in.
View this post on Instagram
Crowne Plaza Greater Noida resumed operations and reopened to guests on June 8 in line with guidelines issued by Government of India and the Ministry of Health and Family Welfare. In addition to following the guidance of relevant health authorities, the hotel has enhanced its cleaning and disinfection procedures as well which includes embedding its already in use IHG Way of Clean programme i.e. deep cleaning with hospital-grade disinfectants across the hotel, maintaining social distancing, using personal protective equipment, masks and gloves; conducting visible and more frequent deep cleaning of high touch surfaces in public areas, providing individual guest amenity cleaning kits; installing sanitiser stations in public spaces; removing high touch items from the guest room; replacing in-room collateral with digital communication as well as digitising dining menus and payments. The hotel has made operational all its guest rooms, Mosaic — the multi-cuisine restaurant — Mosaic Pastry Lounge, Hibiscus spa and salon, as well as the meeting and banquet venues. It will also continue to offer food home delivery services in Noida and Greater Noida.
View this post on Instagram
Four Seasons Hotels and Resorts have collaborated with Johns Hopkins Medicine International, to validate its new global health and safety programme — Lead With Care — and provide guidance on the evolving COVID-19 situation. Scheduled to reopen on June 15, the hotel will welcome guests and teams on its new property. Phase one of the Lead With Care programme will involve a comprehensive review of Four Seasons' existing health and safety procedures along with enhanced protocols at a global, regional and property level. Phase two, on the other hand, is called Ongoing Guidance, which will provide direct access to curated critical updates, relevant COVID-19 research outcomes, and expert advice to ensure real-time adjustments to operating procedures. Four Seasons and Johns Hopkins will also establish a joint Response Team where senior experts in infectious diseases from Johns Hopkins will provide on-demand response and guidance to hotels facing COVID-19 situations. The hotel will be working closely with EcoLab and International SOS. Employee training, additional food handling protocols, and enhancements to ventilation systems and other back-of-the-house operations will also be put in place as a part of this programme. Moreover, each property will appoint a Hygiene Officer, rooms will be disinfected every day with EPA approved products and will have blacklight inspection by room attendants, housekeeping teams will be trained to ensure all cleaning protocols are being implemented across the portfolio, public areas will be cleaned every hour with extra attention to frequented areas including front desk counters and public restrooms, electrostatic spraying, ozone technology for air purification and UV technology for HVAC systems, will also be included in the list of technologically advanced cleaning methods. Furthermore, Lead With Care kits will be placed in each guest room providing masks, hand sanitiser and sanitisation wipes, and additional masks will also be supplied on demand, social distancing measures will be embedded in all services for guest protection, including appropriately spaced fitness equipment, modified spa menu and services, contactless check-in and housekeeping services, restaurants and bars will likely operate with reduced capacity to ensure adequate space and socially distant set-up, nearly all restaurants will provide a la carte service with digital menus wherever possible. Four Seasons Hotel in Mumbai is once again inviting its guests with its Restart Your Time offer, valid for two nights and above at a starting price of just INR 9,000 plus taxes and INR 9,900 plus taxes. The offer includes a signature Four Seasons breakfast, lunch, dinner, and a complimentary room upgrade for guest rooms, subject to availability. However, suites are not included in this offer. Apart from this, the hotel is also offering Day Use Office Spaces to professionals and business owners looking to resume work in a safe environment. These day packages are priced at INR 6,000 plus taxes for five hours, and INR 10,000 plus taxes for nine hours, along with Wi-Fi, 15 per cent off on F&B and limo services, tea/coffee provisions, and the ability to check in to your office space within 24 hours without the hassle of paperwork. For more details, you can connect with the hotel team on +91 22 2481 8000 or write to them at reservations.mumbai@fourseasons.com. Furthermore, Four Season's Lead With Care Programme is focused on providing care, confidence and comfort to all its guests, employees and residents within the new COVID-19 environment.
View this post on Instagram
The Roseate Ganges in Rishikesh recently announced that it has reopened with heightened safety and hygiene practices in place. With upgraded standard operating procedures through its Care by Roseate programme, the hotel is adhering to stringent processes across its properties and above all the safety guidelines instructed by the Government. The programme includes measures such as thermal screening of all passenger vehicles at entry gates, display of 'Safe' status in Arogya Setu app for staff and guests, and wearing of masks before entering the premises.
Moreover, all hotel vehicles will be disinfected at entry points and after every use, sanitisers will be kept at all prominent locations within the hotels and resorts, guest luggage will be disinfected from outside upon arrival. To enable seamless, remote check-ins, 'Touchless Check-in' will be facilitated via an app, in which all the information will be pre-registered. After check-out, the same room will be allocated not before 24 hours after being thoroughly disinfected. The hotel will also be following an alternate room occupancy policy to maintain social distancing. Housekeeping staff will wear Personal Protective Equipment (PPE). Delivery and clearance of Room Service orders will be done just outside the hotel room entrance.
View this post on Instagram
To ensure touchless usage of elevators, a staff member in PPE will be present to operate them with not more than three members at a time. Touchless dining is going to be paramount, where guests while booking a table will not just be able to see the menu and the order, but also the live preparation via an app, and billing will also be done via bank cards. There would be no buffet services for the time being and the menu will include many immunity booster dishes.
The tables in the restaurant will be placed at a minimum of two-metre distance and the kitchen and service staff will wear PPE at all times. Regular temperature checks of staff will continue to be a part of the new normal, and personnel from areas designated as hot spots will be discouraged within the hotel premises.
If you are planning to visit the place, you can book a room at the hotel for INR 17,999++ per night, which includes breakfast and Wi-Fi. You can also book a drivecation package which comes with direct transfers from residence in BMW, two nights stay, breakfast and Wi-Fi in a deluxe villa at The Roseate Ganges at INR 44,444 (valid for Delhi/NCR only). There is another Unforgettable Getaway package available at INR 99,000 plus GST.
For reservations, you can call at 9319903388, send an email at info.trg@roseatehotels.com or visit roseatehotels.com.
Related: Restaurants, Malls, Hotels & Religious Places Reopen: Keep In Mind These Dos & Don'ts
Written By