#SomeGoodNews: You Can Once Again Check Into Your Favourite Luxury Hotel In Delhi
Travellers, the wait is finally over as hotels in New Delhi have flung their doors wide open again, ready to usher in guests with utmost precaution. Check out these luxury hotels in the capital city that are reopening. By Bayar Jain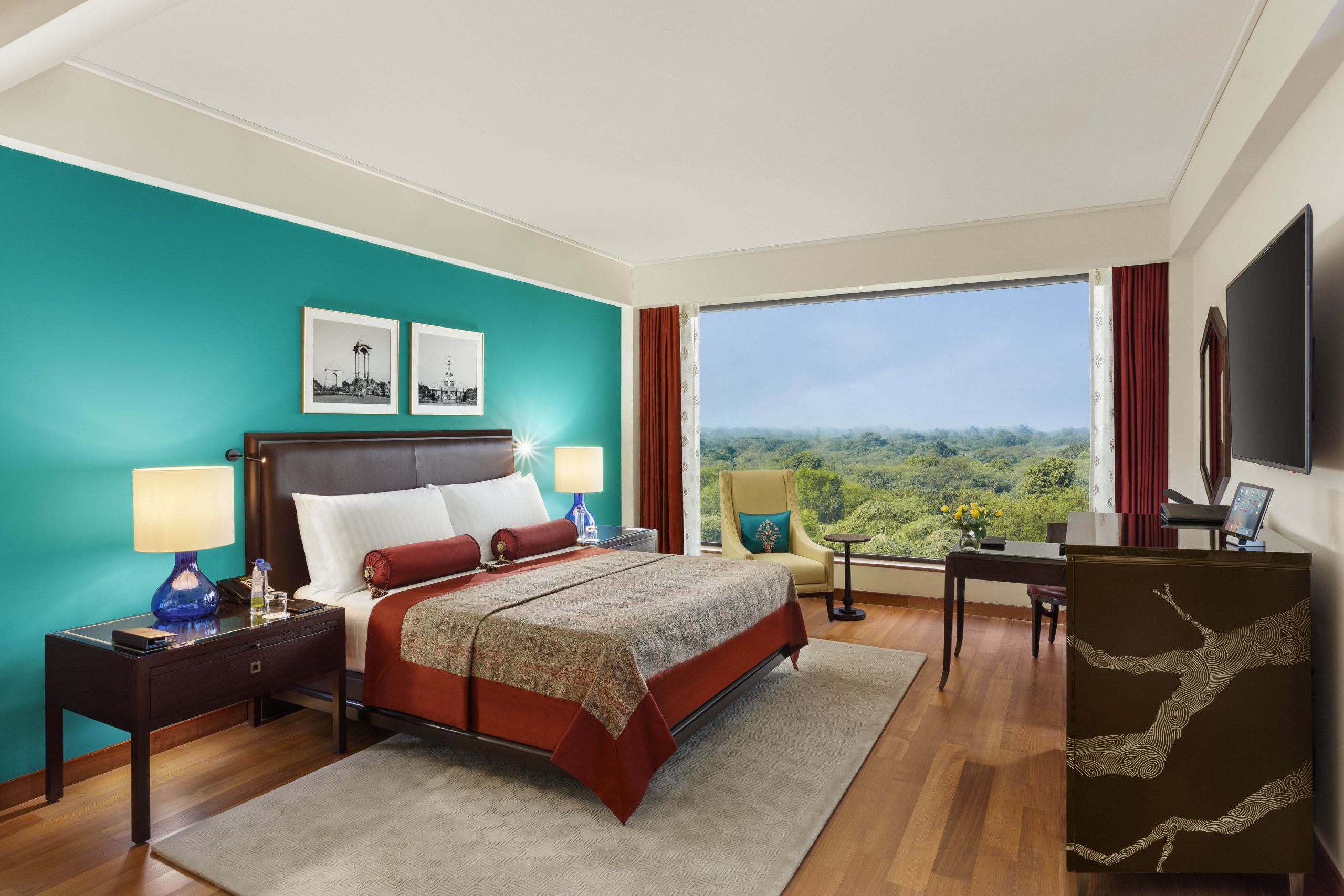 Backed with an 80-years' worth of experience in the hospitality industry, Oberoi Hotels & Resorts' New Delhi property is back with renewed safety measures, starting August 24. In keeping up with the WHO and government-issued guidelines, the hotel is further enhancing hygiene and safety standards by partnering with Bureau Veritas, the world leader in testing, inspection and certification services, to validate and review the measures undertaken. A contactless technology, for guests and staff, has been introduced at all frontiers like checking in, dining, or in-room facilities, while a state-of-the-art air purification system has been installed all around the property. To further elevate the experience, members of the Oberoi One loyalty programme can avail an additional 10 per cent savings and more. From sanitisation of cars before and after every pickup and drop, to mandatory temperature checks before you enter the hotel, The Leela Palace New Delhi is awaiting guests with open arms starting August 24. As an added layer of precautions, they have also introduced SURAKSHA by The Leela in partnership with Bureau Veritas India which not only builds on the hotel's existing rigorous cleaning protocols, but is also aimed at elevating sanitisation, hygiene and safety procedures to deliver a safe environment for guests and associates. The use of personal protective gear (PPE) for all associates; rigorous deep cleaning and application of disinfectants; deployment of a task force under the guidance of their partners and a dedicated hygiene manager; and use of hospital-grade for sanitation are some of the various measures they have adopted. With a commitment to offer experiences replete with guest wellbeing, this lifestyle hotel in aerocity has outlined all safety protocols in conjunction with Government guidelines. To further enhance hygiene and safety standards, they have also partnered with Global Biorisk Advisory Council (GBAC), that focuses on establishing hotel environments that are safe, sanitary and healthy. They now offer two forms of check-in: through the World of Hyatt mobile app, or via an online web portal. Additionally, QR codes have been enabled at various touch-points in the hotel, including television screens in guest rooms, hotel lobby, venue entrance point, among others. Additionally, customised QR code-driven ordering system, cashless invoicing and billing has been set up for guests as well.
View this post on Instagram
Equipped with a newly designed 'Stay Safe Assurance' programme to elevate health, hygiene and safety standards, The Lodhi is now open for room reservations. Their all-encompassing approach includes enhanced safety and cleanliness measures across all touchpoints of the hotel. The property has also announced its commitment to achieving the Global Biorisk Advisory Council STAR Accreditation — the gold standard for prepared facilities; as well as the WELL Health-Safety Rating by the International WELL Building Institute (IWBI). Moreover, when here, guests can indulge in an array of food, courtesy Elan and in-room dining options. The salon, too, is functional.
View this post on Instagram
Starting August 23, the luxury accommodation will once again invite guests to its abode. While the opulence remains unaltered, the stay option at the hotel will now be completely contactless, owing to the use of mobile check-ins, contactless in-room ordering and laundry. Payment, too, will take the same 'zero-touch' avatar, as will the buffet-on-table experience at the hotel's food theatre, K3. Social distancing norms as laid out by the government will also be adhered to, with all high-traffic areas being constantly sanitised using electrostatic sprayers. With 216 plus rooms to offer paired with some of the finest dining options in the capital with Kheer, DEL, Chidya Ghar and Roasted by Roseate, this FSSC certified hotel assures its guests of the best hygiene standards and food safety practices. Mandatory temperature checks, regular sanitation, protocol training, and temporary closure of high-risk places like spas, pools and gyms are some of the measures taken by the hotel. A staggered room allocation with a 24 hours gap between occupancy will also be maintained. Apart from the sanitation works, guests can even see their meals being prepared under the 'live kitchen access' option for added security.
View this post on Instagram
With the assurance of Accor's global ALLSAFE standard—a certification of heightened safety, hygiene, and preventive measures—along with campaigns like 'Let Us Take Care Of You' to make staycations seem more alluring than they already are, Pullman-Novotel New Delhi Aerocity opened their doors on August 24. Aware of the need to put guest safety centre-stage, Hyatt Regency Delhi is reopening their rooms, restaurants, and Salon as per government norms. These measures, however, are not limited to just cleanliness, social distancing, temperature checks, and provision of PPE kits, but also extend to include enhances digital amenities and features for 'Less Contact, More Care.' Shangri-La's – Eros Hotel reopened its doors on August 22 with a renewed zeal to enthral guests in their luxurious haven. Not only can guests opt for a stay at the hotel, but they can also enjoy South-east Asian, Indian, and European foods at Tamra; regional Indian delicacies paired with freshly brewed beverages at Mister Chai; and a leisurely dinner at Shang Palace. An assurance of a safe environment with enhanced protocols—as laid down by WHO and the group's global safety program—permeates in every space of the hotel. To ascertain implementation of these practices, Diversey, a leading global hygiene solutions provider has partnered with the hotel. Deep-cleaning of high touch surfaces, use of medical grade sanitisers approved by United States Environmental Protection Agency, frequent cleaning of air filters, enhanced food safety practices, and physical distancing are some of the many steps undertaken here.
View this post on Instagram
Starting August 20, this urban oasis is welcoming guests with the same cordiality as before, but with an added dose of cautiousness this time. A gold certified program, S.H.I.E.L.D has been introduced to facilitate the hotel in taking a more stringent approach towards sanitisation and hygiene standards. Every team member has undergone mandatory training through online and offline modes, while strict guidelines as laid out by the authorities and government are also being adhered to.
View this post on Instagram
#RadissonCare summarises all that this upscale property has laid out for returning guests. From sanitised and disinfected areas to passing the Cleaning & Disinfection Assessment by SGS—an inspection, verification, testing, and certification company—they're leaving no stones unturned. Picture latest infrared thermometers, sanitisers in abundance, contactless payments, no touch check ins, and periodic sanitisations.
View this post on Instagram
The Imperial New Delhi has recently reopened its gates for public on October 16, with a newly launched safety programme called, I Care- A wellness initiative by The Imperial, for post pandemic hygiene and well-being of its guests and associates. Along with offering a luxurious stay once again, the hotel is also inviting you to dine at its restaurants, including, 1911, The Spice Route and San Gimignano. "As we re-opened the doors with our commitment of 'I Care- a wellness initiative by The Imperial', we were delighted to welcome our very first guest Siddharth Roy Kapur with a safe, secure & the impeccable Imperial experience, we are known for #theimperialnow #theimperialexperience," it said in a tweet.
View this post on Instagram
Replete with in-house and outside experts in food and water safety; hygiene and infection prevention; and hotel operations as part of the Marriott Global Cleanliness Council, New Delhi's centrally-located Le Meridien hotel has rolled out a multi-pronged approach to elevate cleanliness standards for their returning patrons. Deep sanitisation technologies and cleaning regimes aside, a 'Commitment to Clean' has also been adopted for detailed care. Although minimal in-room amenities will be provided, a diverse array of new amenities that will include sanitisers, wipes, masks, and contactless menus will be found in abundance. Speaking about the same, Meena Bhatia, General Manager and Vice President, Le Meridien New Delhi says, "We are ensuring that we follow and respect the guidelines of the Government of India, not only in terms of social distancing and hygiene but also comply with the new food safety guidelines of FSSAI."
View this post on Instagram
An ALLSAFE certification awarded by Accor hotels, implying the hotel's assurance to stringent safety and cleanliness measures, backs this vibrant accommodation which reopened on August 21. Elevated hygiene protocols aside, their new work@ibis offer for working professionals, and ongoing 'Let Us Take Care Of You' campaign for staycations makes this an even more alluring option. Enhanced cleanliness and safety measures with IHG Ways of Clean (a cleanliness programme developed in partnership with Cleveland Clinic, Ecolab and Diversey) accompany Crowne Plaza New Delhi's reopening on August 25. The hotel will operate all guest rooms; the all day dining restaurant, Edesia; the patisserie, French Heart; and the meeting and banquet venues. Staff training, use of PPE and hospital-grade disinfectants, frequent deep cleaning, revised seating arrangements to ensure physical distancing, and reliance on digital menus and payments are some of the many measures undertaken. An bouquet of additional offerings such as an intimate wedding project—replete with dinner, decor, and customised wedding options; theme-based home catering and food services; immunity booster menus; rental office spaces; and laundry services are also available.
Related: Not Enough COVID-Care Centres In Delhi? City's Hotels Step Up