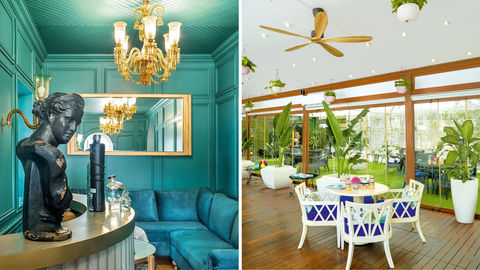 The pandemic has added new buzzwords to our travel vocabulary, like workation and contactless service. Here's a round-up of 24 hotels and resorts in India that have tweaked their offerings to cater to new demands. By Rashima Nagpal & Sushmita Srivastav
Workations
If you are uninspired by your work-from-home setup, spruce up your days with a new setting and leisure time in these properties. For those who seek to bask in five-star luxury without compromising on work, The Leela Palace Chennai offers the Stay More Save More deal. Book yourself at least an eight-night workation and enjoy your stay in one of the most opulent rooms in the city. The package includes two-way airport transfer, breakfast, high-speed internet access, and 20 per cent discount on food and soft beverages. Maximise your comfort by booking one of the Royal Club Rooms or Suites and get the benefit of the hotel's Premier Club Lounge overlooking the Bay of Bengal, butler service, billiards room, 15 per cent discount at the salon, and more. The deal is valid till November 30, 2020. From INR 5,173 per night. A charming Victorian heritage hotel in the Himalayas spells a delightful getaway all year round. The onset of winter and an attractive WFH (Work From Hills) package make a workation at Elgin Hall, Dalhousie hard to resist. Nestled amid deodar trees, the boutique property features seven rooms dressed in dewy pastels. With a dedicated tea lounge, library, and kids' play area, the property is ideal for a serene post-lockdown workation with the family. Book a minimum of 15 days to avail a discount of 20 per cent. From INR 7,500 per night.
Five hours from Delhi and 30 kilometres north of Rishikesh, Atali Ganga is an offbeat property with independent cottages and adventure offerings. Now you can stay for three nights and get the fourth one free. The offer includes two adventure activities per day, and access to a co-working space equipped with Wi-Fi, making it the perfect spot for combining work and fun. The offer is valid till November 29. From INR 16,500 per night. If you have a penchant for regal and historic properties, plan a workation at the 16th century Samode Palace in Jaipur. The heritage hotel, standing against the backdrop of a dilapidated fort, is located an hour outside of the city and boasts Indo-Saracenic architecture. Inside, atmospheric rooms with fourposter beds and suites with jacuzzis steal the show. Complete with working desks, 24-hour room service, a business centre, wine cellar, infinity pool, and dreamy courtyards that double up as dining spaces, the hotel extends a seamless and refreshing experience. From INR 8,000 per night.
Shambala Resort & Spa By Sparsa, Yercaud Home to orange groves, and coffee, fruit, and spice plantations, the hill station of Yercaud in Tamil Nadu offers a pleasant break from city life. Come here to restore your work-life balance with a rejuvenating stay at Shambala Resort & Spa by Sparsa. Spread across an organic coffee plantation, the boutique resort offers accommodation in 19 quaint rooms. While its conference hall and internet services ensure a smooth workflow, the airy verandahs, al fresco dining areas, and yoga centre serve as optimal recreational spaces so you can unwind every day. Outdoor activities and nature trails make it a great fit for a healthy workation. From INR 4,999 per night. Set up your workstation in one of the most stunning landscapes on the planet. Perched at a height of 1,074 metres, The Grand Dragon Ladakh is offering an attractive workation package that takes care of your airport transfers, meals, and laundry. You will spend your evenings around a bonfire and can even take a momo-making class. The hotel's business centre and conference facilities ensure that your virtual meetings go uninterrupted. You can travel solo or with the family— kids below the age of six get complimentary stay. The workation offer is valid until December 31, 2020. From INR 7,500 per night for a minimum of 10 nights.
Staycations
Those who seek a break but do not wish to travel far can indulge in staycations at these charming properties. Take a break from monotony and escape to the expansive ITC Grand Goa Resort & Spa. Spread across 45 acres of landscaped gardens in South Goa, with direct access to the Arossim Beach, the resort boasts Indo-Portuguese architecture combined with elegant furnishings across all of its 252 rooms. Choose the City Getaway offer and pamper yourself with luxurious accommodation along with a host of benefits such as its signature breakfast, luxury hours at select lounges, 20 per cent savings on dining and spa, happy hours between 6 pm and 8 pm. With a serene beach located a stone's throw away, a staycation at this property is just what's needed in these stressful times. From INR 8,500 per night.
A RELAIS & CHÂTEAUX heritage hotel, The Malabar House in Kochi, Kerala is ideal for a countryside staycation and provides access to the region's backwaters. The vibe is laidback, with a charming blend of old and new. The hotel is housed in a traditional thatched-roof building, but the 17 rooms and suites feature modern elements. Add to that the authenticity of the food served—The Malabar Junction brings seasonal produce to the table and Divine-The Wine Lounge serves innovative drinks—and you have the recipe for a relaxing staycation. From INR 14,000 per night. A modern hotel in the heart of the city, Conrad Pune offers a lavish escape with its range of plush rooms and fine-dining options. Book the Great Small Breaks offer to make the most of your time here. From complimentary breakfast to happy hours and a redeemable stay credit worth INR 1,000 against hotel services, there are enough benefits to make your stay worthwhile. The brand also aims to engage and inspire you with interactive sessions, with a cuisine expert or a mixologist for instance. Conrad Pune has something for every kind of staycation—whether it is quality time with your partner, family, or best friends. From INR 10,000 per night. Housed in Mumbai's tallest building, in Lower Parel, The St. Regis Mumbai is fit for a king-size staycation. Featuring 390 rooms and suites, as well as fine-dining options including the Japanese restaurant Yuuka and the Indian-speciality restaurant The Sahib Room & Kipling Bar, the five-star hotel holds a reputation for being exuberant yet warm. Feel right at home at this astonishing venue by availing the Extraordinary Staycation offer. Expect lavish accommodation, complimentary breakfast, speedy Wi-Fi, a complimentary meal for two, and free stay for kids up to 12 years (up to two kids per room). The offer is valid till December 31, 2020. From INR 8,500 per night. If you're looking to book a family staycation in the City of Pearls, Hyatt Hyderabad Gachibowli has tempting offers. The Staycation Offer (valid till December 31, 2020) includes a complimentary room for children, 20 per cent discount on food and soft beverages, one complimentary main meal for adults, daily breakfast, two complimentary drinks at the bar, mini-bar usage up to INR 800, free internet access, and a whopping 50 per cent discount if you upgrade to a Club or Suite room. There is also an in-house one-kilometre-long jogging track to keep you active during the staycation. From INR 5,650 per night.
The Roseate, New Delhi The Roseate in New Delhi sure knows how to do staycations in style. An urban oasis that combines splendid architecture with nature, the resort is a delight for the senses. Book the Suite Dreams package for a romantic staycation with your partner. This involves living in one of the 15 Luxury Suites at the property, enjoying the flexibility of an early check-in and late check-out, lunch or dinner personally curated by the chef, a bespoke nature trail, pick-up and drop-off within 15 kilometres in a limousine, and other benefits. As part of their ongoing happy hours, you can enjoy one-plus-one on signature cocktails, available every day from 12 pm to 11.30 pm at Kiyan, the al fresco restaurant. The package is priced at INR 50,000 per night.
Wellness Retreats
Shake off those lockdown blues with a trip to one of these wellness retreats that promise detox and rejuvenation. Vana believes that every wellness journey is different and must be tailored to your distinct needs. Pick one from the three retreat types available at this Dehradun-based property—Vana Ashram, Vana Wellness, and Vana Lifestyle. Enjoy arrival and departure wellness consultations, therapeutic treatments, functional fitness sessions, private therapies, customised meals, and comfortable resort attire. Vana Wellness's 14-day Detox plan focusses on your physical health while also working on your mind and emotions. From INR 25,000 per night for a minimum of three nights, prices valid till March 31, 2021.
Shreyas Yoga Retreat, Bengaluru Shreyas Yoga Retreat runs on the philosophy of building lasting relationships with its guests—by offering holistic treatments and helping to establish a healthy routine. The seven-night Ayurveda Rejuvenation Package at this Bengaluru retreat aims at building your immunity, enhancing self-reliance and strength, bringing clarity to the mind, and promoting a sense of overall wellbeing. Begin your days by integrating yoga and sound meditation sessions, stay at one of the cottages, relish Ayurvedic and gourmet meals, benefit from 13 personalised Ayurvedic therapies, enjoy a Swedish massage and three customised yogic kriyas, and take part in a community service exercise at a nearby village school. Spend your idle time strolling by the frangipani tree and enjoying a number of recreational activities. From INR 2,08,200 for seven nights.
Niraamaya Retreats Backwaters & Beyond, Kumarakom Nestled on the bank of Lake Vembanad amid swaying palms and tropical foliage, Niraamaya Retreats Backwaters & Beyond is surrounded by soothing shades of blue and green. The 25-villa Kumarakom retreat, along with the functional medicine centre of Daivam Wellness, has launched a new set of Integrative and Functional Medicine Programs to solve lifestyle issues and offer a holistic healing experience. The wellness programmes are focussed on diabetes, weak immunity, obesity, stress, hypertension, and other rising concerns. Pick the Immunity Rejuvenation Program designed to strengthen you through intravenous therapies and targeted massages, mindful breathwork sessions, herbal teas, supplements, and healthy meals. It includes stay, consultations, three meals a day, treatments and therapies, and airport transfers. From INR 46,100 per night, for a minimum of seven nights.
Hilton Shillim Estate Retreat & Spa, Pune The Dharana Life Sciences Programme at Hilton Shillim Retreat & Spa in Pune is a personalised holistic wellness programme. The property is set amid rice fields, bamboo plantations, and virgin forestlands in Shillim village. Your wellness journey involves luxurious private villas offering sweeping views, farm-to-table meals, wellness consultations, personalised dinacharya (daily routine), and comfortable retreat wear. The recently launched Dharana Resilience Retreat – Reset Your Mental Well-Being Program is a contactless therapy programme that focusses on mindful thinking and healthy eating. The five- or seven-day programme will calm your mind through stress analysis, treks and thermal walks, expert diet plans, and counselling sessions. INR 1,05,315 for five nights.
The ethos of recuperation and rejuvenation take priority at SwaSwara. Set on Gokarna's Om Beach, the resort offers holidays that invigorate your senses. SwaSwara's Spirit of Life deal (valid until December 20, 2020) lets you enjoy the wonders of nature. And if you choose to stay longer, you get an option to pay less. The signature Swa WellBeing programme under this plan helps you create a regimen that brings about positive changes. Stay at one of the Konkan villas and indulge in farm produce and fresh seafood. Spend your days meditating on a hilltop, go on nature trails, relax with yoga sessions by the beach, and try your hand at pottery. From INR 9,322 per night. Perched on the peaceful Divar Island of Goa, Mercure Goa Devaaya Retreat is dedicated to traditional healing. With 28 well-furnished therapy rooms, river-facing treatment venues, hydrotherapy and mud-bath areas, and a set of skilled doctors and therapists making day-to-day plans, this Goan retreat offers tailored treatments through yoga, Ayurveda, and Naturopathy. The seven-day Yoga and Naturopathy Package includes organic vegetarian meals, kriya, pranayama, cyclic meditation, therapeutic yoga, and Naturopathy. The package also offers guided walks, cooking demos, and physiotherapy. The offer is valid until March 31, 2021. From INR 56,000 for seven nights.
Pet-Friendly Vacations
Just like you, your pet deserves a holiday, too. here is our line-up of the best pet-friendly hotel offerings in the country. The only pet-friendly hotel in Aerocity, Andaz Delhi caters to dogs, cats, and even your pet fish! Fancy leashes, comfy beds, food bowls, pet shampoo, cat litter, fish bowls, pet food–the chic hotel promises to pamper its furry guests with a five-star experience. Book one of the thoughtfully designed rooms or suites with modern amenities and artistic decor, or pick one of the Andaz Apartments that offer residential-style living spaces. Doubles from INR 7,000 and an additional price of INR 2,500 plus taxes per pet. Located in the heart of Pune's bustling Koregaon Park, this hotel has a designated floor for guests who arrive with their pets. The hotel can provide your dogs with a comfy bed and food. All you have to do is make sure you clean after them and don't leave them unattended. Although pets aren't allowed in the lounges, restaurants, spa, and the pool, the hotel is located at a convenient distance from many pet-friendly cafes, lawns, salons, and stores. Go for the Safe Haven! offer that includes accommodation for pets and an array of activities for you, like masterclasses with chefs, yoga sessions, painting, and more. From INR 7,155, an additional price of INR 2,000 is charged per room for two pets maximum.
A Dog's Story in Jaipur comes with two comfortable, independent sets of accommodation options with fully equipped kitchens, private lawns, and even a plunge pool for your dogs! There are no additional charges for pets; the tariff includes charges for two adults and one pet and complimentary breakfast. You can carry pet food or order from their WAGS Menu that offers freshly prepared or ready-to-eat meals for dogs. They also have open spaces for playtime and resident dogs that your pet can befriend. From INR 6,369.
President, Mumbai –IHCL SeleQtions This iconic Taj property in Cuffe Parade, Mumbai, gives you enough reasons to plan the perfect holiday with your pet. Their Discover Petcation programme includes all the pet-friendly amenities you can think of, and more. From a specially curated in-room menu for pets to exclusive canine high teas served by the pool at the pet-friendly bistro HerbHouse, the sophisticated and modern address ensures that you and your pet feel welcomed. The package includes three meals a day for one pet, and is valid till March 31, 2021. From INR 7,250.
THE Den Corbett Resort & Spa, Uttarakhand The deal at Den Corbett Resort & Spa is pretty simple–if your pet can fit through the door, they're welcome to stay. And the Pet-Friendly Vacation package treats them like royalty. With an all-pets-are-welcome policy, the resort offers hiking trails to River Kosi, treasure hunts, and free access to a leash-free park. The three-day petcation offer includes extra bedding, three pet meals a day, a pet cookie platter, 25 per cent discount on the pet menu, and complimentary drinks for you. They even give you a parting gift! The package is priced at INR 25,000 per couple, no additional charges for the pet.
The Kumaon, Binsar Located on a ridge in the shadow of the Nanda Devi range in Binsar, Uttarakhand, The Kumaon is a private mountain retreat. The pet-friendly resort offers 10 luxurious suites, a sun lounge, spa, library, and a cantilevered gourmet restaurant. There are a lot of open green spaces for your pooch to run around (the property allows pets across rooms and all public spaces). The Kumaon also offers an extra bed, a pet menu, vet on call, dedicated play spaces, and a pet-sitter to make sure you have nothing to worry about. Trek through nearby hamlets, walk your pet through forests of oak, cedar, and rhododendron, or simply sit back and breathe in the crisp mountain air—the sustainable resort makes sure you and your furry friend get the the break you both deserve. From INR 16,500 and an additional price of INR 2,000 per pet.
Related: Amp Up Your Workstation By Booking A Workation At These Hotels In West Bengal
Written By