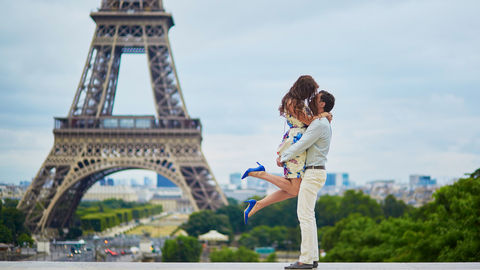 After all the craziness that inevitably comes with planning a wedding comes the honeymoon period. We've found the best honeymoon destinations for each zodiac sign, so you have the best time celebrating your new life together. By The Wedding Brigade
Some couples want to sit on a beach, while others want to go out and explore the city, and some couples rarely want to leave the room. It all depends on what kind of vacation you two are looking for – adventurous, romantic, luxurious or any other.
Not every destination will be ideal for you, which is why planning your honeymoon is important. Can't decide where to honeymoon? See what the stars have in store for you and pick the perfect honeymoon destination!
Aries (21 March – 19 April)
Aries are adventurous, they don't want to sit in one place and just relax on their honeymoon. They want to dive into new experiences and see one of the most Instagrammed places in the world. For you, a vacation without some action would be a waste. Fulfill your quest with a honeymoon in Cambodia, Laos or Peru. There you can explore adventure, ancient temples, and outdoor sights. From hiking to kayaking, you and your groom will find plenty of escapades.
Another ideal destination for fun-seeking and the adventurous couple would be New Zealand.
Taurus (20 April – 20 May)
Taureans enjoy a stable and romantic environment for your honeymoon. Places like Paris, Hawaii, and Tuscany are great options for a hopelessly romantic person like you. Enjoy the beautiful architecture, scenic views and treat yourself with champagne. What could be a better start to your married life!
Good food and drink are all you need to be happy on your honeymoon.
Gemini (21 May – 20 June)
Geminis are fun, adventurous and love to party. For you, a honeymoon in Miami or Barcelona is just perfect where you can spend your days on the beach and nights, partying in the clubs. You really can't get bored in this gorgeous city. What a dream honeymoon!
Rome, Italy serves as a great romantic getaway option for Geminis because it's filled with ancient history, delicious food, and more!
Cancer (21 June – 22 July)
Cancerians like secluded and homely places with their loved ones. For you, Thailand seems like an obvious option to relax with your 'just married' partner. It's quiet and beautiful and you two can spend some 'me time' there.
Leo (23 July – 22 August)
Leos look for ultimate luxury and fun on their honeymoon. You don't want to do what everyone else is doing and want your honeymoon to be out of a fairytale. You want something unique, exotic and something that's totally perfect that you will get in Bali or Bora Bora.
These two are ideal choices with a spectacular view, and nothing compares to the secluded luxury and relaxing spa treatments they offer.
Virgo (23 August – 22 September)
Virgo loves to experience art and culture. For you, what could be better than honeymooning in Florence, Italy? There's so much about this place – delicious Italian food, art, language, museums and much more. The city is also known for being one of the most romantic places in the world, which Virgos will totally adore on their honeymoon.
Libra (23 September – 22 October)
Librans are explorers by heart and love beautiful things, they can't sit in one place. They want to make the best of their vacation, and what better than going to a city that never sleeps: New York! There's something for everyone in New York – museums, restaurants, beaches, art, shopping, everything…
And since you're also a lover of beautiful things, your surroundings have to be no less than picturesque. You and your hubby will truly enjoy the artistic and intellectual legacy of Vienna, Austria.
Scorpio (23 October – 21 November)
Scorpios love beauty, culture, history, and everything rustic. Athens in Greece is a perfect destination for Scorpios where they will get gorgeous sights, culture, delicious food, and monuments.
Sagittarius (22 November – 21 December)
For a Sagi, the honeymoon is another opportunity to plan an adventure. You love to travel and explore unknown destinations. What's better than honeymoon-ing in Costa Rica and Kenya? Enjoy the beautiful views, clean beaches, and get set for adventures like trekking, hiking and kayaking there.
Capricorn (22 December – 19 January)
Capricorns are really romantic. Your idea of a perfect honeymoon is spending time with your partner at a beautiful place. A place like Caribbean or Bahamas is just perfect for your honeymoon as it balances adventure and relaxation, both.
Aquarius (20 January – 18 February)
Aquarians love to explore and discover new experiences. You want to do something totally offbeat and Iceland is the perfect place for your honeymoon. Iceland is full of waterfalls, glaciers and mountains.
Other than Iceland, you could also consider going to Santorini, it's one of the most beautiful and romantic islands in Greece and has unlimited activities for you. From cave swimming to ancient sites — you will enjoy this breathtaking honeymoon destination.
Pisces (19 February – 20 March)
For a Piscean, your idea of a honeymoon is all about romance at an exotic location. And if you are looking for one such place then Morocco is the answer! It's an amazing place to start your married life and enjoy a romantic hot air balloon ride followed by a dinner date. It's also ideal for you as you are a water baby!
P.S: This article was first published on The Wedding Brigade.
Related: Priyanka Chopra and Nick Jonas' Offbeat Honeymoon Destination Will Give You New #RomanceGoals!
Written By