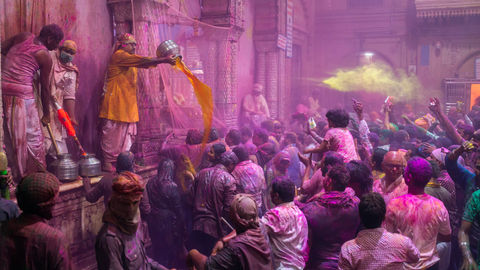 Holi is just a few hours away and we can hardly keep our calm thinking about all the desi-style parties, splashing of colours, thandai, namkeen, and basically, everything good in life. Friends and family and even strangers, there is nothing dividing us during Holi! So, let us help you plan an extravagant, not-so-ordinary Holi party this year at Mathura and Vrindavan, because we have zero chills when it comes to the biggest national party! By Shubhanjana Das
Triumph of good over evil, decades-old myths and legends, and a great love story is interlaced with Holi. On the ghats of Mathura, where Krishna was born, Holi is the single most important celebration and saying that Mathura adapts a different avatar during Holi will be a grave understatement. Given that it is Mathura and Barsana which witnessed the love story of Krishna and Radha blossom, it is only understandable why Holi celebrations here are more extravagant and unapologetically OTT than anywhere else. Celebrations continue from a week before till the final day during which the whole state of Uttar Pradesh remains in a state of trance.
Lathmar Holi in Nandgaon and Barsana are also famous. Folks from Nandgaon come to Barsana to colour the ladies who defend themselves by playfully beating them with sticks, ritual very much reminiscent of the epic Radha-Krishna love. The Holi celebrations at Banke Bihari Temple in Vrindavan are worth witnessing at least once in your lifetime. The celebrations begin with the priest of the temple showering coloured holy water on the devotees.
Soulful bhajans, innumerable glasses of thandai (cannabis mixed with flavoured milk), bhujia and jalebi, and the general revelry of the people who indulge in sane, safe, but extremely playful Holi — this is what the experience of celebrating Holi in Mathura and Vrindavan is like. In Mathura, Braj and Vrindavan, there are mainly five big events you can attend during the week. We suggest you spend some time in Mathura, then head to Braj, and finally, to Vrindavan to mark the end of the celebrations with everyone else. It doesn't matter where you come from, you will be coloured in the same colours as everyone else!
Book your stay from before and you should be able to find a luxurious, comfortable stay in the heart of Mathura and Vrindavan. To reach Mathura, you can take a flight to either Delhi or Agra (domestic only). From Delhi, the 147 km-long distance to Mathura can be reached by bus or a private cab. You can also take the train to Mathura station, which is well-connected with other major cities around the nation. If you're driving, the Yamuna Expressway should make the ride butter-smooth for you.
Related: Not a Holi Person? Here are 7 City-Breaks for the Long Weekend
Written By