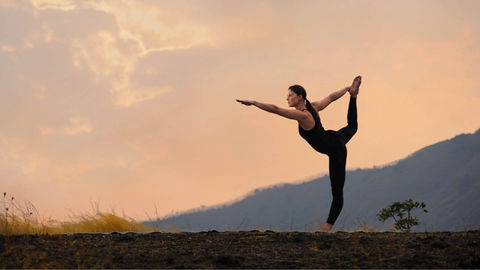 With a vision to conserve, sustain, and heal, Hilton Shillim Estate Retreat & Spa near Lonavla doubles as a sanctuary of wellness doused with an integrative approach to healing. Their world class retreat atmosphere coupled with surrounding semi-evergreen forests makes it an ideal wellness retreat.
By Bayar Jain When you spend time at this private estate focused on conservation and sustainability, a sense of relaxation is bound to seep in. Hilton Shillim, however, takes it up a notch with their unparalleled wellness philosophy permeating through its core. The Retreat's primary philosophy operates on the core model of Yoga philosophy which thrives on the removal of impurities of the mind, body and soul. The surrounding bamboo plantations, rice fields, and abundance of wildlife sets the tone for the rejuvenating experience here. Whether you choose to reside in the contemporary styled forest villas, or the luxurious spa pool ones, the harmonious environs from the private balconies are sure to leave you transfixed. This reliance on nature — and justifiably so — permeates through the Hilton Shillim Estate Retreat & Spa here. At Dharana at Shillim, The Dharana Way of Life aims to conserve and amplify your life by bringing an amalgamation of traditional Ayurvedic and Naturopathic therapies with advanced consultations and diagnostics. By incorporating wholesome and nutritious meal plans into each of their programs here, a resultant new and healed you is a given. Pair this with their nature activities and cognitive stimulations, and you've got yourself the key to ultimate happiness. To get a taste of this healing ecstasy, the Art of Detox program here is one of the many you could choose. With the option of choosing among five, seven, or 14 nights, the Art of Detox program focusses on your eating habits by giving you a detailed understanding of the nutritional aspects of your diet, and enabling you to embark on the journey of optimal detoxification. The approach is simple: putting your gut to a momentary rest through their unique Dharana Dietetic approach by adopting wholesome, yet simple essential food. Individualised dietary needs coupled with comprehensive Ayurvedic or Naturopathic consultations allow for the most bespoke treatments. While the included complete body composition tests, blood laboratory tests, and a hydro colon cleansing enable the doctors here to understand you better, guided meditations, Ayurvedic therapies and daily educational wellness programs facilitate self-understanding. If detox isn't your calling, the Ege – Age Reversal Rejuvenation Program could entice you. This specially curated Ayurvedic, Naturopathic and Yoga therapy is designed to not only enhance your physical beauty, but also to help rejuvenate your mind. With the ultimate goal of imparting wisdom against premature ageing, and providing a long-term solution for healthy wellbeing, the 5 to 21 nights' package (depending upon your stay) begins with an assessment of the physiological and physical impact of your current lifestyle. For better understanding, they even take into account your genetic predisposition through non-invasive tests. The seven dhatus (tissues) — which are key factors for all physical, physiological and psychological balances of the body — go through a complete revival through the Rasayana EGA therapy. This helps in boosting your ojus (immunity) by slowing the ageing process and thus, increasing the longevity. The inclusion of cognitive and oxidative stress analysis, gemology skin care recommendations, and complete body composition tests (including Ayurvedic 3-Point Pulse Analysis, Iridiagnosis and Spectrophotometry Analysis) make this a program par excellence. Naturally, keeping in sync with the Dharana Way of Life, yoga, guided meditations, organic meals, and wellness workshops seep into this program too. As you bid Adieu to the private one-bedroom villa after your stay and rejuvenating wellness detox program, clutching onto the tailored take home advice and supplement sets, you only wave bye to the space. The Dharana Way of Life, however, finds its way to weave into your daily life.
To know more about the Dharana Life Sciences Programs, click here.
To book your weekend getaway, click here.
Related: Here's Why Hilton Shillim Estate Retreat & Spa Is Your Ultimate Wellness Destination
Written By