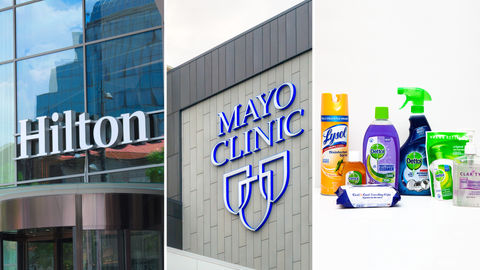 Hilton ties up with the Mayo Clinic and Reckitt Benckiser (RB), the makers of Lysol and Dettol to bring their future guests the epitome of cleanliness. This is all we know about it so far.
By Bayar Jain
View this post on Instagram
While the world slowly starts to remain to its former self, the hospitality industry is faced with the challenge of luring in customers without compromising on health and hygiene. For Hilton, inviting guests is no hurdle owing to their portfolio of 18 world-class brands comprising more than 6,100 properties across 119 countries and territories. Now, with their new programme to deliver industry-defining standard of cleanliness, Hilton properties just heightened this guarantee for future guests.
View this post on Instagram
Announced on April 28 and expected to be launched by June 2020, Hilton has collaborated with Reckitt Benckiser (RB), the makers of Lysol and Dettol – both cleaning and disinfecting products – to elevate their hygiene standards. For this, they are also consulting with Mayo Clinic, an American not-for-profit organisation academic medical centre. Aptly called the Hilton CleanStay with Lysol protection, this programme aims to permeate through every property of the hotel chain. This three-pronged collaboration helps brings out the best of each: Hilton fuses together their assurance for cleanliness with the medical expertise of Mayo Clinic, and seamlessly translates it into reality with MB's products. Training programmes, cleaning protocols, and quality assurance are some of the other initiatives in the pipe-works. Moreover, medical experts from the Mayo Clinic COVID-19 Response Team will also advise the hotel on new technologies and approaches, assist in training development, and create a rigorous quality assurance programme.
View this post on Instagram
Although the intricacies of this programme are yet to be finalised, some of the standards chalked out so far include adding an extra measure of assurance by placing a room seal on doors to indicate to guests that their room has not been accessed since being thoroughly cleaned, deep disinfection of high touch areas within the guest's rooms, and the option of decluttering in-room paper amenities. Public areas such as fitness centres will also be cleaned multiple times with a limit on the number of guests allowed, whereas primary entrances and key high traffic areas will be accompanied by a station to allow guests to make use of disinfecting wipes. Contactless check-in via a digital key technology will also be made use of at participating hotels. The most novel ideas, however, is with regards to their innovative disinfection technologies which explores using electrostatic sprayers and ultraviolet light to sanitise surfaces and objects.
Related: #TnlSalutes: Hilton Hotels Joins The Fight Against COVID-19 With These Safety Measures
Written By