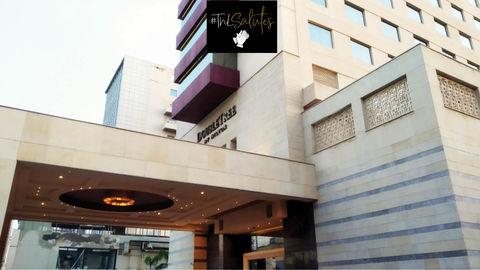 Joining the force by doing their bit in the fight against COVID-19, the Hilton hospitality group has taken adequate measures for complete safety of its staff, customers and frontliners. By Tanvi Jain
View this post on Instagram
In consultation with global and local public health authorities including the WHO and CDC, Hilton hotel has come up with ways of making their cleaning and hygiene protocols more meticulous. It has increased the frequency of cleaning the public areas such as lobbies, elevators, door handles, public bathrooms, etc., and has also been using a hospital-grade disinfectant.
The hotel has further made adjustments in food and beverage service as per the current safety recommendations. The deployment of hand sanitizers has also been increased. The hotel team is strictly adhering to the advice of public health authorities, such as following social distancing norms, restricting the number of people at the time of check-in, minimal physical contact while maintaining highest standards of service, knock-on-door room service with disposable meal trays, washing laundry separately, deep cleaning and sanitisation of guest rooms, etc. Moreover, daily temperature checks of staff members and guests are also being undertaken.
View this post on Instagram
The hotel has further ensured a regular supply of essentials from select vendors. The food is being prepared fresh and delivered contactless to the room. Amid lockdown, the occupancy has also been kept minimal across properties, and in order to keep the guests occupied, the hotel has arranged for a couple of activities such as in-room movie nights with popcorn and snacks, personalised messages with a quotation or article for them to read, interesting stories on travel or dream vacations, virtual online quiz nights, in-room workout routines, board games and online games for kids, and etc.
Several Hilton hotels have reached out to serve local communities as well. For instance – DoubleTree by Hilton Gurgaon and DoubleTree by Hilton Pune are delivering meal boxes to underprivileged communities and frontline traffic and police personnel. Hilton Garden Inn, Saket, New Delhi is housing frontline healthcare staff and doctors serving COVID-19 patients at RML hospital.
View this post on Instagram
While complete lockdown in order to curb the spread of coronavirus, has forced people to stay quarantined, Hilton has partnered with food aggregators Zomato and Swiggy, to bring home its signature dishes, via safe and contactless delivery. Hilton's select delivery menu across cities features the top 20 signature dishes from the most popular F&B outlets of Hilton Hotels in those cities, at special rates.
Currently, six Hilton properties are operational for food delivery via Zomato and Swiggy, including Conrad Bengaluru, Conrad Pune, Hilton Garden Inn Gurgaon, Hilton Chennai, DoubleTree Ahmedabad, and Hilton Mumbai. The group plans to soon expand this service to few properties across Delhi/NCR, Mumbai, Bengaluru, Pune, Ahmedabad, Lucknow, Chennai and Trivandrum.
View this post on Instagram
Moreover, apart from taking all safety measures such as regular staff health-checkups and mandatory use of face masks, gloves, caps and sanitizers, Hilton has also assured to use biodegradable plastic, paper, and cardboard. The hotel is also offering a curated delivery service for private parties and gatherings. Deliveries under this service are being done by their own staff using Hilton owned vehicles. Hilton's curated delivery service will be initially launched at various locations in Bengaluru, Pune, Delhi and Trivandrum.
Related: Here's Why These Hotel Chains Deserve A Special Bow During The Times of COVID-19
Written By