Let's go tale-hunting on a cultural and heritage trail around Mysuru. Text & Photographs by Anurag Mallick
It was indeed a grand Mysuru swagatham (welcome) with sandalwood tika, Channapatna lacquerware garland, mallige (jasmine) flowers, a rose-scented cold towel, and a welcome drink of panaka (beverage of jaggery and ginger). Traditional music played in the background as I soaked in the grandeur of Grand Mercure Mysore, a relatively new five- star hotel in Karnataka's heritage city.
The latest offering from AccorHotels, Grand Mercure Mysore mirrors the cultural reflections of the city and prides itself in its local connect through architecture, hospitality, food, and experiences. The massive pillars at the entrance, lit up every evening by mashaals (torches), represent Karnataka's great dynasties while opulent chandeliers in the lobby hark back to the age of royalty—albeit with a modern contemporary styling thanks to the chain's French parentage. Mysuru silk weaves drape the walls with local wood inlay art and lacquerware as decor accents. Silk scarves on sale reiterated the city's position as India's leading silk producer, accounting for nearly 70 per cent of India's output. Like the lacquerware industry, the foundation of sericulture, too, was laid by Tipu Sultan, who imported the first silk cocoons from China in 1785.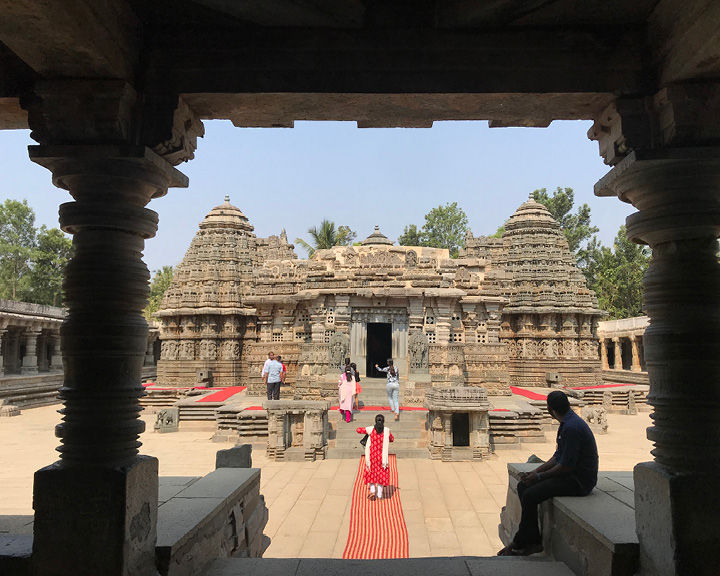 Ushered into my balcony room, I was welcomed by elephant-shaped towel art—an apt reminder of the elephant procession that takes place during the world-famous Mysuru Dasara Festival. Being strategically located on Sayyaji Rao Road, the hotel offers a vantage over the Dasara festivities and procession from its viewing gallery on the sixth floor. A platter of Mysore pak was the perfect appetiser for the meal to follow. Legend has it that the sweet was accidentally invented by Kakasura Madappa, a cook of Mysore maharaja Krishna Raja Wodeyar IV. The maharaja wanted to taste a special savoury dish and Madappa inadvertently added sugar to the ghee and besan (gram flour) instead of salt. Luckily, the king found it delightful and asked what it was. The cook dubbed it Mysuru paaka (sugar syrup or sweet), and thus, Mysuru's eponymous sweet was born.
The hotel's all-day diner La Uppu is a tribute to uppu (salt), the first item to be served in a traditional meal. Various exotic salts—sun-dried tomato salt, garam masala salt, olive salt—were displayed in large glass jars at the breakfast counter. I was in for a Continental spread with pumpkin soup, a combo starter of cheese pesto crumble and creamy olive-stuffed chicken and grilled fish with butter lemon sauce. Semolina cake, I discovered, was a makeover of the humble uppitu (upma) stacked on a bed of tomato salsa with a top hat—stir-fried veggies in a crispy basket.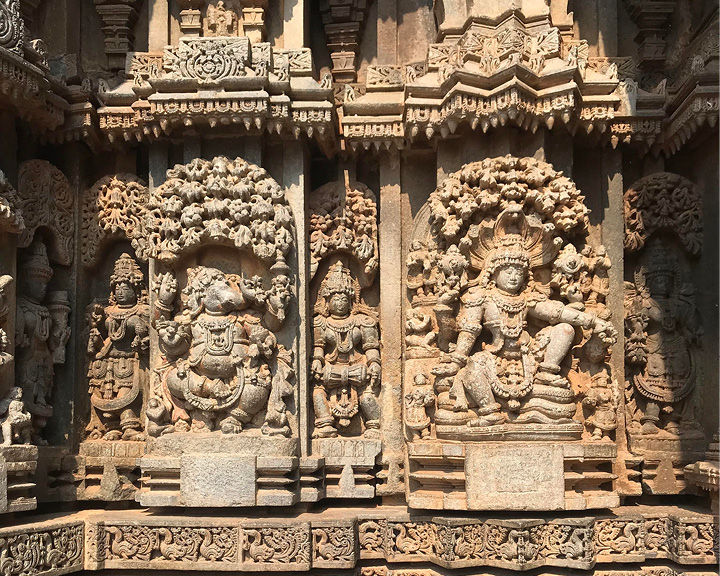 After a breakfast of idlis, Mysuru masala dosa, and kaapi (filter coffee), I set out to explore the city. Located just over three kilometres from Mysore Palace, the hotel is well placed to cover sights like Mysore Zoo, Chamundi Hills, Jaganmohan Palace Art Gallery, St Philomena's Church, Devaraja Market, and various museums. The house of RK Narayan, the celebrated author of Malgudi Days and other classics, is now a museum and sits close by. Mysuru, the City of Palaces, lives at an unhurried pace. Its monuments, wide tree-lined avenues, and markets scented with a heady melange of coffee, jasmine, and spices charm any visitor who are increasingly drawn by its growing reputation as a hub for yoga training and Ayurveda.
Mysuru also serves as a springboard for excursions to Brindavan Gardens, Ranganathittu Bird Sanctuary, and Tipu's erstwhile capital Srirangapatna, where he lies entombed at Gumbaz. Many private hunting reserves of the former maharajas are premier wildlife national parks today—like Kabini, Nagarhole, and Bandipur. But I chose a cultural itinerary, starting with Somanathapura's Keshava Temple, a stunning example of Hoysala architecture.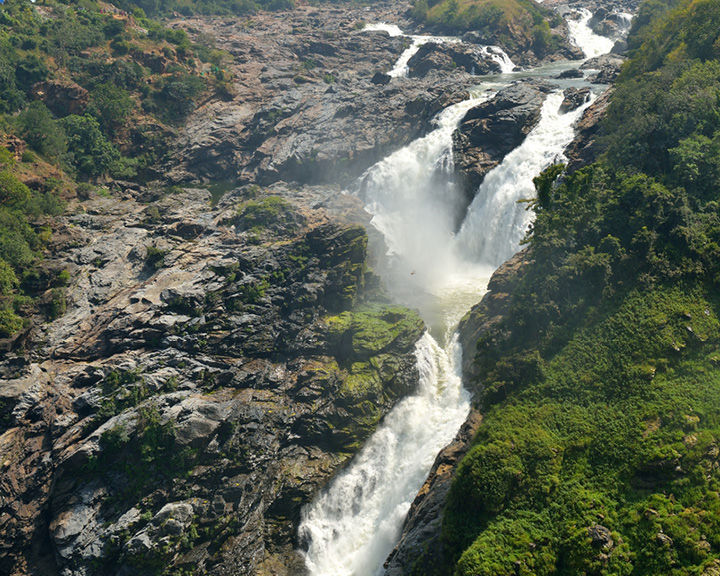 An inscription dating 1268 AD mentions that the agrahara (Brahmin township) was established by Somanatha Dandanayaka, an illustrious general of the Hoysala king Narasimha III. The east-facing temple has three stunning idols of Chennakesava, Venugopala, and Janardana in the sanctum sanctorum. Each design in the elaborately carved ceiling of the Navaraga Mantapa is unique with profuse carvings and sculptural relief on the external walls. On a gnarled tree trunk outside hung a postbox—letters posted here get a pictorial cancellation seal of the famous Keshava Temple!
The next stop was pilgrim town Tirumakudalu Narasipura, the sacred confluence of Kaveri, Kapila, and the subterranean Sphatika Sarovar. Deriving its name from the riverside shrine of Gunja Narasimha, it is believed that T Narasipura's spiritual importance outweighs the venerated Kashi, or Varanasi, by one gulganji—the tiny red seed of the abrus precatorius tree. Every three years, a massive snana (sacred bath) takes place on its banks, and it's billed as the 'Kumbh Mela of the South'. The older Agastheswara Temple (currently under renovation) has a Shiva linga consecrated by Sage Agastya. I took a ride in a 20-capacity doni (round boat) to the sangam (confluence) of the Kapila and Kaveri.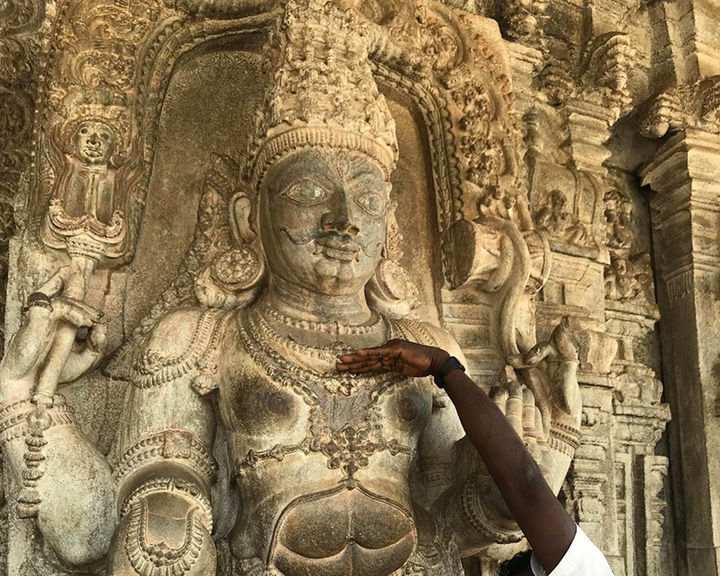 Driving past Kaveri Kallu Sethuve, an old defunct stone bridge on the Kaveri that is now a picnic spot, we reached Shivanasamudra Falls. The waterfall is at its best in the rains, when the two streams Gaganachukki and Barachukki cascade down a gorge in spectacular fashion. There is a triad of Vishnu temples dedicated to Ranganathaswamy on islands along the Kaveri—Adi (origin) Ranga at Srirangapatna, Madhya (middle) Ranga at Shivanasamudra, and Antye (end) Ranga at Srirangam. The region has a plethora of ancient temples— Prasanna Meenakshi Someshwara Temple with a Sri Chakra installed by Adi Shankaracharya and the 10th-century Chola temple of Lakshmi Narasimha Swamy at Marehalli.
We continued to the intriguing desert town of Talakadu, ruled by the Gangas and the Cholas, who were defeated by the Hoysalas. The five Shiva temples of Vaidyeshwara, Pathaleshwara, Maraleshwara, Arkeshwara, and Mallikarjuna form the pancha pathi and are believed to represent the five faces of Shiva. Every 12 years, the Panchalinga Darshana fair is held (next due in 2021) and devotees take a bath at Gokarna teertha and complete a circuit, worshipping at each temple within a day. Intriguingly, Talakadu is covered entirely in sand, said to be the result of a woman's curse.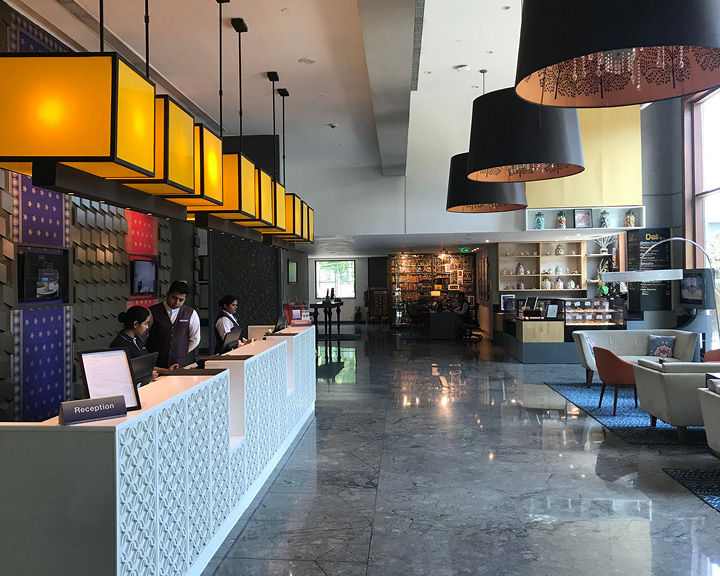 Tirumala Raja or Sriranga Raya was a representative of the Vijayanagar royal family at Srirangapatna. His pious wife, Alamelamma, was a devotee of Sri Ranganayaki, the divine consort of Sri Ranganathaswamy. Every Tuesday and Friday, Alamelamma offered her jewels to the goddess and took them back after the puja. Tirumala Raja was afflicted by an incurable disease and came with his wife to Talakadu to propitiate Vaidyeshwara. After Tirumala Raja's death in 1610, the Wodeyars captured Srirangapatna and Raja Wodeyar demanded that the ornaments be returned, assuming they belonged to the temple. Alamelamma sent her nose ring, and the incensed king dispatched an army. To escape capture, Alamelamma jumped into River Kaveri with the jewels and uttered a curse as she drowned: "Let Talakadu become sand, Malangi become a whirlpool, and the Mysore rajas fail to beget heirs." True to her word, a flourishing town became a desert, the river turned treacherous, and the Wodeyars became a dynasty of adopted scions.
Led by my guide, I plodded through a sea of sand akin to the Thar, marvelling at a 500-acre patch of desert in the middle of nowhere. Some ascribe the sand dunes to the shifting course of the river. Starting from the Vaidyeshwara shrine, we covered the Shiva temples on foot, ending at the Keerthinarayan Temple, the largest of Talakadu's temples. Ongoing excavations continue to reveal a half-buried treasure of temples and monuments.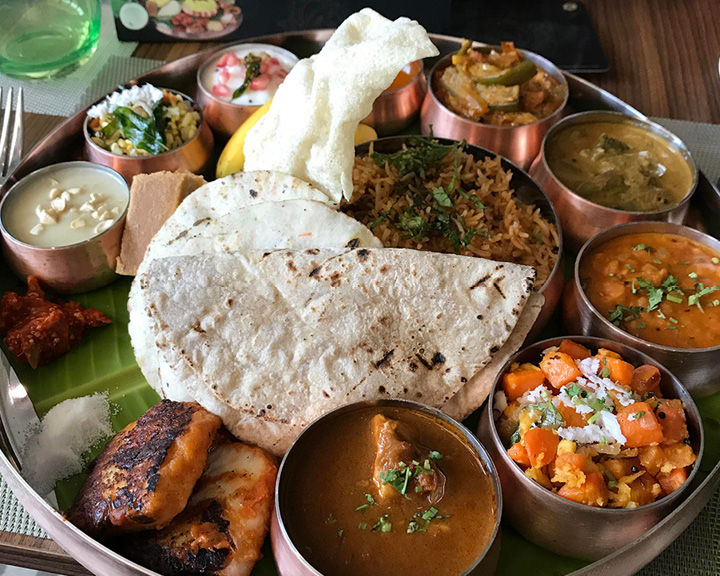 The excursion had worked up my appetite, so I took on a North Indian spread of galouti kebab, nalli nihari (flour-based stew), dal, naan, and kulfi at By The Blue, Grand Mercure Mysore's rooftop poolside resto-bar. Lunch was a grand 'Kingdom of Mysore' thali—gorikai kara (cluster beans) from North Karnataka, tili saaru (tomato rasam) from Udupi, chitranna (lemon rice) from Davangere, donne biryani from Bengaluru, akki (rice) roti from Malnad/Coorg, along with kosambri (salad), palya (stir fry), gojju (thick curry), and of course, Mysore pak.
On the way back to Bengaluru, I stopped at the temple town of Melkote to see its beautiful Pushkarni (temple tank), Cheluvanarayana Swamy Temple, and the hilltop shrine of Yoganarasimha perched at 1,777 m (hence the name mel-kote or 'high fort'). As I climbed the many stone steps, happy to burn my Karnataka-thali calories, the sweet taste of Mysuru still lingered on my lips.
THE DETAILS
GETTING THERE
Mysuru is 144 kilometres from Bengaluru, the nearest airport. The Flybus from Kempegowda International Airport to Mysore KSRTC bus stand costs INR 790 and leaves at 8 am, 10.30 am, 6pm, and 9pm. The drive is just over three hours. From Mysuru, the Keshava Temple at Somanathapura is 35 kilometres via Bannur. Drive 11 kilometres to T Narasipura and continue to Talakadu, 15 kilometres away. Shivanasamudra is 30 kilometres from there. Melkote is 55 kilometres away via Srirangapatna. Hire a cab for excursions.
STAY
Grand Mercure Mysore on New Sayyaji Rao Road (doubles from INR 4,800) offers 146 rooms and the best restaurants in town. For some old-world opulence, try Lalitha Mahal Palace Hotel (doubles from INR 4,000) at the foot of Chamundi Hills. Royal Orchid Metropole Hotel (doubles from INR 4,500) is another charming heritage hotel originally built by the Maharaja of Mysuru in 1920.
TOURS
Royal Mysore Walks, now called Gully Tours, has been organising city tours for almost a decade— heritage walks, Tipu trail, and culinary and bicycle tours.
BEST SEASON
The city is at its festive best during Mysuru Dasara, the nine-day annual festival in September-October.
Related: Top 7 Must-See UNESCO World Heritage Sites In India