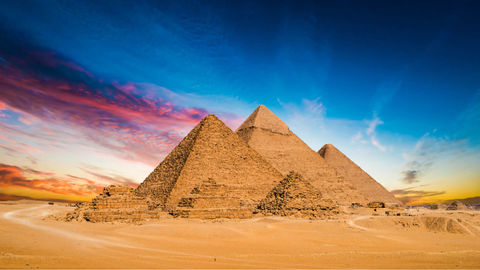 "Stay home. Stay safe. Thank you to those keeping us safe." The Great Pyramid of Giza proudly displayed this message on Monday, March 30 (an initiative by Egypt's Ministry of Tourism and Antiquities).
By Kumar Shree
The motive behind this initiative was to give out a message of solidarity and support in the fight against Coronavirus. The message was meant to encourage and uplift the spirits of healthcare workers who are leading this fight. It was also meant to salute the security personnel who are doing their duty during these demanding times.
The lights displayed the message by Egypt's Ministry of Tourism and Antiquities in both English and Arabic languages. The great pyramid that was lit up sits on the southwest of Cairo and is more than 4,000-years-old. Khalid al-Anani, Minister of Tourism and Antiquities said that the lights conveyed a message to healthcare workers and security professionals.
"I call on all Egyptians to fully comply with these measures. And I affirm that all elements of the Egyptian state will confront any attempts to breach them with the utmost firmness and resolution," according to Reuters, President Abdel Fattah al-Sisi said in a tweet.
View this post on Instagram
In a similar move, the citizens of India collectively clapped on the eve of March 22, a day that was declared as Janta Curfew. People stayed inside their homes for 14 hours on the day and came out at 5 pm in the evening to clap to express gratitude to the healthcare professionals and essential service workers who are leading the nations fight against the pandemic.
The Empire State Building, the 102-story skyscraper in New York is also observing a similar move since the eve of March 30. This is also aimed at paying respect to the heroic emergency workers.
Related: #Somegoodnews: How Robots Are Helping Fight The Coronavirus Pandemic
Written By