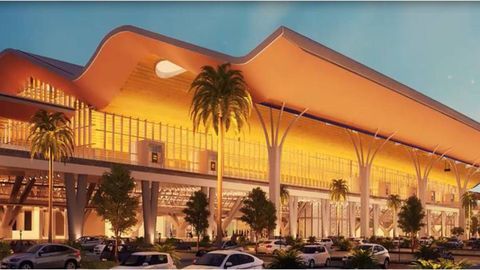 Chennai international airport is all set to open a new terminal which will significantly boost its operations and leave passengers in awe of its architecture.
The New Integrated Terminal Building (NITB) is expected to reduce commuter's rush by having 140 check-in counters, of which 100 will be operational in the first phase, according to Times Now. But the golden-hued structure, also called 'Golden Terminal', is receiving praise for its construction after Chennai airports released some pictures on the Internet. Let's dig deeper to find out what makes this INR 2,467 crore airport so unique, which has everyone talking.
Book your stay at Trident Chennai here
What makes the Golden Terminal of Chennai International Airport special?
Chennai Airport New Integrated Terminal Building Update 24 |
The new terminal building features dazzling grandiose pillars & columns finished with stainless steel champagne strips. The golden finish adds opulence and magnificence to the overall design of the New Terminal. pic.twitter.com/74rwBios8j

— Chennai (MAA) Airport (@aaichnairport) February 22, 2023
The latest images shared by the airport authority show a modern-style terminal having a tasteful blend of Tamil Nadu's heritage. It has stunning grandiose pillars and columns that have been finished with stainless steel strips in a graceful champagne hue.
Chennai Airport New Integrated Terminal Update 08 | The Skylight is a unique feature of the new terminal. It harvests natural light to illuminate the space inside the building and reduces energy consumption. Importantly the Skylight makes a space feel enlivening and airy! pic.twitter.com/lHRh5HOooz

— Chennai (MAA) Airport (@aaichnairport) October 2, 2022
The NITB has taken inspiration from cultural aspects such as the folds of a Bharatanatyam saree, which reflects in the roof's design. The temples of Tamil Nadu are among the most beautiful architectural marvels in India, and these have inspired the vestibule of the entrance at the Chennai International Airport's new terminal. Blending this with sustainability is a skylight that harvests natural light, thus reducing the energy consumption of the Chennai International Airport's terminal significantly.
Book your stay at Hilton Chennai here
Reports add that the new integrated terminal will also feature retail shops selling goods made of leather, cosmetics, jewellery, makeup and skincare, as well as handicrafts, toys, books and accessories.
Hero and Featured Image credit: @Chennai (MAA) Airport/@aaichnairport/Twitter
Related: Get The Best Of Chennai's Old-World Charm At These 11 Iconic Vintage Restaurants
Written By