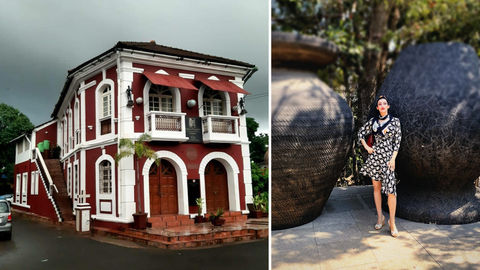 Goa is known for its pristine beaches, numerous sites where one can relax and unwind in peace, and burgeoning cultural life. One of the cornerstones of the state is its rich and vibrant artistic and cultural life, as well as a number of art museums and galleries that showcase talents from the state and beyond. Here are some of the must-visit galleries and museums in Goa that effectively display the different aspects of cultural and artistic life in the state. By Shalini Passi
View this post on Instagram
Museum of Goa is an ambitious contemporary art space founded in 2015 by artist Subodh Kerkar. The museum celebrates Goan history and its people through contemporary art by providing a platform to the arts to engage with larger audiences. The educational aim of the museum becomes evident in its vast collection and exhibits, including the permanent exhibition Histories of Goa. This exhibition offers visitors a glimpse into the multifaceted histories of the state. The museum is also host to multiple temporary exhibitions that showcase talents from Goa and around the world. In its efforts to engage with wider audiences, Museum of Goa regularly organises workshops, art courses, lectures and musical performances for those interested in enriching their art knowledge. Their vast array of programming and engaging curations make this space an unmissable experience for all art lovers!
View this post on Instagram
Sunaparanta, or the Goa Centre for the Arts, is a non-profit initiative by Dipti and Dattaraj V Salgaoncar that advocates arts in the state, and provides an exhibition space for artists. The centre also supports initiatives through grants, funding and co-operative projects with state, national and international organisations. It houses exhibition galleries; a multifunctional space for workshops and lectures; an open-air amphitheatre; and a courtyard cafe called Cafe Al Fresco. In the past, Sunaparanta has produced shows independently and in collaboration with a number of galleries including Vadehra Art Gallery, Project 88, PhotoInk, and Nature Morte amongst others.
The centre invites and encourages participation from local artists to assist in workshops, and fosters greater cultural exchange, making it an essential stop to experience and support arts.
View this post on Instagram
The Goa Chitra Museum is a prominent ethnographic museum in the village of Benaulim. Founded and run by Victor Hugo Gomes, the museum seeks to honour Goa's age-old tradition by preserving its material culture along with a collection of more than 4,000 items. The museum seeks to promote awareness and appreciation of traditional agrarian lifestyle, as well as eco-friendly techniques which were practised in the state earlier. Besides agriculture, artefacts from other trades are also on display including domestic Goan crafts such as pottery, carving, stonework and weaving. The museum is an important stop for anyone interested in exploring traditional arts, crafts and tools that are fast disappearing from everyday life in the state.
View this post on Instagram
Housed in a prominent heritage property of Panjim Inn, Gallery Gitanjali is an important gallery. Artworks by local and international artists are displayed in the halls of the Inn, while the gallery itself has evolved into an alternate art studio, cafe and a cultural conference venue over the years. Some artists on display here include Vamona Navelcar, Mohan Naik, Suhas Shilker, Praveen Naik, Sonia Rodrigues Sabharwal, Francis D'Souza, Jayashree Patankar, Dietrich Kerky, and many known Gond and Bhil artists. The gallery also exhibits a large collection of Scandinavian art from the 50s to the 90s including lithographs, serigraphs, linocuts, woodcuts and etchings. The cafe offers visitors an opportunity to enjoy a cuppa while browsing through books or enjoying the alternative art on display in the verandah.
5. Goa State Museum
View this post on Instagram
Also known as the State Archeology Museum, it is located in Panaji and contains artefacts from different departments including ancient history and archaeology; art and craft; and geology. The museum has more than 8,000 artefacts on display – ranging from stone sculptures, wooden objects, carvings, bronzes, paintings, manuscripts, rare coins, and anthropological objects. It also has a vast collection of precious artefacts of art historical significance from different religions, as well as an extensive collection of prominent artists such as R Chimulkar, FN Souza, SH Raza, MF Husain and KH Ara.
Apart from the museums mentioned in the list above, the soon-to-be-open Moda Goa Museum by the pioneer designer Wendell Rodricks is set to be India's first costume museum. Housed in a heritage villa Casa Dona Maria in Conavale, the museum will house and preserve Goan costumes, designs and lifestyle as well as artefacts from the 7th century onwards.
Shalini Passi, the founder of Shalini Passi Art Foundation and MASH, will be curating one such list from all across India. Stay tuned as the art collector takes you on a cultural escapade every weekend.
Related: These Artworks Curated By Shalini Passi Aptly Mirrors The Views Of Our Extraordinary Times
Written By