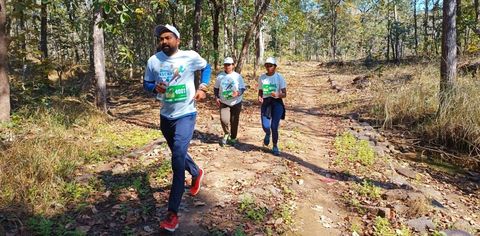 Madhya Pradesh Tourism Board, in collaboration with the state's Forest Department and adventure tourism agency Moustache Escapes, recently organised India's first trail run through a tiger reserve. Here's all we know about the Forsyth Trail Run. By Bayar Jain
Looking to promote adventure tourism and provide post-COVID tourism opportunities for travellers, Madhya Pradesh Tourism Board hosted India's first 40-kilometre Forsyth Trail Run in Pachmarhi, a hill station in the state, on February 12. Organised in collaboration with the state's Forest Department and adventure tourism agency Moustache Escapes, the meandering trail started from Singanama Foothill Cottages and ended at Jai stambh.
About the Forsyth Trail Run According to an issued release by the state, Madhya Pradesh's Forest Department claims that the Forsyth trail was named after Captain James Forsyth, who explored the area in 1857-62. Today, it is fondly known as Pachmarhi or Satpura Ki Rani for its panoramic views. Although largely wiped off tourist maps, this run gave participants the opportunity to run on unpaved roads and even cross the tiger reserve.
Speaking about the Forsyth Trail Run, Umakant Chaudhary, Deputy Director, Adventure Section, MP Tourism said, "The Forsyth Trail Run is unique, for it offers a rare experience for adventure-loving tourists; where else would you have the adventure of running alongside a river, traverse through a jungle, and have an opportunity to spot tiger pug marks! With a fine blend of wildlife, heritage, spirituality and nature, MP is an incredibly fascinating destination for tourists." Notably, Madhya Pradesh has 25 wildlife sanctuaries, 11 national parks, and six tiger reserves along with numerous other historical sites and temple architectures to marvel at.
Runners' responses Abhishek Khandelwal, Director of Moustache Escapes, is delighted with the response of Forsyth Trail Run. "We got an amazing response with participation from across India. Runners, both amateurs and professionals, joined the run with great enthusiasm. The event gave an opportunity to people to give a break to their mundane lives and relax in the lap of nature," Khandelwal said.
Faizi Khan, a participant and Founder of Khayaalo Ki Udaan, echoed the same feelings. Khan said, "Forsyth Trail Run was a perfect push to our sedentary lifestyles, especially post pandemic. Everything was perfect and worth cherishing forever—the track, the surroundings, the people and the picturesque views of Satpura! What more can one ask for?"
For some others, Forsyth Trail Run unraveled the right opportunity to be one with nature. The run's winner, Ankit Amin, said, "I enjoyed the marathon run traversing through river, forest, tiger reserve. What a unique combination, all in single run. An experience like never before." Anurag Singh, who came second, agrees, "Truly an amazing experience. The place holds great potential to attract adventure lovers from across the world. I would love to participate in other such events in Madhya Pradesh in future."
Notably, the Madhya Pradesh Tourism Board has informed officials that similar adventure events are slated to come up in various parts of the state. This includes skydiving, cycling, treks and water sports.
Related: Madhya Pradesh's Singrauli To Be Developed As An Eco-Tourism Circuit; Read The Details Here!
Written By