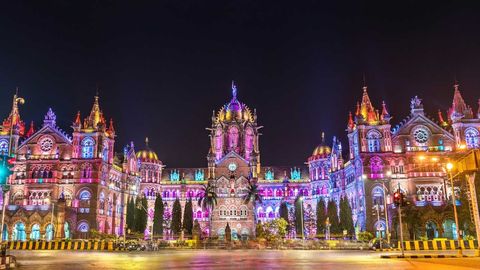 The city of dreams, Mumbai, is home to many beautiful experiences. If you are one of the lucky ones who already live in the city, take note, because here's the guide on how to explore Mumbai like a tourist. By Kumar Shree
1. Marine Drive
Located at the heart of Mumbai, this C-shaped road runs along the coastline of Arabian sea and connects Nariman Point with Babulnath. The place appears to switch souls as the sun and moon switch places in the sky. During the daytime, the place offers a fantastic view of the sea as you drive through it. During the night, a distant view of it appears like a Queen's necklace because of its shape. That's why the name Queen's Necklace is also used to describe the same. Having street food at Chowpatty and witnessing the sunset from this point of the city is a must-do!
2. Gateway Of India
Touted as the Taj Mahal of Mumbai, this monument built in Indo-Saracenic style is a major tourist attraction of Mumbai. You can witness a great view of the sea studded with fine diamond-like boats and can also take a boat ride from here to the famous Elephanta Caves. The famous hotel Taj Mahal Palace is nearby and we definitely recommend checking that out as well.
3. Shree Siddhivinayak Temple
Any sort of exploration, tour or a trip to Mumbai is absolutely incomplete if you do not set foot in the widely revered Ganesha temple. The present-day temple that is grand in size, started off with a modest 3.6 sq.m. brick structure. As time passed, the temple gained more followers and the size kept increasing. The present-day temple has a massive significance; people from all walks of life pay visit to worship. Even the CEO of Apple, Tim Cook started his trip to India by paying a visit to this temple in 2016.
4. Chhatrapati Shivaji Terminus
A World Heritage Site as declared by UNESCO in 2004, The Chhatrapati Shivaji terminus was earlier known as the Victoria Terminus. The construction and architecture is a mix of Victorian, Gothic and Indian styles. Though this is not a monument that you would want to pay a visit to, it serves as a terminus to board and get off the train; the sheer grandeur and magnificence of it demand that you take some time out and visit this place.
5. Elephanta Caves
Elephanta Caves has also been declared as a World Heritage Site by UNESCO. While you can take a ferry to the Elephanta Caves from Gateway of India, it seems unreal for a moment that such a calm place exists in the middle of Mumbai. You must pay a visit to this place because you will get to witness the sheer brilliance of architecture and artistic excellence that existed in that era. Once you see it with your own eyes, you will readily understand why it is listed as one of the seven wonders of India.
Bonus: The Beaches of Mumbai
Since Mumbai is a maritime city, it is not a matter of surprise that it has many beaches. Most of them are worth paying a visit to. Just looking and observing the Mumbai life through your own eyes will seem like a lesson in life to you.
Related: 7 Unique Date Spots In Mumbai Your Partner Will Remember Forever
Written By