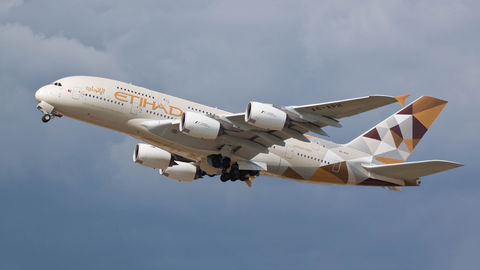 Etihad Airways has taken a step further in the fight against COVID-19, by becoming the first airline to launch a new contactless screening system. The technology will not only help detect coronavirus symptoms in a passenger, but will also identify travellers who are medically at risk of the infection. By Upasana Singh
View this post on Instagram
Etihad Airways has taken a major step in controlling the global pandemic. With technology designed by the Australian company — Elenium Automation — a new system has now been put in place at every airport touchpoint of the airline, including the kiosk, bag drop, security and the immigration gate.
Although the self-service system does not detect any illness, it indicates a passenger's temperature, heart rate, and respiratory rate to identify any potential symptoms. An alert will be signaled to the Etihad staff on-site or via teleconference if any cases of possible illness are detected. This system will help in reducing the risk of transmitting the virus from one passenger to another or to any of the staff members.
View this post on Instagram
Jorg Oppermann, Vice President Hub and Midfield Operations, Etihad Airways, reportedly confirmed that the purpose behind testing this fit-to-fly technology will not only help in the current environment, but in the future as well, by assessing a passenger's suitability to travel and thus minimising disruptions. Moreover, Aaron Hornlimann, CEO and co-founder of Elenium Automation, reportedly added, that the technology will solve some of the challenges faced by the aviation sector.
In these difficult times, it is vital for airports to stay ahead of the curve and assure passengers about the safety of the airports. The introduction of contactless self-service and automated health screening for passengers will instill confidence among future travellers. It will definitely encourage people to fearlessly resume travel, after the pandemic is over.
View this post on Instagram
Moreover, Etihad's flights to Seoul, Singapore, Manila, and Jakarta have also started operations. These flight services have begun to help deport people who are stuck in the UAE, ever since the country closed its airports on March 24.
Related: Etihad Airways: First Major Airline To Fly Plastic-Free
Written By