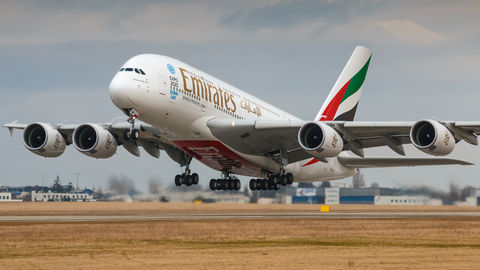 Editor's note: The global COVID-19 crisis has left each one of us deeply affected and we want to help. Burda Media India has organised a fundraising campaign to #FightBackWithTesting and donating RT-PCR test kits to the worst-affected areas in India, which will be secured from our testing partner Mylab Discovery Solutions. You can help these kits reach many more by donating for the cause or by adopting a kit. Click here to join the fight.
Emirates has restarted its operations to nine international destinations. The airline is fully equipped with a series of new safety procedures to make your journey as comfortable and safe as possible amid the Coronavirus outbreak. By Upasana Singh
The Dubai-based Emirates airline has resumed regular passenger flights from Terminal 3 of Dubai International Airport to nine international destinations. These destinations include London, Frankfurt, Paris, Milan, Madrid, Chicago, Toronto, Sydney, and Melbourne. The airline will also offer connections to customers in Dubai travelling between the UK and Australia. New safety procedures have been introduced for a risk-free travel experience.
View this post on Instagram
In a tweet, the airline said, "Emirates sets an industry-leading hygiene and safety standard for customers and employees at every step of the travel journey." Using the #DXBReady, Dubai International Airport also assured passengers by stating that their health and safety remains their top priority.
Upon check-in, free hygiene kits with face masks, gloves, antibacterial wipes, and hand sanitizer will be given to each Emirates passenger. Whilst the gloves and masks must be worn at the airport, passengers must wear face masks on all Emirates flights. At Dubai International Airport, protective barriers have been installed at each check-in desk and immigration counter to ensure that social distancing rules are being followed. New hygiene kits will be given to travellers who are boarding a connecting flight. Thermal temperature scanning of passengers and employees will also be done before boarding.
Emirates has changed the boarding sequence on all its flights and so passengers will now enter the aircraft by row rather than by zone, from the last row to the first, in small numbers. Emirates boarding agents, dressed in personal protective equipment (PPE) will be present to facilitate the new process.
An additional crew member—a cabin service assistant (CSA) has been added to all Emirates flights that have a flying time of over 90 minutes. The CSAs will ensure the sanitation of lavatories at frequent intervals of every 45 minutes. Sanitizing soap and handwashing instructions have been kept at each lavatory.
View this post on Instagram
To minimise the risk of infection by touch, onboard cabin baggage remains restricted to essential items such as a laptop, handbag, briefcase, and baby items. Emirates usual service of hot meals will resume, using sterilised cutlery and crockery. In premium classes, passengers will be given single-use menus. Comfort items such as mattresses, pillows, blankets, headphones, and toys will be hygienically sealed before use.
The airline has recommended travellers to bring their own pen to fill out health declaration forms that are required for some destinations.
As reported by Emirates News Agency, Emirates' Chief Operating Officer, Adel Al Redha said, "We are working with all the stakeholders in Dubai including the airport, immigration, health, and aviation authorities to implement such measures, and we will continue to review and consult expert advice for any development and changes. We are all aware that we have to adapt to different practices during this pandemic in our day to day activities."
Related: #StepAhead: Domestic Flights To Resume Operations From Monday, May 25th
Written By