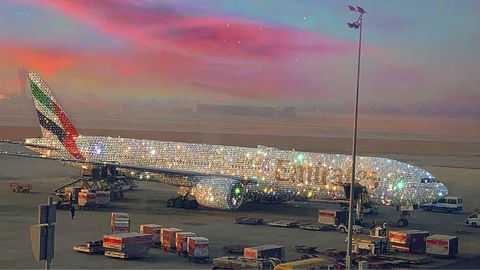 An image of a stunning, glittery Emirates plane is doing the rounds on social media. While people can't wait to board this flight, this diamond is not going to up in the sky anytime soon. By Japleen Kaur
Emirates 'Bling' 777 as everyone is calling it, is in reality an edited image by artist Sara Shakeel from Pakistan. The world saw the photo, which was reposted by the airlines as a new venture by the company, and truth be told, many had already jotted it down on their bucket lists.
View this post on Instagram
One look at Sara's Instagram page, and you'll get the gist of the goof up. A good one in this case. Not only did she get an upgrade on her flight from Pakistan to Milan, but we also got a new page to follow on social media.
And since nothing excites us more than great travel updates, her versions that are all dreamy, dolled up in glitter, make it even more interesting. Currently, creating magic in Milan, we've instantly hit the 'follow' button, and so should you.
Written By