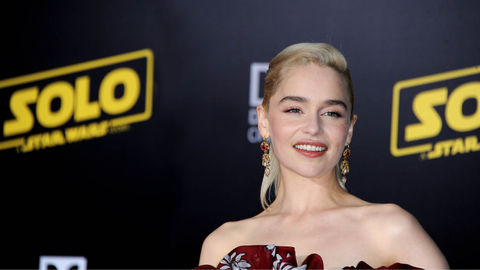 As most Bollywood celebs flock to the Swiss mountains to welcome the New Year, GOT fame Emilia Clarke celebrated New Year in India keeping a mellowed-down profile. It feels like, "We knew nothing!" By Ritika Dixit
Game of Thrones star Emilia Clarke celebrated the dawning of New Year with her mother in India. Websters have been speculating for a while that the actress is in India to ring in the New Year. Away from the prying eyes of the paparazzi, the actress kept her New Year visit to India a low-key affair.
Social media was abuzz for a while with the question of whether the actress is vacationing in India, ever since Mumbai-based photographer Viral Bhayani posted a picture claiming it to be a snap of the Game of Thrones actress Emilia Clarke boarding an Air Asia flight to Delhi with her mother. However the image does not show the face of the actress, but she is clad in heavy winter wear to brace the Indian winter peak.
With multiple fans of the 'Mother of Dragons' trying to catch her glimpse, the actress was again snapped by an associate of Viral Bhayani with a glimpse of the actress in a crowded space showing the backs of two people. We guess a glimpse was all it took for this picture of the actress on her low-key Indian vacay to take the internet by storm.
However, this is not the first time Emilia has visited India. The picture of her last visit to India with Game of Thrones co-star Rose Leslie has been doing the rounds on social media ever since the speculation of her second visit started among her fans. While her last visit to India was filled with all things spiritual in the lap of nature in the Himalayas and sun-soaking by the Ganges, this visit was a hush-hush one for the mother-daughter duo.
Other Hollywood stars who celebrated the arrival of 2020 in India include PS I Love You fame Gerard Butler in the Himalayas and actor Richard Gere, who visited India to attend a teaching session by spiritual leader Dalai Lama.
Related: OMG! Game Of Thrones' Emilia Clarke And Rose Leslie Were In India!
Written By