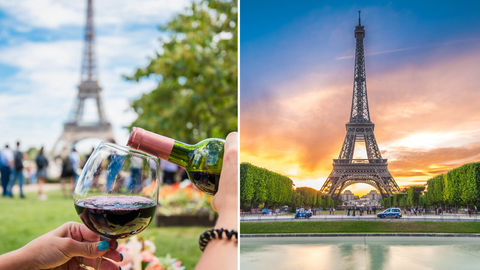 The Eiffel Tower, one of Paris' most iconic landmarks, is about to make history by producing its own wine for the very first time. By Shrimayee Thakur
Eiffel Tower's operating company, Sete, announced last month that a winery will be installed on the first floor of the Eiffel Tower, at a height of 57 metres. The wine is being produced in partnership with La Winerie Parisienne, the first urban winery to open in Paris since 1970.
Winemaking in the Paris area came to a sudden, screeching halt after the Phylloxera plague of the late 19th century. Phylloxera is a pest that affects commercial grapevines worldwide. Originally native to North America, it spread to Europe when botanists from Europe collected specimens of American grapevines in the 1850s. While American vines had developed a natural defence against the small, pale yellow sap-sucking insects, European vines were defenceless. The insects destroyed British vineyards first, before moving to other regions in Europe. France was one of the worst affected regions, with wine production going down from 84.5 million hectolitres in 1875 to 23.4 million hectolitres in 1889.
La Winerie Parisienne was founded in 2015, and its headquarters are in Montreuil, a suburb in Paris. The Chardonnay, Chenin, Pinot Noir and Merlot vines over 10 hectares in a village called Devron. With the Eiffel Tower as a symbol, Winerie Parisienne is bringing winemaking back to Paris.
The winery has been installed next to French chef Thierry Marx's restaurant, La Bulle Parisienne, as part of its renovations. "La Bulle Parisienne" translates to "the Parisian Bubble", and, true to its name, the restaurant is located in a giant transparent dome on the first floor of the Eiffel tower.
The wine produced in the Eiffel tower will probably be available to the public in spring, next year. Visitors will be able to get a glimpse at the process as barrels, tanks and a press are on display for all to see till November.
Related: This Year You Need To Travel To These 5 Destinations With A Wine Glass…
Written By