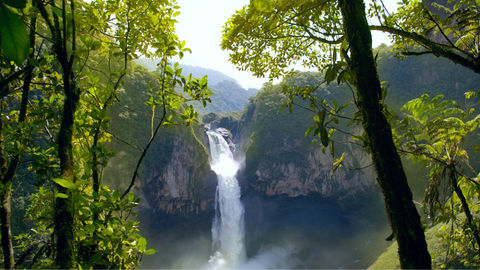 As unbelievable as it may sound, it is true that Ecuador's largest waterfall has disappeared mysteriously. While speculations and studies are underway, no one has any substantial explanations for the unfortunate event. By Kumar Shree
Ecuador's largest waterfall, the San Rafael Waterfall, on the Coca river used to be one of the most popular tourist attractions until it disappeared suddenly. The waterfall helped the South American country attract thousands of tourists every year. Now that the waterfall is gone, things look gloomy for Ecuador's international tourism prospects.
Local officials and experts are citing varied reasons for the event. However, nothing is clear as of now. The region around the waterfall is surrounded by lush greenery, and the water dropping from a staggering height of 150 m (490 ft) made for a spectacular sight in its glorious days. The San Rafael Waterfall is a part of the Ecuadorian Amazon, which falls near the country's border with Colombia.
Talking about two sets of speculated reasons, the local officials believe that a large sinkhole is responsible for this event. They say that a large sinkhole opened underneath the river that fueled the waterfall. The sinkhole drained all the water, because of which, the mammoth of a waterfall is now replaced by three weak streams. Some experts, on the other hand, blame the construction of a hydroelectric plant nearby for the waterfall's misery. They say that the hydroelectric plant was constructed despite knowing that the region is seismically active.
View this post on Instagram
As we mentioned, both theories are only speculations and the exact reason behind the waterfall's disappearance is not known yet. People are debating whether this is caused by a natural or human-induced reason. Jorge Celi, Director of the National Water Reference Laboratory of the Ikiam Amazon Regional University comes as a notable voice amid speculations. He believes this event to be a byproduct of human activities.
While the mystery is keeping the geologists busy, the site no longer features on Ecuador's tourism website, which suggests that it is not available for tourism until further update. Well, that is a real loss.
Related: Ecuador's Hidden Gems Are Waiting To Be Discovered!
Written By