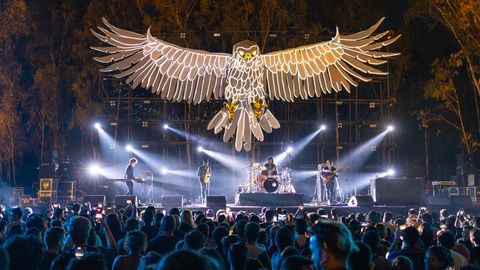 One of the most unique live music festivals in India, Echoes of Earth is back with its sixth edition. The event will take place on December 2 and 3, 2023.
The festival celebrates music, art, culture and conservation. It is the perfect blend of responsible causes and enriching live experiences that promise to engage its audience in a meaningful way.
What to expect at Echoes of Earth 2023? The theme is 'Ensemble of the Wild' this year, which aims to showcase the interconnectedness of the Western Ghats through musical events, conversations and art installations. These huge artistic creations are made from recycled and upcycled urban waste, and this festival intends to become completely carbon-neutral with zero-waste over the next few years. Taking strides towards sustainability, Echoes of Earth is constantly adopting green measures such as introducing reusable steel glasses and water bottles as well as upcycling assets from previous editions.
The festival showcases multiple musical genres including electronica, jazz, indie, afrobeat, funk, world music, folk, soul, and house techno, promising something for everyone. Some of the artists on this year's lineup include Sid Sriram, Len Faki, Tinariwen, Jitvam, Mezerg, Parra for cuva and Mansur Brown (UK).
Expanding its footprint to other states, it is also organising 'minicerts' in Goa, Kolkata and Mumbai. These mini-events are educational and entertaining with a focus on the biodiversity hyperlocal to these regions, states a press release shared with Travel + Leisure India & South Asia.
Talking about the event, Roshan Netalkar, Founder and Festival Director, Echoes of Earth, said, "Having built a credible community over the last five-six years, the onus is on us to innovate further on making the theme and actions on ground even better. I am also personally very close to this year's theme of the Western Shats, which will be brought alive through art and meaningful conversations. And of course, we have a variety of incredible live acts across genres, Indian crowd favourites and international acts as well. All culminating into a festival with responsible celebration (sic)."
Event details
When: December 2-3, 2023
Where: To be announced
Time: 1:00 pm onwards
Find out more about Echoes of Earth on their website.
Hero and featured image credit: Echoes of Earth
Related: Lollapalooza To Jodhpur RIFF: Live Concerts In India In 2023 To Get You Grooving
Written By