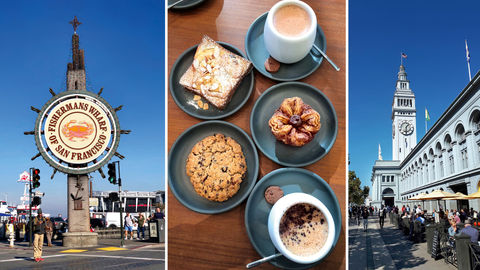 On your next stop in San Francisco, take a deep dive into the world of pier-to-plate seafood, wine and cheese bars, and chocolate salons. By Rupali Dean
Sweet Morning Treat Bloom Chocolate Salon is a small-batch, bean-to-bar chocolate maker that's open to visitors with weekly factory tours, chocolate-making classes as well as a retail space. Housed inside the 16th street factory of Dandelion, it was recommended to me as the ideal place to begin my day. I am excited to try the epicurean chocolates on display. I help myself to Dandelion's 70-plus per cent cacao bars, the decadent sweet-savoury pastry of kouign-amann, and a mug of hot chocolate. If I lived in San Francisco, I'd come here as often as possible!
A Cornucopia Of Food And History Strategically located at the foot of Market Street, Ferry Building is worth an entire afternoon and is best discovered on foot. Its dramatic clock tower has been one of San Francisco's iconic landmarks for over a century. Once the focal point for anyone arriving by train to the Golden Gate City, the building suffered aeons of affliction but is now an extraordinary market and European-style food hall, organised along an indoor street, the Nave. I book a tour with Edible Excursions, where my guide is a food entrepreneur. Inside the building, I notice a blend of architectural styles—elements have been added over the years. It represents every existing food trend in the Bay Area and keeps up with the tradition of organising an outdoor farmers' market thrice a week. Indoor food stalls in what used to be ferry berths, with bakers and cheese-mongers working busily, add to the old-world charm of the place. A stroll promises myriad sights, from spongy pieces of bread to gleaming ceramics. We settle down with some coffee and all of my food loot and watch the ferries go by.
Two Feasts You cannot return from San Francisco without paying the Golden Gate Bridge a visit. First, I see it up close from one side and then cross over to the other to take in the view of the city. All this walking makes me hungry, so I head to SoMa StrEat Food Park, a recent gastronomic feat and metropolitan playground. The park features food trucks, beer, wine, carnival games, free Wi-Fi, TV screens, and heat lamps for cold nights. I dig into the corn dogs and California garlic shrimp noodles and wash them down with a glass of sangria. Ironically, my search for hip American cooking leads to Stuart Brioza and Nicole Krasinski, a husband-and-wife team running State Bird Provisions, known for their yum cha-style service and fascination with Asian flavours. They plate up—hold your breath— California guinea hen dumplings. Although the version stays true to the essence and spirit of the old-fashioned classic, they add simple but clever tweaks.
Mission Bar-Hopping Bar hopping in Mission Street is an ideal way to call it a day in San Francisco. Start at Mission Cheese, an American cheese bar and wine shop that presents a smorgasbord of domestic cheese, charcuterie, craft beer, and natural wine. I go for the Mt Alice, soft-ripened cheese from the Von Trapp Family in Vermont; Cabra LaMancha, some washed goat cheese from FireFly Farms in Maryland; and a glass of wine. I then move on to Tacolicious for their signature Baja-style line-caught cod tacos, paired with tequila-spiked pomegranate aqua Fresca and coconut water chupitos. I have no appetite left for the main course, so I just peek into the much talked about Panchita's, which has been serving up chicken and pupusas de loroco, the signature dish of El Salvador dating back 1,400 years. Traditional Salvadoran Regia beer or cider goes exceedingly well with it. Right next door is the Tex-Mex outlaw, West of Pecos, and I am tempted to tuck into their signature churros topped with caramel and chocolate sauce.
As Fresh As It Gets The next morning brings breezy weather as if predicting my visit to Fisherman's Wharf, San Francisco's most famous waterfront community. The fine vibe vies with fresh and authentic seafood here. At Scoma's, a classic seafood restaurant that serves fresh catch sourced from local fishermen, I poke my fork and knife into the whole roasted Dungeness crab that comes with grilled lemon halves and listens attentively to my local travel companion, Jishnu. He tells me how Scoma's has sustained itself for over 50 years with its superlative quality. You just cannot miss this exceptional pier-to-plate dining experience. The mood at the lunch table is cheerful. I am biting into a Biscoff that comes with my coffee and fighting clichés as I take a ferry from Pier 39. We pass underneath the Golden Gate Bridge and around Alcatraz, the world's most popular prison island.
Michelin-Star Fine Dining My dinner is reserved at Taj Campton Place's eponymous Michelin-stared restaurant that serves Cal-Indian cuisine. Chef Srijith Gopinathan blends fresh Californian ingredients with regional cuisines of India. For instance, the poached lobster is served with millet Pongal and black cod is cooked in cauliflower, black pepper, and turmeric leaves. The flavours are perfectly balanced, and the beauty of simplicity stands out. Even if you are not staying at the Taj Campton Place, it's worth stopping by for a meal. Getting There
Japan Airlines flies from Delhi to San Francisco via Tokyo. Singapore Airlines offers flights from Mumbai with a stopover in Singapore.
Stay
The playful, tech-savvy, contemporary BEI San Francisco is a stroll away from many restaurants and art galleries (doubles from INR 10,511). Taj Campton Place is one of the city's most famous hotels and is close to the markets, museums, and the financial district (doubles from INR 26,469).
Related: #TnlVirtualRoadTrip: Driving Through San Francisco With Volvo
Written By