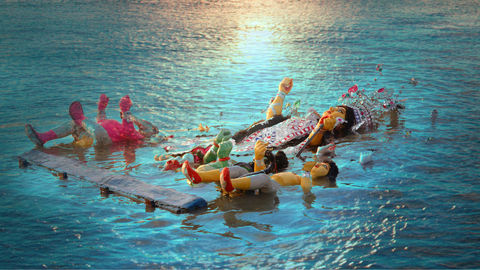 Celebrating the victory of the good over evil, Dussehra enjoys quite a celebrity status amongst the festivities of India which, as we know it, are one too many. In North India, however, celebrations are a notch higher than those in the rest of the country. Here's looking at the different North Indian states and their style of celebrating Vijayadashami. By Shubhanjana Das
1. Himachal Pradesh
In Kullu district of Himachal Pradesh, the whole of the state comes together to participate in the procession of Lord Raghunath. Villagers from all over the state carry their Gods and Goddesses to the fairground at Dhalpur Maidan where the festivities go on for seven days. It was started by Raja Jagat Singh back in 1637 and is still celebrated with as much fervour and zest. The festival is concluded by the spectacular act of Lankadahan or the burning of Lanka by the Beas and is a sight to behold.
2. Delhi
Every park, grounds, and even streets in the capital commemorates the victory of Lord Rama over Ravana by replicating the act of Lankadahan. The streets are as lively as it gets and Hindu or not, everyone celebrates in unison. Ramleela is performed almost at every neighbourhood and for the nine days following Vijayadashami, the city reverberates with music. Head to the rightfully named Ramlila Maidan where the Ramleela performed was started by Mughal Emperor Bahadur Shah Zafar as long as 170 years back. Gorging on some puri-halwa-chana is an absolute must. The hot jalebis, crispy paranthas, chole bhature, bhalle papdi, aaloo tikki, and chaat near Ramlila Maidan are worth coming back for, no matter where you are in Delhi.
3. Punjab
In Punjab, Dussehra is celebrated in a slightly different manner wherein they worship the Goddess Shakti. After fasting for the first seven days of Navaratri, they perform jagraata all night long. The fast is broken on Ashtami or the eighth day by arranging Bhandara or Kanjak, which worships young girls. Things to eat in Punjab if you happen to be there during Dussehra are Guru ka Langar at the Golden Temple in Amritsar and some genuine Punjabi fare at Bhai Kulwant Singh Kulchian Wale and Ahuja Milk Bhandaar in Amritsar.
4. Varanasi, Uttar Pradesh

The Ramnagar Fort lights up during Dussehra when devotees come together to celebrate the auspicious festival in one of the oldest cities in the country. The Ramleelea performed here goes back to the 1800s, started by Maharaja Udit Narayan Singh. The entire fort is permanently transformed to replicate Ayodhya, Lanka, Ashoka Vatika, and other sites from the Ramayana. Fuel yourself with some kachori sabzi, choora matar, baati choka and rabri jalebi. The Kashi Tea Stall is particularly famous for Benarasi chai.
Related: 7 Global Cities That Are As Crazy About Celebrating Dussehra As We Are!
Written By