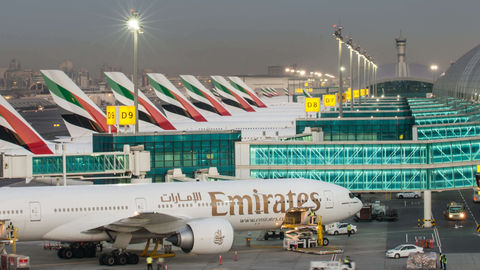 After McCarran International Airport In Las Vegas, Dubai Airport has now installed Personal Protective Equipment (PPE) vending machines for passengers' safety. By Kumar Shree
Keeping the new travel trend in mind, Dubai International airport has installed two PPE vending machines at the airport. These machines installed at Terminal 2 and Terminal 3 will make it easy for passengers to grab PPE kits on the go. These PPE kits include a mask and a pair of gloves. You can choose from two variants of sanitisers. While these are the initial items available through these vending machines, many other elements will be added soon. These include Europe-made certified reusable masks.
View this post on Instagram
The McCarran International Airport In Las Vegas has also installed these PPE vending machines. While Las Vegas airport has always been known for its vending machines where you can find almost anything, the new machines are strictly for toiletries, and PPE kits including gloves, face masks, wipes, and hand sanitisers.
It goes without saying that travelling will change in the post-Corona world. Keeping oneself safe with PPE kits is one of these measures that will become the new normal. While the world is trying to gradually kickstart travel, both domestic and international, keeping the process safe and minimising the risk of spreading the virus remains on top priority. Initiatives such as these will go a long way in ensuring the same. Expect to see similar measures at many airports across the world as we move ahead through these new times.
View this post on Instagram
While the Coronavirus outbreak caught humans off-guard, it is great to see the number of innovations that have been surfacing to overcome the pandemic.
Related: #StepAhead: McCarran International Airport In Las Vegas Installs PPE Vending Machines
Written By