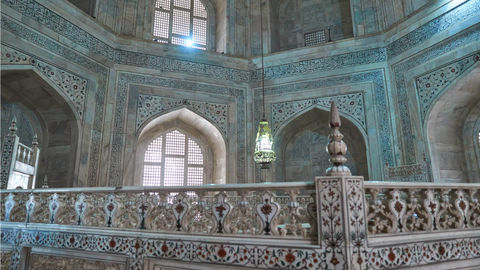 The two famous royal graves in Taj Mahal were finally cleaned up after over 300 years of installation. All thanks to US President Donald Trump! By Tanvi Jain
In wake of US President Donald Trump's recent visit to India, two cities of the country witnessed major facelift. While in Ahmedabad, walls were built to hide slums, and some areas were given a complete makeover, and in Agra, the replicas of the two royal graves in Taj Mahal were cleaned up, and given a clay treatment, that too for the first time in over 300 years since their installation.
Trump's two-day tour to India, started by landing in Delhi, followed by a visit to Ahmedabad for mega 'Namaste Trump' event at the Motera cricket stadium with Prime Minister Narendra Modi, and then to the Taj Mahal in Agra, along with wife Melania Trump, daughter Ivanka and son-in-law Jared Kushner.
The graves of Mughal Emperor Shah Jahan and wife Mumtaz Mahal, were first covered with clay and then washed with distilled water. Reports further added that although the monument has received the same treatment at least five times, but the graves had received it for the first time.
The events unfolded amid tight security which included arrangements such as extensive three-layered security in place for Trump's Agra visit, and clearing the Taj Mahal premises by noon, hours ahead of the visit.
Apart from Trump, his predecessors Bill Clinton and David Dwight Eisenhower had also visited Taj Mahal in the year 2000 and 1959 respectively.
The original Taj Mahal graves are only opened to the public for three days a year, to commemorate the anniversary of the death anniversary of Shah Jahan. The chandelier above the graves were also cleaned with tamarind water. The Yamuna river right behind the Taj Mahal, which was until recently a parched lake, also received 17 million liters of water.
Related: Taj Mahal Tops The List Of Most Googled Monuments In The World
Written By